Dunedin crash injures bicyclist, pedestrian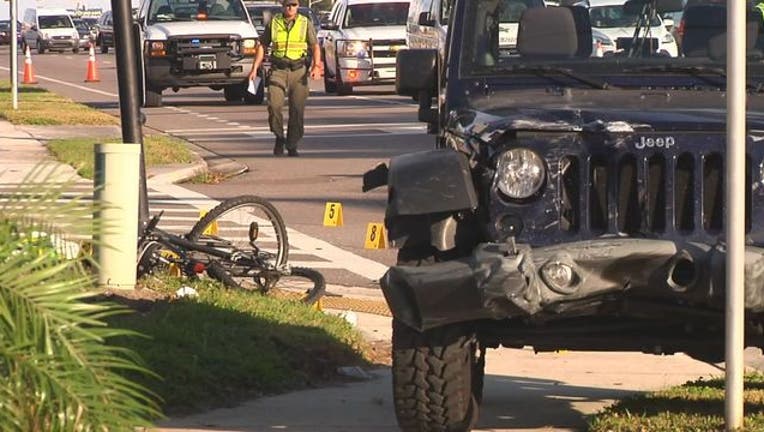 article
DUNEDIN (FOX 13) - Four people were hurt during a crash involving three vehicles, a pedestrian and a bicyclist Wednesday. 
The Pinellas County Sheriff's Office said it happened around 1:30 p.m. at the intersection of Main Street and King Arthur Court. 
It started when a 2013 Jeep Wrangler, driven by 33-year old Jedediah Williams of Clearwater Beach, pulled up to the curb lane of Main Street at the King Arthur Court intersection, heading west. A semi-truck was next to his Jeep, in the middle lane. 
Meanwhile, 21-year old Sarah Olson, of Dunedin, was driving her 2015 Nissan Sentra east on Main Street. She was in the left turn lane to head north on Main Street. Investigators said she made the northbound turn in front of the semi-truck and the Jeep. 
The driver of the semi slowed down to avoid hitting Olson's Nissan. But Williams, who was driving the Jeep, said he did not see Olson turning across traffic in front of him, because the truck blocked his view.
William's Jeep hit Olson's Nissan in the rear passenger wheel well, causing Olson's Nissan to rotate and hit a 2007 Toyota Corolla stopped in the southbound left turn lane of King Arthur Court.
The Nissan continued on through the intersection, hitting the northwest traffic light pillar, then coming to a stop.
Simultaneously, Williams' Jeep veered toward the northwest corner of the intersection. That's when it hit a pedestrian and a bicyclist.
The pedestrian, 45-year old Gregory Hall of Clearwater, was taken to St. Joseph's Hospital with non life-threatening injuries.
The bicyclist, 24-year old Charles Allison of Dunedin, was air-lifted to Bayfront Medical Center with life-threatening injuries. 
Officers were investigating to see if alcohol or speed was a factor in the crash.