Emotions still raw, 70 years after D-Day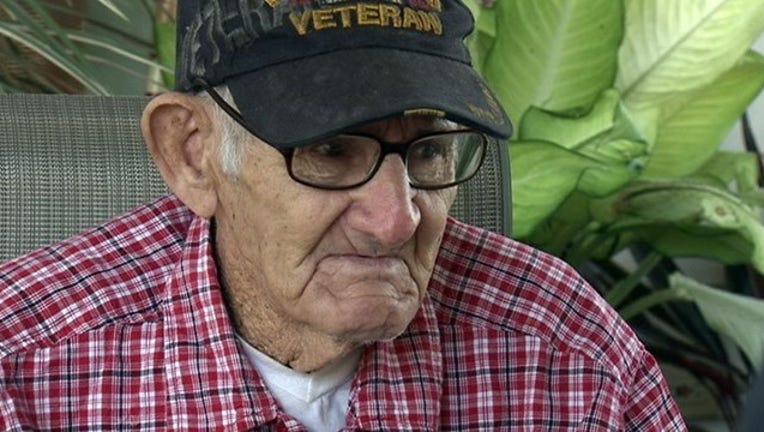 article
Randal Haner needs a little help walking these days, but at 18, he was a bold and brave sailor who survived D-Day.
"I could jerk and press 225 pounds," he said with pride.
It's probably what helped Haner survive WWII.
He still has a small bag he carried with him.
"It was full of shaving lotion and razors and everything else," he said, "You had to fight me to get that!"
However, fighting wasn't Haner's job on D-Day. He arrived at Omaha Beach with a different mission.
"I had a bag full of plywood patches on my back and a bunch of nails. And my job was to go in there, and if a landing craft had a hole in it, put a patch on it so we could get it off the beach."
He had no rifle, no weapons, and no shortage of bloodshed surrounding him.
"The first thing I saw was a young man laying in the fox hole," he said, with tears in his eyes, "half of him in the hole and half of him out, that was the first thing I saw. I have, he was just laying there."
"There was nothing you could do," I said.
He replied, helplessly, "That's right, nothing."
Haner witnessed several of his friends die on D-Day and he quickly realized what he had to do to survive.
He told a friend, "I'm gonna crawl another 50 yards out there and then I'm gonna get up and run like hell!"
Beneath that camouflage of bravery, Haner still had a tremendous sense of fear.
"Scared! Scared to death! Scared! Peed in my pants several times!"
In imminent danger, Haner eventually had to pick up a gun and kill a German soldier -- something he still struggles with, 70 years after D-Day.
"To shoot another human being don't do a damn thing to you but hurt you," he cried.
Yet, Haner felt it was a war we had to fight.
"We knew it, everybody else knew it. It was gonna be a damn job we didn't like, but we had to do it!"
"We got it done, didn't we?"
Tune in for our continued series on D-Day this week on FOX 13 News at 6 p.m. We'll conclude it with my skydive tribute to the D-Day paratroopers, which will air during the 10 p.m. show on Wednesday.