Family donates Vincent Jackson's brain for CTE study
TAMPA, Fla. - Vincent Jackson's family is donating his brain to researchers at Boston University. They'll look for signs of Chronic Traumatic Encephalopathy.
"If anything can be learned from his death that might help someone else, Vincent would want that since he was passionate during his life about impacting others around him," a spokesperson for the family told FOX 13. 
CTE is a degenerative brain disease affecting those who've suffered repeated head trauma.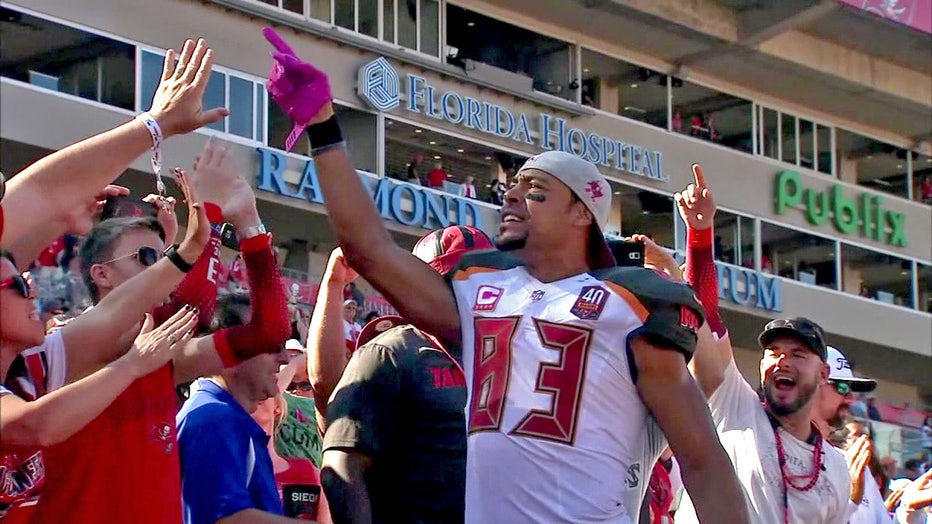 Vincent Jackson (FOX / file)
"The idea with CTE is it begins while you're getting exposed to brain trauma and once you stop that degenerative process continues for the rest of your life. Although we learned it goes at different speeds in different people," said Dr. Chris Nowinski, co-founder of The Concussion Legacy Foundation, a non-profit agency. 
Jackson played 12 seasons in the NFL, retiring in 2016. 
"CTE causes problems with cognition, sleep, mood and behavior we believe at this point," said Nowinksi. 
The 38-year-old Jackson was found dead in a Brandon hotel room on Monday. A summary report from the medical examiner notes he was found slumped on a couch. The report indicates a history of alcohol use and smokeless tobacco. There is no known drug history. 
During a radio interview, Hillsborough County Sheriff Chad Chronister said Jackson had been battling alcohol abuse and that his family suspected he had developed CTE. A cause of death has not yet been determined. 
UPDATES: Get news alerts and updates in the free FOX 13 News app