Farmers, brewers toast successful Florida hop harvest
WIMAUMA, Fla. - With a pole saw, field manager Chris Delcastillo cuts the crop and feeds the machine that separates it.
"The leaves stick very well and the cones roll to the bottom through a gate appropriately sized," he explained.
It's no small accomplishment to make the little green cones pour by the hundreds into a basket. The crop is hops – a still rare, but growing, crop in Florida.
Beer makers Desiree Chubb and Ty Weaver were here six years ago when the hops experiment began.
"Ty and I looked at each other and we're like, this is never going to work," recalled Chubb. "And now we've been making beer with them for six years and you can tell there is such a growth potential here."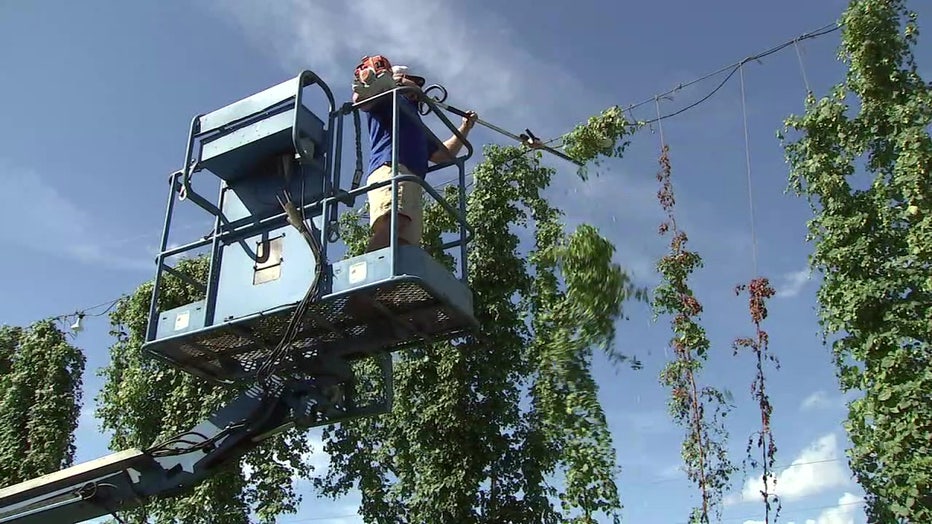 PREVIOUS: University of Florida hopeful state's craft beer industry can rely on homegrown hops in the future
Dozens of beer brewers and hop growers turned out Tuesday for field day at the University of Florida's IFAS Gulf Coast Research and Education Center in Wimauma in eastern Hillsborough County. They believe Florida-grown hops can cash in on people who like their craft beer local.
"Because it's fresher," said Charlotte Foe, owner of Florida Sun Hops in Brooksville. "It's going to have the acids so much in that hop. It's going to bring that intensity, that flavor, that aroma to their beer."
PREVIOUS: Gator Pale Ale becomes first beer brewed using hops grown only in Florida
Foe and other Florida growers use lights to extend the daylight, close to what it would be in the Pacific Northwest where the most hops grow. But one of Florida's advantages is an extra growing season.
"I think in Florida, this is the first time they can produce two crops in a year. One crop in June and another crop in November," said Zhanao Deng, one of the lead researchers.
For craft brewery operators, that means two fresh crops to work with.
"It's not just that they like to work with it. They're getting the response from the public," continued Foe.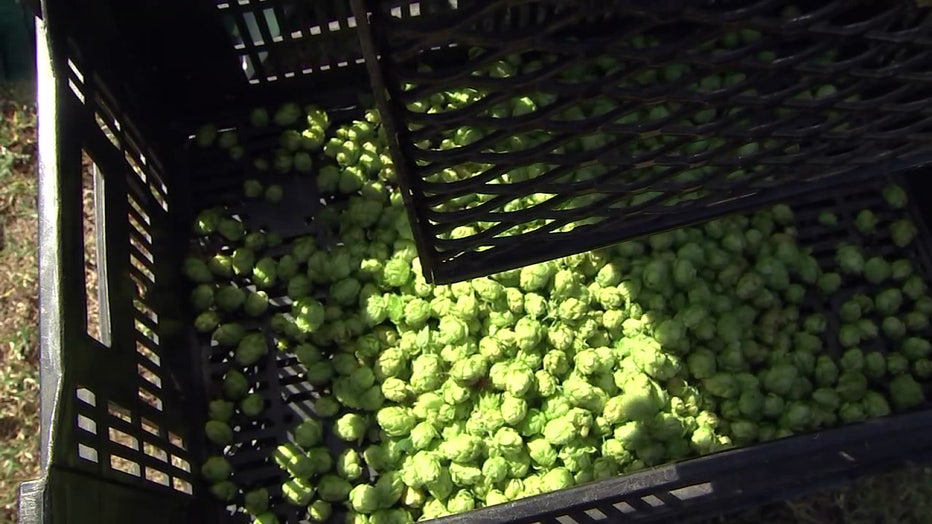 And growers here are getting better at growing hops. Six years ago, the experimental hops farm was little more than a few plants and a step ladder.
"Now we have a Genie lift and a mechanical harvester and it's light years different," said Delcastillo.
RELATED: Florida's craft beer industry among top 5, adding billions of dollars to U.S. economy in 2020
That could be good news for the taste buds of beer lovers and the pocketbooks of hops growers who hope those little green cones become a new Florida cash crop.