Father makes son post humiliating sign on Facebook for bullying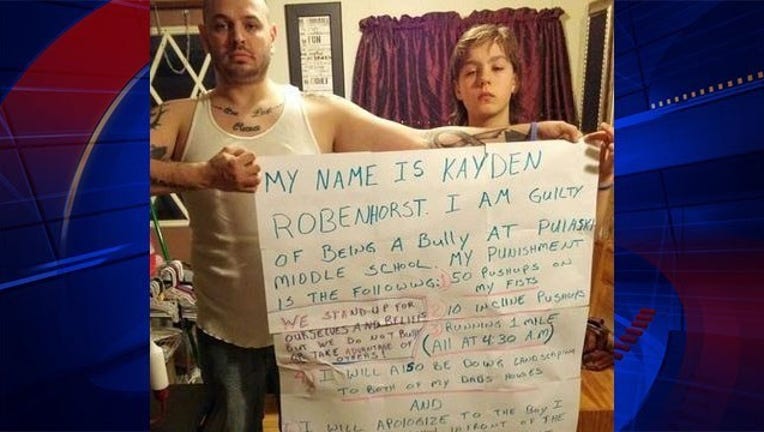 article
Kayden Robenhorst is a bully, according to his father Timothy Robenhorst.
The Green Bay, Wisconsin father didn't like learning of his son's behavior at school, so he put matters into his own hands by making Kayden hold a humiliating sign in a picture, and posting it on Facebook.
According to the Independent, Kayden's other punishment involved being woken up at 4:30 a.m. and made to do 50 push-ups on his fists.
He also reportedly had to carry out 10 harder, incline push-ups before running. Wisconsin temperatures are frequently still below freezing in the early hours.
But it's Timothy's idea for Kayden to post the sign on social media that appears to be the hardest result of punishment. The boy's Facebook post has been shared more than 1,000 times.
The Daily Mail reports Kayden also apologized to his victim in front of his whole class at Pulaski Middle School.
That may make him, and hopefully other kids his age, think twice about bullying in the future.