Father-son street performing duo honored at Pier 60 Sugar Sand Festival
CLEARWATER, Fla. - The Pier 60 Sugar Sand Festival on Clearwater Beach, which ends Sunday, honors some of the best in pop culture history. But just outside that tent is some more history - a street performer who's being honored as he holds down the world's second-oldest profession.
"Make you feel old, right?' laughed Dallas Saupe. "Twenty-eight years. Kids are now bringing their kids. Sometimes it feels like 48. I watched 'em every year and she was pushing a new baby buggy and now their kids are in college and they're bringing their children."
It's a common misconception that street performers are there because they couldn't get a job anywhere else. Saupe served in the Air National Guard but like many other 'buskers' he chose to be a street performer.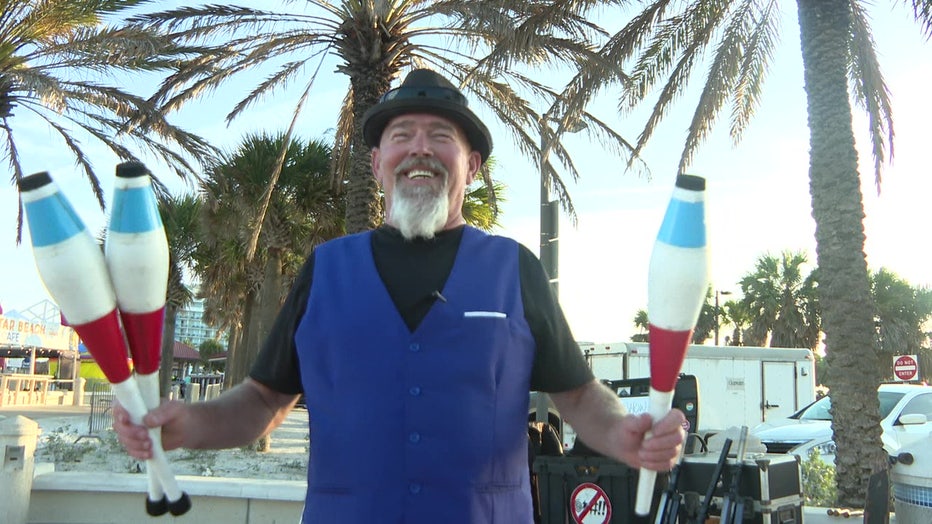 Dallas Saube performs outside the Pier 60 Sugar Sand Festival. 
"I didn't want to get a real job," Saupe joked. "I didn't want to work in an office. My dad used to call it slinging sticks. You still slinging sticks? My dad only had two jobs his whole life. He didn't understand this," Saupe stated.
A concerned parent is something Saupe knows all too well. His son Nicholas Stainbeck has been performing by his side for the last 16 years.  
READ: Pier 60 Sugar Sand Festival returns to Clearwater Beach this week for 17-Day exhibit
When FOX 13 asked Saupe what it was like working with his son, he quipped, "That depends on the day.  There is nobody I'd rather work with…I became the proudest dad during that time. Your kids are your greatest accomplishment and I get a front-row seat to one of the best shows on the planet."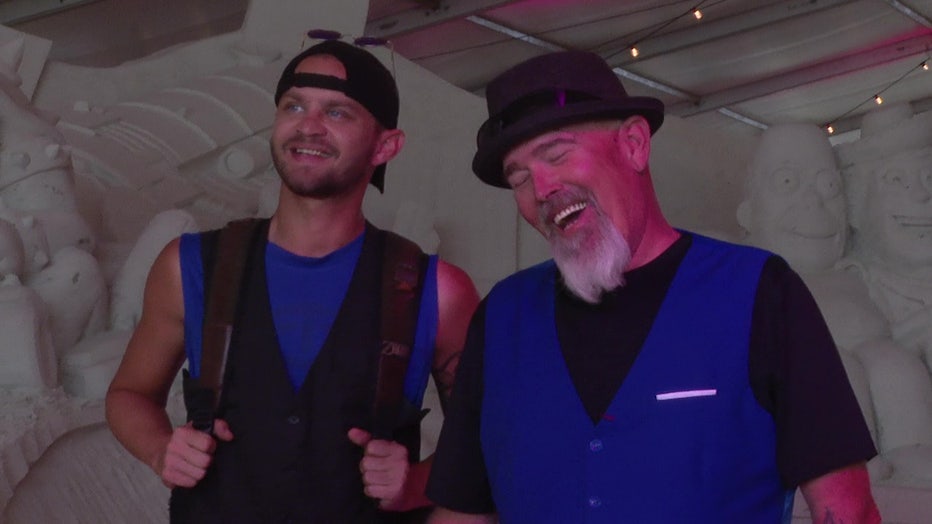 Dallas Saupe and son at Sugar Sand Festival.
"I fell in love with it watching my dad do it when I was little," Stainbeck said.
Because of his history with Pier 60, Saupe and his son are being honored with a sand sculpture that represents the duo's light that will continue to shine in the future.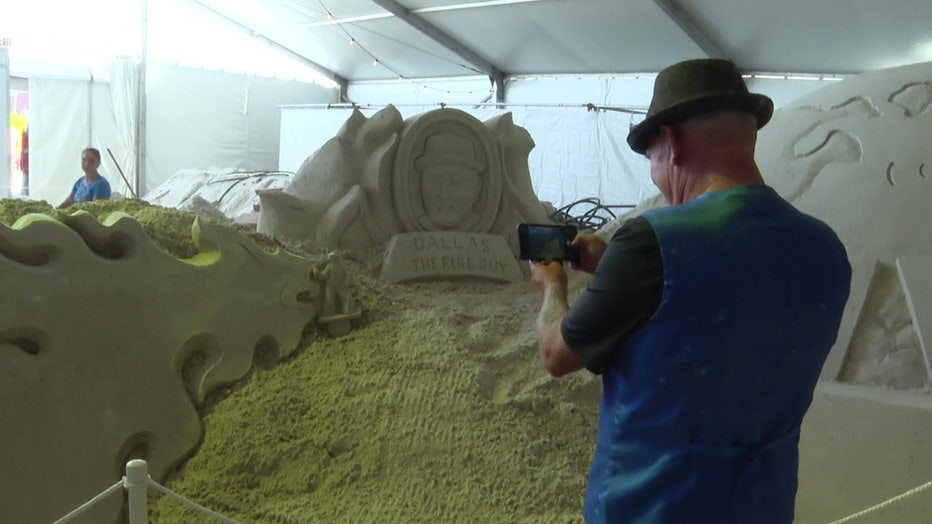 Dallas Saupe takes a photo of the sand sculpture dedicated to him. 
"Me and my son out here having the time of our lives with your family. It's kept me off the streets," he joked. By being on the street it's kept me off the street. You get these people to forget about their troubles for 30 minutes, to laugh and to like you and that's why we do it."
Saupe and his son can be found an hour before and an hour after sunset at Pier 60 on Clearwater Beach.