Pier 60 Sugar Sand Festival returns to Clearwater
ST. PETERSBURG, Fla. - Pier 60 Sugar Sand Festival sculptors call their works of art labors of love.
"This is the not-so-exciting part of sand sculpting, the part no one gets to see, the labor of it," Damon Meri, a sculptor from Seminole, said as he pounded sand together.
Organizers of the event, presented by Visit St. Pete and Clearwater, brought in 1,000 tons of sand from Clearwater Beach for the 14 sculptors to start working last week in a 21,000-square-foot covered area at the pier. The artists are from across the country and the world.
The festival opens Friday at Pier 60 and runs through April 23.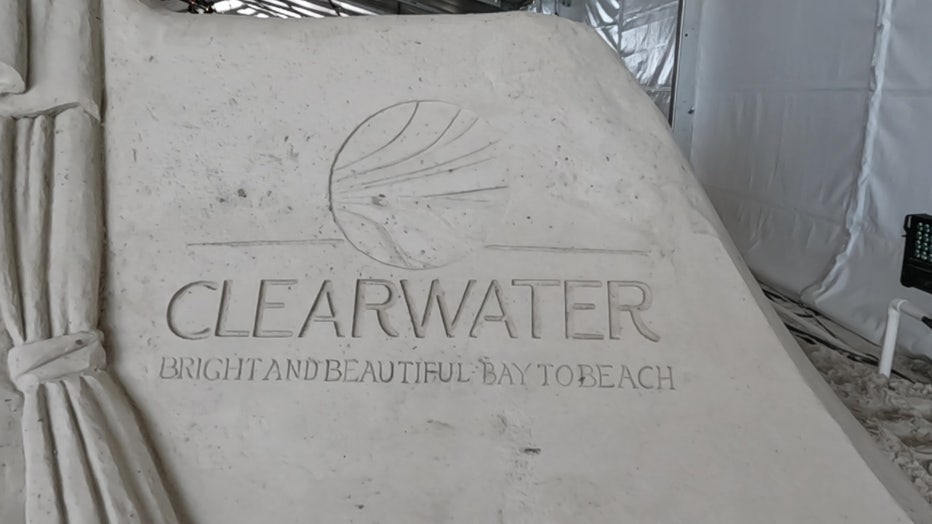 A sculpture at Sugar Sand Festival 
"This concept was introduced to me over 20 years ago," Lisa Chandler, founder of Pier 60 Sugar Sand Festival, said. "It became my husband, and I's bucket list event. We decided one day we wanted to bring the sand to life here on Clearwater Beach. So, back in 2013, we had the opportunity to do so, and we've been going strong ever since," she said.
READ: Pier 60 Sugar Sand Festival returns to Clearwater Beach this week for 17-Day exhibit
This year's theme is "A Blast From the Past: Nostalgic Time Travel Back to the 50s, 60s, 70s, 80s, and 90s."
"I'm a child of the 80s, and I love all of this stuff, so it was really easy for me," Meri said.
Meri said he started sculpting on the beach with his kids.
"We'd push together an alligator or a shark, and eventually, those got a little more intricate, a little more elaborate, and my kids didn't want to go to the beach with me anymore because Daddy was there too long, so that was kind of it. I just got a passion for making them," Meri said.
Meri and several other sculptors, like Melimeige Beauregear, who's from Canada and lives in Hawaii, have been coming to Clearwater Beach's festival for years. They said when it comes to making these masterpieces, it takes a lot of sand, water, and patience.
MORE: Pepsi unveils new look in first refresh in 14 years
"It's basically very similar to what you're going to do on the beach, but on a bigger scale," Beauregear said. "We start by compacting the sand. There are different methods. We can compact in boxes or wooden forms or plastic forms. So, it's a little bit like using your bucket that you turn around, except that, you don't have a bottom of your bucket. So, you fill it with sand using a lot of water, packing it tight, then you can carve, then just be creative," she said.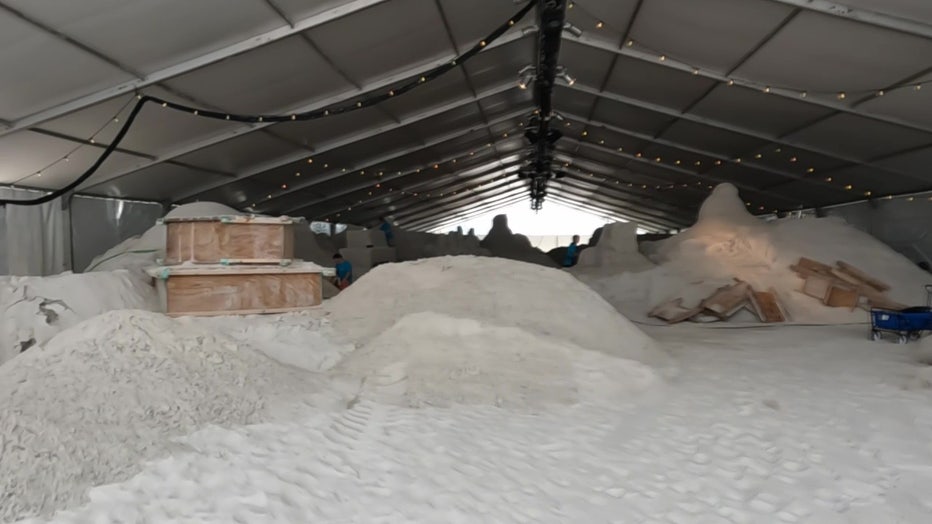 Sand preparing to be transformed 
The festival will include free sculpting classes daily, live music, and fireworks. You can buy tickets on Sugar Sand Festival's website by clicking here. 
 The money benefits Sunsets at Pier 60, a nightly sunset celebration at the pier in Clearwater Beach. Chandler said it's their biggest fundraiser.
Organizers also recommend parking in downtown Clearwater and hopping on the Jolley Trolley to save yourself from parking headaches.
The sand will be returned to Clearwater Beach after the festival.