Florida community enjoys near-free solar power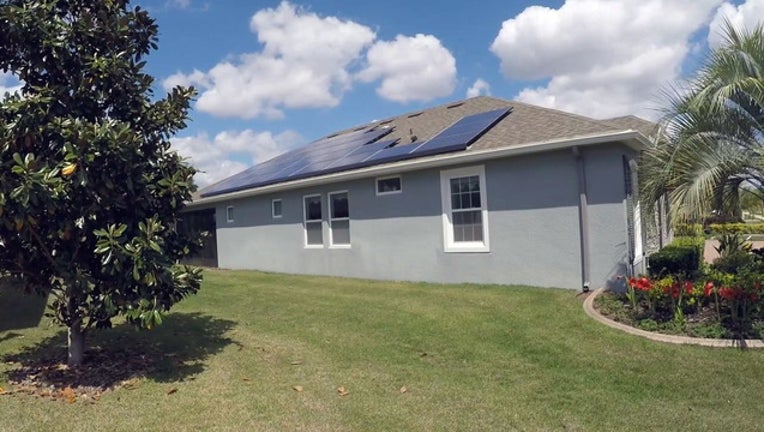 GROVELAND (FOX 13) - Rural Groveland, Florida may seem like an unlikely place for a technological boom.  But sometimes looks can be deceiving. 
Trilogy Orlando is a 55-and-older community where just about every home is powered by solar energy. 
"Why not solar?" offered Jim Kennedy, who lives in the Trilogy development and says solar is a hit. "We have so many people that we talk to in the community, and every single one is just thrilled to death that they have solar." 
Mega builder Shea Homes created Trilogy in 2010, and company vice president Michael Fraley says it all started with the goal of creating value for their customers.
"If we were able to figure out a way to get to a place where we could generate enough electricity to offset the annual consumption of a homeowner, we really would be making a difference in people's lives," Fraley said.
On average, solar homeowners at Trilogy only pay an incredible $10 a month for electricity – savings that quickly adds up.
"If you figure a $200 average electric bill and I'm paying $10 a month, that's $190 that goes to something else," explained Brian Feeney, another homeowner.
Many homeowners produce so much power, they sell the surplus back to the electric company – a practice called net-metering. 
"We actually get a credit back at the end of the year so it's not even $10 a month," Kennedy continued.
But as good as this may sound, there are problems in paradise. "How our system works is we're tied into the grid and there needs to be an access to that grid so there is a fee associated with it," Fraley said. 
And the utility industry wants to raise that access fee for solar users to offset operating costs.
"Now, if their connection fee is $50 and you're saving $100 or $150, and now all of a sudden it doesn't make sense at that point," Fraley continued.
But for now, homeowners enjoy a sun-powered life in this mini city. Still living on-the-grid and pocketing significant savings, but wondering how long it will last.