Florida crews provide help after Harvey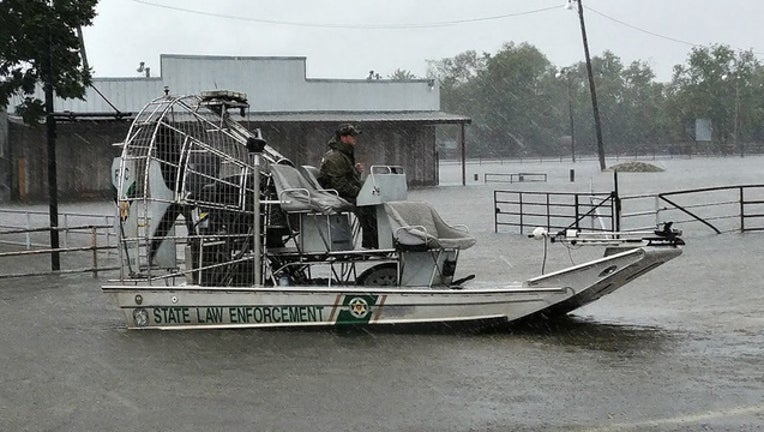 article
TALLAHASSEE (NSF) - As rain continued to pour Monday on Southeast Texas from the remains of Hurricane Harvey, crews from the Florida Fish and Wildlife Conservation Commission started helping move people to dry ground.
"The focus is basically getting people out of the flooded homes and flooded areas in the Beaumont area, all the way over to Houston, Texas, and bringing them to dry ground," Fish and Wildlife Conservation Commission Col. Curtis Brown said.
The state agency quickly deployed 25 officers to set up command bases in Beaumont for search and rescue operations after Gov. Rick Scott late Saturday announced the state's response to Texas' request for emergency assistance.
"Floridians know first-hand how damaging a storm can be for families and communities and how important it is to have the support of nearby states during these challenging times," Scott said in a prepared statement.
The initial 25 officers and equipment, which included eight shallow draft vessels and four patrol boats, had been staged Friday in Pensacola in anticipation of the need for assistance from the slow-moving but powerful hurricane, Brown said.
The number of Fish and Wildlife Conservation Commission officers in Texas will top 100.
The agency's contingent was expected to reach 52 officers by the end of Monday, with 63 more arriving on Tuesday.
"Florida's unique, we've been through a lot of hurricanes and our experience here is tested," Brown said.
Brown said the agency hasn't set a timeline on how long its officers, picked from throughout the state, will remain in Texas. But he noted they are keeping an eye on systems that could impact Florida.
"Florida is a priority, but our brothers and sisters in Texas need us," Brown said.
The state's equipment is expected to include nearly 60 boats.
"Everything that we're using is basically shallow draft boats or air boats or high-water vehicles, duck boats, that type of equipment," Brown said. "Unfortunately, the terrain over there right now, it's flooded, it's high-ground flooded, so they're trying to navigate that issue to get to those flooded areas."
The state officers are not the only assistance Texans are receiving from Florida.
The Red Cross and utility companies are sending crews.
Fire-rescue crews out of Orlando, Orange County and Seminole County went to Austin. Also, fire-rescue crews from Tampa, Hillsborough County and St. Petersburg, are going to Texas.
The city of Miami Fire-Rescue's swift water response team and Miami-Dade Fire-Rescue's search and rescue team are going to Houston.