Florida House panel backs fantasy sports bill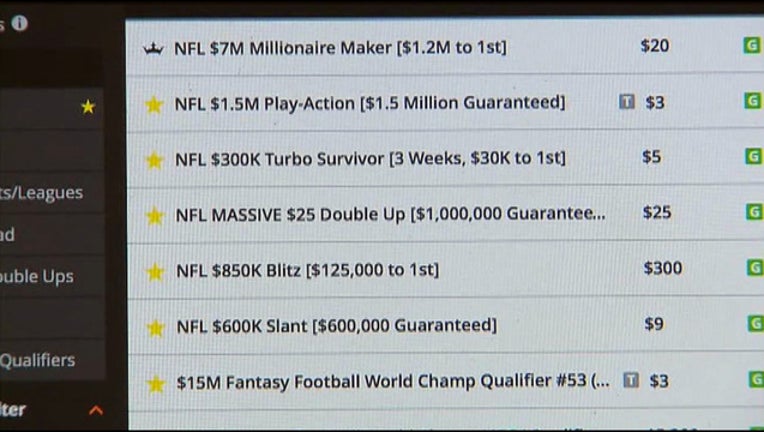 article
TALLAHASSEE - A House panel Tuesday approved a plan that would shield the fantasy-sports industry from Florida's gambling laws, though some lawmakers expressed concerns about a lack of regulations.
The 10-3 vote by the House Business & Professions Subcommittee to approve the bill (HB 707) came as the rapid growth of daily online fantasy games has led to questions across the country about whether the industry is involved in illegal gambling.
Backers of the bill have been adamant that the games are not gambling. In fantasy sports, participants choose "teams" by compiling lists of actual athletes. The winners of fantasy-sports contests are determined by comparing the statistics of the athletes.
With some lawmakers concerned about regulations, bill sponsor Matt Gaetz, R-Fort Walton Beach, said he'll work on amendments involving background checks for operators of online fantasy-sports operations and rules regarding how operators' licenses can be withdrawn for failing to abide by state laws. The bill next will go to the Regulatory Affairs Committee.
The Business & Professions Subcommittee backed an amendment that would require operators to pay initial $500,000 licensing fees and $100,000 annual renewal fees.
"My belief is that if we pass this bill in this format, that we will become a model for the country," Gaetz said. "And we will show the country how to appropriately deal with fantasy contests."
Despite industry supporters saying the contests are not gambling, the subcommittee added an amendment by Rep. Scott Plakon, R-Longwood, that would direct money from licensing fees to the Florida Council on Compulsive Gambling. Gaetz said he didn't fight the change because it had support from other members of the committee.
Plakon said fantasy games may be similar to gambling, but the social issues need to be addressed as there has been an "uptick" in calls to gambling addiction lines due to fantasy sports.
"I don't believe that this is gambling under Florida law, but the dynamics are similar," Plakon said.
The amendment wasn't fully supported by the committee because of questions about how fantasy sports impact gambling addicts.
"We're going to give tens if not hundreds of thousands of dollars to a hotline that can't tell us how many people call?" said Rep. Carlos Trujillo, R-Miami. "I think we're better off investing in Powerball. I think we'll have a better rate of return."
While Florida lawmakers look at shielding fantasy sports from gambling laws, officials in states such as Nevada, New York and Illinois have said they view daily fantasy sports as illegal forms of gambling --- a position the industry vehemently disputes.
Tallahassee attorney Marc Dunbar, representing the Stronach Group which owns Gulfstream Park Racing & Casino in Hallandale Beach, said the state needs to regulate fantasy sports operators the same as pari-mutuel facilities.
"This bill is about a $4 billion industry … that is dominated by FanDuel and DraftKings. It's a gambling industry," Dunbar said. "We're not against the legislation of the industry for 3 million Floridians (who play the games). We are only asking for one basic thing: Treat them like you treat us."
A similar bill in the Senate (SB 832), sponsored by incoming Senate President Joe Negron, R-Stuart, has not gone before a committee.