Florida man hacked teens' Snapchat accounts, stole their lewd photos, officials say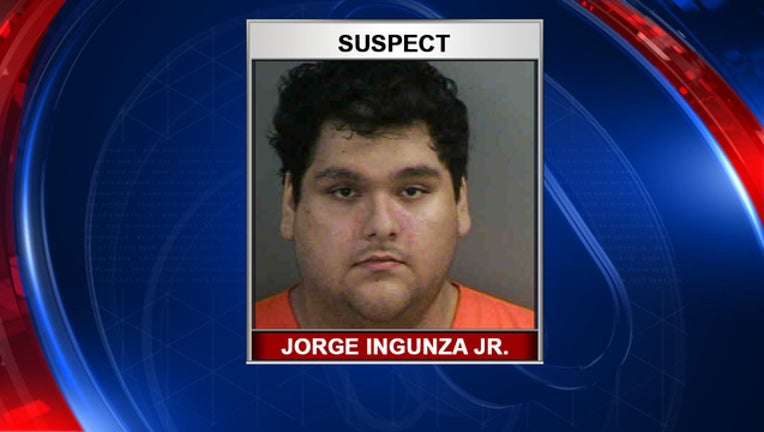 NAPLES, Fla. (FOX 13) - A Florida man was arrested for hacking into teenagers' Snapchat accounts and threatening to send out lewd images he found of them, deputies said.
Detectives in Collier County arrested 21-year-old Jorge Ingunza, Jr. for extortion, and transmitting and possessing child pornography. Six of the teen victims live in Collier County and two live in Colorado. All range in ages from 13 to 18. 
Through their investigation, officials said Ingunza would hack into their accounts and change their back-up email, phone numbers and passwords. Then, he would download lewd images the victims had of themselves from those accounts, contact the victim on Instagram and send them their own images. 
Investigators said Ingunza would threaten to post those images publicly on social media if the victims didn't send him additional lewd images.  The suspect used fake social media accounts to make contact with the teenagers on Instagram. Officials said he also used compromised accounts that he hacked from other victims. 
Detectives determined the activity came from Ingunza's home at 10268 Emperor Lane in Naples. On Wednesday, Collier County detectives and SWAT team members with the sheriff's office served a search warrant at the home. Inside, they found Ingunza with his mother, according to the agency. They said they also found evidence linking Ingunza to the extortion and lewd images, but officials did not provide details on the evidence.
The Collier County Sheriff's Office said they receipved multiple reports in December from the local victims, the National Center for Missing and Exploited Children and officials from Colorado regarding Ingunza's activity. 
Detectives said there is evidence of more unidentified victims. 
"Some of whom may not want to come forward because they fear they will be in trouble with law enforcement and their parents for having lewd photos of themselves," the agency wrote in a Facebook page. "Detectives said the victims will not face charges and that law enforcement is focused on helping them."
Anyone who believes they could be a victim or has additional information on the case is asked to call Collier County Sheriff's Office at 239-252-9300. Anonymous tips can be submitted to Crime Stoppers by calling at 1-800-780-8477.
Collier County Sheriff Kevin Rambosk offered the following safety tips for children and parents when it comes to social media use:
- Use parental monitoring software. Both free and paid parental monitoring apps are available with a wide variety of features. These apps can do everything from monitor the content of your child's texts to sending alerts when your child adds a new contact. 
- Check your child's electronic devices often.
- Always know what apps your child is using and how the app can be used to communicate with others. Any app or website that allows your child to communicate and interact with unknown people is not safe.
- Never give out identifying or personal information – home address, school name, telephone number, age, marital status, or financial information in chat rooms or bulletin boards.
- Keep the computer in a family room rather than the child's bedroom.
- Share an email account with your child to oversee their mail, and consider joining your children when they are in private chat areas.
- Don't post photographs of your children on Web sites that are available to the public.
- Most social media apps have an age requirement. Enforce it.
- Learn their dialect. Kids have a language of their own when it comes to communicating online. Make sure you know what they are talking about. 
- Guard your location. Kids may have fun tagging posts or photos with a location taken from a mobile device's GPS, but parents might not want their child's precise whereabouts broadcast. 
- Inquire about your Internet Service Provider's (ISP) privacy policies and exercise your options for how your personal information may be used.
- Never allow your child to arrange a face-to-face meeting with someone they've "met" online unless they've received your permission.
- If you become aware of the transmission, viewing, or use of child pornography while online, immediately report it to the National Center for Missing and Exploited Children's CyberTipline at 1-800-843-5678 or www.cybertipline.com.
- Instruct your child not to click on any links that are contained in email from persons they don't know. Such links could lead to inappropriate websites.
- Remember that people online may not be who they seem. Someone indicating that "she" is a "12-year-old girl" could really be a 40-year-old male predator.
-Be careful about offers that involve personally coming to a meeting, having someone visit your house, or sending money or credit card information