Florida Strawberry Festival releases entertainment lineup for 2019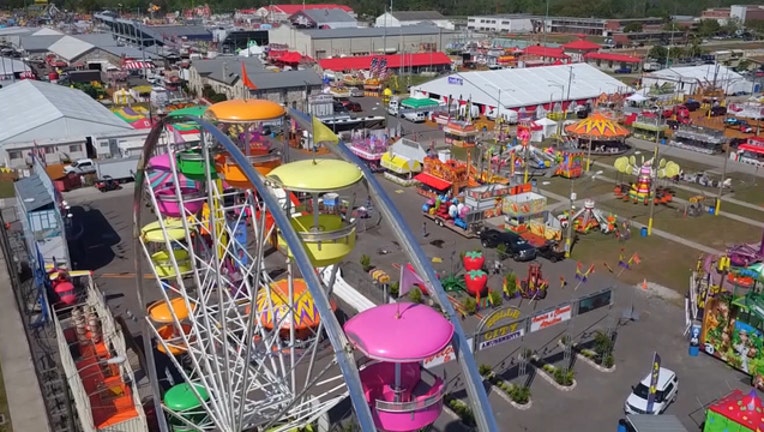 article
PLANT CITY (FOX 13) - The Florida Strawberry Festival announced its entertainment lineup for next year.
The festival lasts for 11 days to celebrate the strawberry harvest in east Hillsborough County. Next year's event will take place from February 28 to March 10 in Plant City.
Tickets for shows will go on sale Thursday, December 6 at 8 a.m. and can be purchased online at www.flstrawberryfestival.com, at the Amscot Main Ticket Office located at 2209 W. Oak Avenue in Plant City and over the phone at 813-754-1996.
Organizers for the Florida Strawberry Festival released the following lineup Monday morning:
Thursday, February 28 
10:30 a.m. Jimmy Sturr & His Orchestra 
3:30 p.m. The Oak Ridge Boys 
7:30 p.m. ALABAMA
Friday, March 1  
3:30 p.m. Willie Nelson
7:30 p.m. Brothers Osborne
Saturday, March 2  
3:30 p.m. Home Free
7:30 p.m. Kool & the Gang
Sunday, March 3
3:30 p.m. Chicks with Hits featuring Terri Clark, Pam Tillis and Suzy Bogguss
7:30 p.m.An Evening with Steven Tyler and The Loving Mary Band
Monday, March 4 
3:30 p.m. Pat Boone
7:30 p.m. Martina McBride
Tuesday, March 5  
3:30 p.m. The Drifters, Platters & Cornell Gunter's Coasters 
7:30 p.m. NEEDTOBREATHE
Wednesday, March 6 
3:30 p.m. Gene Watson
7:30 p.m. STYX 
Thursday, March 7  
10:30 a.m. The Kingston Trio 
3:30 p.m. The Letterman 
7:30 p.m. for King & Country 
Friday, March 8  
3:30 p.m. Tanya Tucker 
7:30 p.m. Chris Janson
Saturday, March 9 
3:30 p.m. Florida Strawberry Festival's Battle of the Bands Finale 
7:30 p.m. Keith Sweat 
Sunday, March 10 
3:30 p.m.Bill Anderson & Bobby Bare
7:30 p.m. Old Dominion's Make It Sweet Tour
Additional information can be found by visiting www.flstrawberryfestival.com.