Former US presidents raising money for hurricane relief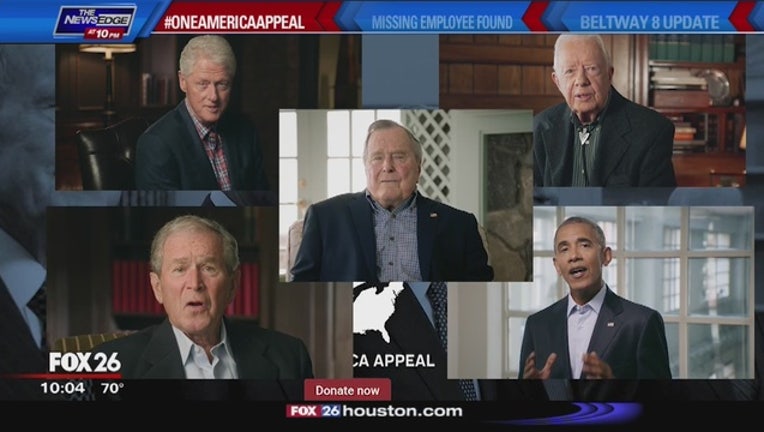 article
WASHINGTON - The five living former U.S. presidents are teaming up to create the "One America Appeal" to raise money for storm recovery in Texas and Louisiana from Hurricane Harvey, and have expanded their appeal to include areas affected by Hurricanes Irma and Maria.
The hurricane recovery effort was announced by former presidents Barack Obama, George W. Bush, Bill Clinton, George H.W. Bush and Jimmy Carter.
Online donations can be made at OneAmericaAppeal.org.
The current president, Donald Trump, tweeted his support: "We will confront ANY challenge, no matter how strong the winds or high the water. I'm proud to stand with Presidents for #OneAmericaAppeal."
The hurricanes represent the latest philanthropic collaboration by living ex-U.S. presidents and their first joint effort since Trump's election. The elder Bush and Clinton raised money for victims of the devastating tsunami in Asia in 2004 and Hurricane Katrina in 2005. After Haiti's massive earthquake in 2010, Obama tapped Clinton and the younger Bush to lead a relief effort.
For the Bush family, Harvey struck close to home. George H.W. Bush lives part of the year in Houston while George W. Bush, a former Texas governor, lives in Dallas.
Organizers said a special restricted account had been established through the George H.W. Bush Presidential Library Foundation to collect and quickly distribute donations. Officials said "100 cents out of every dollar" donated will help hurricane victims. All donations are tax-deductible.
Donations designated to help victims of Harvey will be distributed to the Houston Harvey Relief Fund and the Rebuild Texas Fund. The appeal was expanded to help those affected by Irma in Florida and the Caribbean.
In Florida, the money will go to the Florida Disaster Fund and in the Caribbean, donations will be distributed to Unidos Por Puerto Rico along with the Fund for the Virgin Islands for relief efforts.
"All monies collected will be distributed immediately to the designated recovery funds," the website said.
__
Online: https://www.oneamericaappeal.org/