FOUND: Missing Bradenton children found safe in Alabama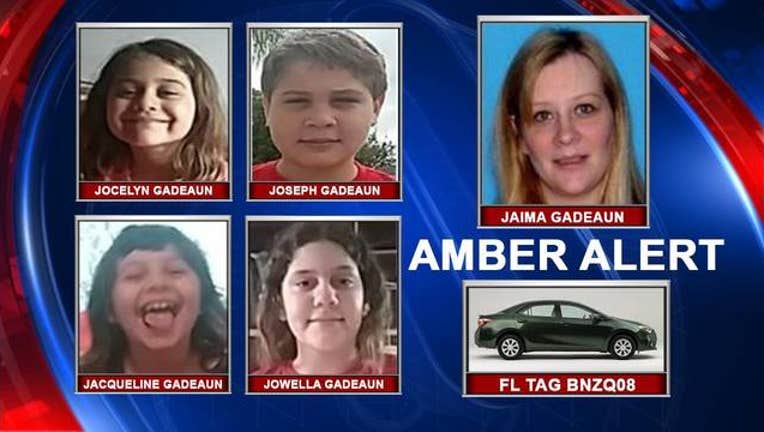 article
BRADENTON (FOX 13) - An Amber Alert was issued earlier this week for four Manatee County children were found early Friday morning in Alabama.
The children, Joseph, Jacqueline, Jocelyn, and Jowella Gadeaun were found in Eufaula just after midnight, according to the city's police agency. Two guests at the Hampton Inn in Eufaula had seen the Amber Alert and thought they recognized the children playing in the lobby area and notified the Eufaula Police Department.
Officers found the vehicle identified in the alert and they arrested the mother, Jaima Gadeaun. All children appeared to be in good health, according to a news release.
"We applaud the attentiveness of the guests that recognized the children and their quick action in notifying our agency," said Steve Watkins, the police chief, in the release. "The patrol officer's response was centered on the children's safety, and we are pleased that the incident was resolved professionally and peacefully."
RELATED: Police: Mother of missing children have violent past
The Manatee County Sheriff's Office said the children's grandmother, Theresa Deckard, 66, had temporary custody of the four children. Jaima was allowed supervised visits. On September 15, deputies said Jaima went to Deckard's home on 15th Street Court East and took they children.
Detectives said Jaima is dangerous and isn't allowed custody of the children. She had a warrant for her arrest for being involved in the beating of her ex-partner. She was also involved in a past shooting.
Jaima has been charged with interference with child custody and aggravated battery, which is an unrelated charge from a July incident, according to the Manatee County Sheriff's Office. She will face an extradition hearing in Alabama and it's unclear when she will return to Manatee County. The children will be in a temporary shelter until their return to Florida.