Four for July 4th: Houston couple welcomes quadruplets home from the hospital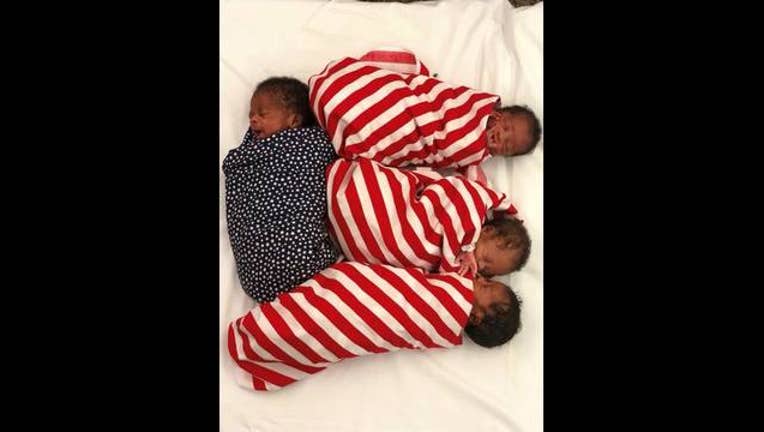 article
HOUSTON, TX - One Southwest Houston family has four reasons to celebrate this Fourth of July. This Independence Day, Linda and Thomas Agi welcomed home newborn quadruplets from the Memorial Hermann Southwest Hospital Neonatal Intensive Care Unit (NICU), four weeks after they made their debut in the world.
The three girls and one boy were born June 1, with two weighing less than three pounds and two others weighing just shy of four pounds. Mercy Grace Dotuchowo, Adriel Wohuowo, Amaris Owopoha and Zephania Ohoyenta spent several weeks gaining their strength in the Level III NICU before they were able to successfully transition home with their parents.
Dr. Rachna Bhala, an OBGYN affiliated with Memorial Hermann Southwest, said the hospital provided remarkable support for both Linda and her babies.
"I couldn't have asked for a better experience for a high-risk pregnancy patient," Dr. Bhala said. "And for the quadruplets, the care by the entire NICU team was exceptional."
To celebrate their special homecoming, Memorial Hermann Southwest Hospital wrapped each of the babies in a patriotic themed swaddle.
"I am thrilled to be a new, first-time mom and happy to have all four of our babies home from the hospital," Linda said. "I want to thank the entire NICU team at Memorial Hermann Southwest for their care for me and my babies over the last month."