Distracted driver hit, killed 4 men changing tire on I-75 in Sarasota, troopers say
SARASOTA, Fla. - It was dark on Interstate 75 through Sarasota Thursday night, but a group of men driving a truck with a trailer had to pull over and change a flat tire. But Florida Highway Patrol troopers said when another driver took their eyes off the road, a tragedy unfolded.
"It was just a moment of distraction that ended the lives of four people their families are crushed," FHP Trooper Ken Watson told FOX 13 News. 
Just before 10 Thursday night, troopers say the men driving got a flat tire near the Bee Ridge Road exit. 
They were heading south and pulled over to the left on the median. 
READ: Baby found dead in Bradenton quadplex fire after relative tried to save him, deputies say
As they changed the tire on the trailer, they placed orange cones along the roadway to warn drivers to steer clear.
"Unfortunately, that did not work," Watson said.
Troopers say a 34-year-old woman from Lakeland took her eyes off the road for a brief moment and swerved to the left, hitting and killing four of the men.
"This is why driving distracted kills people. This is why we need you to put your phones down. This is why we need you to keep both hands on the wheel. When you drive distracted, you not only put yourself in harm's way, but everything and everyone around you," Watson said.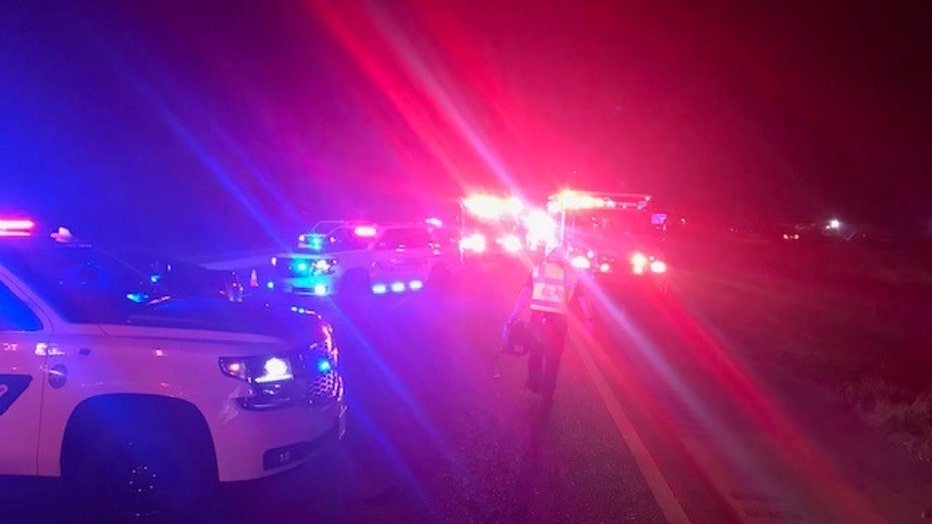 Credit: Florida Highway Patrol
It's a message troopers say everyone on the road needs to hear.
"Getting behind the wheel is a privilege, it is not a right. Take it seriously, do the right thing," he said.
Troopers say the driver who crashed is cooperating with the investigation and no charges have been filed, at this time. She could face a citation for leaving the roadway.
FHP said they are still investigating the crash and are asking for any witnesses to call them at 239-938-1800.