Gov. DeSantis signs measure that will allow colleges, universities to help athletes get endorsement deals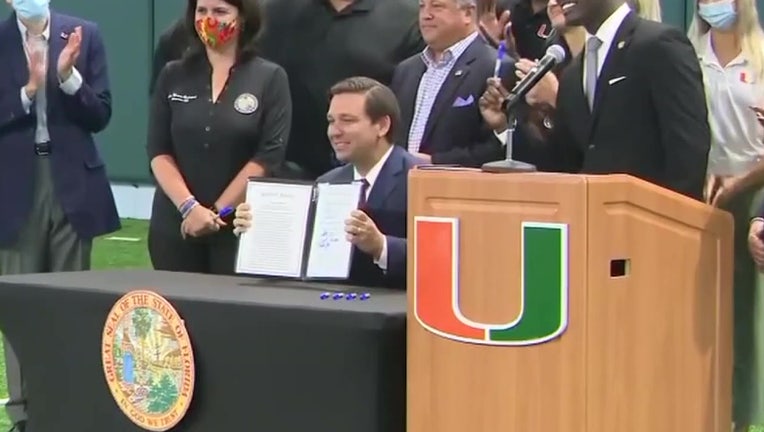 article
ST. PETERSBURG, Fla. - College athletes now have an even better chance to make money for their skills after Governor Ron DeSantis signed a measure Thursday that will allow their colleges and universities to help them get endorsement deals. 
DeSantis signed House Bill 7B, revising Florida's laws relating to Name, Image and Likeness (NIL), removing the barrier for NIL to allow Florida colleges and universities to assist students on sponsorships, endorsements or deals. The bill was signed into law following a special legislative session repealing the 2020 state law.
"It's going to allow us to support our student athletes just like any student on campus. And anything that is pro student, pro student athlete is very good by us," said Tom Ryan, the director of athletics at Eckerd College in St. Petersburg. "I think this does a couple of things. It brings Florida on a level playing field with the other states, the big picture."
READ: USF point guard reaches new heights with the Bulls
It also helps outside organizations working on their behalf, like the Fowler Avenue Collective works with University of South Florida athletes.
"Our sole focus is to how can we help the athlete monetize their name, image, likeness in the most of the best, the most efficient way," said Corey Staniscia, the chairman of the Fowler Avenue Collective. "I think NIL attractive to just about every student athlete, whether it's the new women's lacrosse team coming on board at USF. They're already asking questions. How do we get involved? How do we how do we work on our name, image, likeness and become, again, small business owners, entrepreneurs?"
The change includes some commitment from the athletes, requiring them to participate in two workshops on life skills, financial literacy and entrepreneurship. Jake O'Donnell leads the marketing agency Elite Athletes Management Group (EAMG) Sports in Tampa, and he is a former college athlete.
"I think that's going to be extremely important that these guys get involved with that," said O'Donnell. "A lot of these guys need to understand that if you make more than $600 a year, you've got to claim taxes."
MORE: Lakewood senior signs with Ole Miss after just first football season
O'Donnell said he didn't get the opportunity to participate in NIL deals, so he said the changes in Florida are a great opportunity for athletes to become entrepreneurs and develop their own personal brand.
"But what comes with that is financial responsibilities, obligations of being a business owner. Just because it may not be a traditional business in a sense, they're still a sole proprietor to an extent," said O'Donnell.
The changes allow the chance for athletes to set themselves up as entrepreneurs, whether they are from a large Division I school or a smaller college.
"It's not just about football. It's not just about basketball. There are opportunities out there for everybody, male and female as well," said Staniscia.
There are still strict NCAA rules that student athletes and colleges will have to follow. The bill also says athlete agents who represent name image likeness contracts must protect the student from unauthorized or exploitative use of their name image likeness or their right to publicity.