USF point guard reaches new heights with the Bulls
TAMPA, Fla. - University of South Florida point guard Tyler Harris plays with a chip on his shoulder – he just can't help it. 
"I've got a lot of doubters out there. I feel like I've got to prove a lot of people wrong," Harris said. 
Doubted at times because of his size, the 5'9''point guard is proving size is just a number this season. 
PREVIOUS: New USF student section aims at changing gameday culture
"People might look over me, but I can go out there and compete on a high level each night, too," said Harris.
Originally committed to play for his hometown's Memphis Tigers, Harris spent his freshman and sophomore seasons in tiger stripes before transferring to Iowa State, only to return for a second stint with Memphis a year ago. 
His homecoming, however, didn't last as Harris jumped into the transfer portal for his final year of eligibility.
Of course, the transfer portal is right where USF head coach Brian Gregory was waiting to welcome Harris to Tampa and offer the guard a new opportunity.
READ: USF Cheer completes three-peat as national champs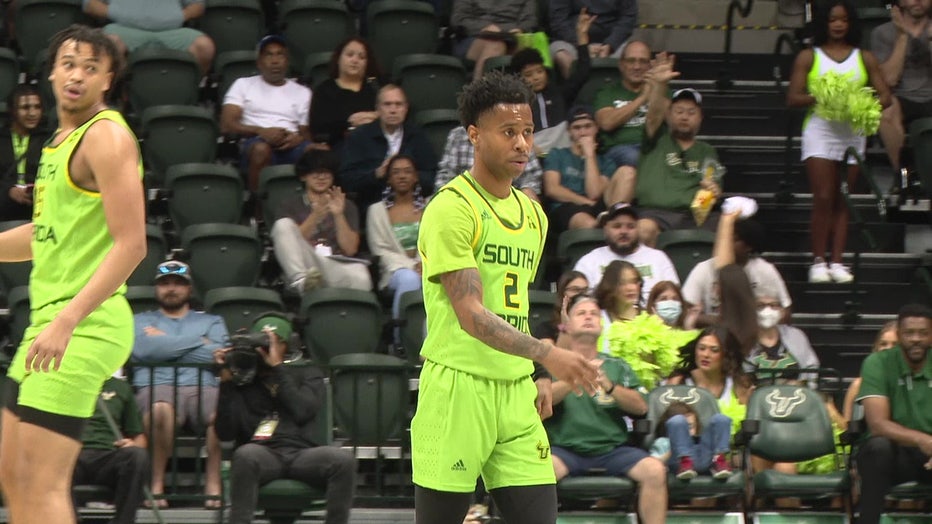 "We're asking him to do more than he's ever been asked to do before; not just scoring the ball but also run the team and defend with an intensity level and a disruptive level that he can create," said Gregory. 
What turned out to be one school's loss was USF's gain. Gregory now had a player he believed could be an elite scorer and a leader. 
"He wanted that challenge," said Gregory. "But early on there were some tough times with that challenge because with greater opportunity comes a greater responsibility." 
But Harris has risen to the occasion and to the responsibility bestowed upon him. The fifth year player is the unquestioned leader of the team on the floor while also leading the Bulls with more than 17 points per game. 
Twice this season Harris has eclipsed the 30-point mark in a single game and stands just 13 three-pointers shy of tying the American Athletic Conference's all-time record. 
MORE: USF Bulls celebrate grand opening of Porter Family Indoor Training Facility
"I feel like, since I came here, I can show people what I can do," Harris said. "Even the people that thought I wasn't good enough, I'm going to show them they were wrong and that I am good enough." 
While he is proving any doubters wrong, Harris is also leading his newest team to new heights.