High amount of prescription drugs found in redfish in Florida's most important estuaries, new study finds
TAMPA, Fla. - A newly completed study from Florida International University found high amounts of opioids, heart medication and other prescription drugs in redfish throughout the state's most important estuaries, with Tampa Bay ranked second highest for contaminants in the fish.
Researchers from FIU's Coastal Fisheries Research Lab took blood samples from more than 100 redfish from nine estuaries in Florida. 
"We found 17 different pharmaceuticals. The majority of those were cardiovascular medications and psychoactive," said Nick Castillo, a Ph.D candidate researcher at Florida International University's Coastal Fisheries Research Lab. "We found that on average across the 113 fish, that each fish had 2.1 pharmaceuticals, and we had five fish without one. "
READ: Discarded fishing line can also be deadly for inland birds, expert says
The highest amounts of pharmaceutical drugs were found in Apalachicola and Tampa Bay.
"It's not like you have fish floating that are dead. It's more subtle, but we're understanding more and more that even though it's subtle, it's still really important. It can have dramatic effects on the population," said Castillo.
Castillo said some of those changes, according to previous research, can include changes in a fish's behavior. As for people, Castillo put the impact in perspective for the human population.
"So if you were to try to get one pill, it's 48,000 servings. That's not happening," said Castillo. "But the question remains, what happens over someone's entire life span of these low dose exposures? There is, yes, we eat fish, but maybe not every day, but we drink water every day. We're eating produce every day. And the pharmaceuticals are in those, too."
MORE: Crews begin pumping millions of gallons of treated wastewater from Piney Point into underground well
Researchers can point to wastewater as the main source of how the drugs end up in the marine environment.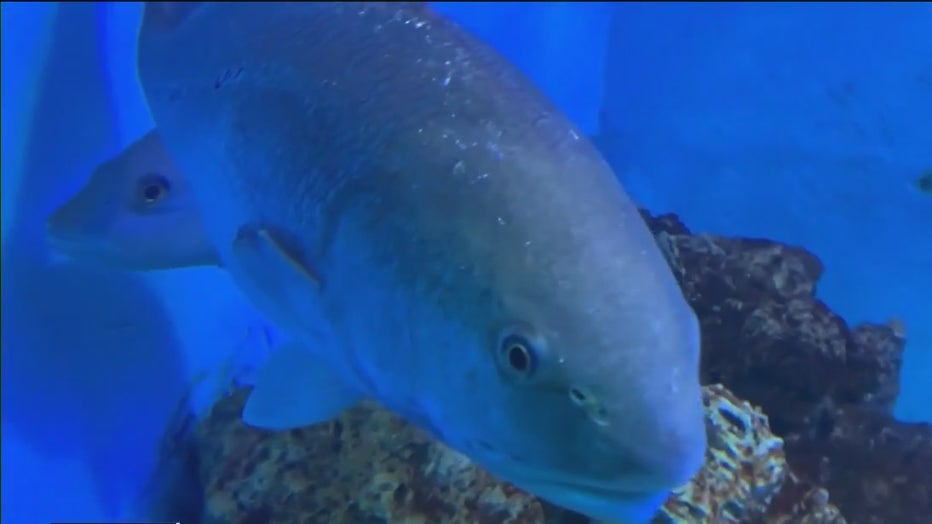 "When we take when we get a prescribed pharmaceutical, and we take that prescription, we excrete a large part of that. And anywhere between 30 to 60% of that medication is excreted by our bodies. It ends up in our wastewater," said Jennifer Rehage, Ph.D, a coastal ecologist at Florida International University's Institute of Environment and Coastal Fisheries Research Lab. "So we might be seeing that issue where we have a lot of aging pipes. So on the way to the treatment facility, we have leakage."
Before hitting the state's waterways, wastewater goes through filters, and FIU researchers said adding ozone treatment is the best solution to effectively filter out prescription drugs.
FOX 13 reached out to the cities of St. Petersburg and Tampa about wastewater treatment systems, and the City of Tampa sent a statement from the director of Wastewater Eric Weiss saying: 
"In developing our Wastewater Master Plan, the City of Tampa evaluated various alternative wastewater disinfection technologies, including ozone treatment. We decided to continue with chlorine disinfection, as no upgrades were necessary to comply with current environmental regulations. As always, we continue to monitor operations closely for contaminants of emerging concern."  
PREVIOUS: Dozens of clippings stolen from Florida Southern College's rose garden
FIU researchers said municipalities need to look at adding more, and chlorine disinfection is not enough.
"[Chlorine] doesn't really have an effect on the pharmaceuticals. But the ozonation is actually the most effective way to remove the pharmaceuticals," said Castillo. "We're looking at fish, and we're looking at what happens with people. But when it comes down to it, it's a water quality issue."
FIU researchers said many Floridians also have septic systems, plus there's a lot of old infrastructure that leaks. Rehage said all of that contributes to what ends up in the environment. They said Florida's recreational fish industry depends on healthy habitat, and so they said the study proves there's more to do to improve water quality.
Rehage said FIU's study on pharmaceutical drugs in redfish will up for scientific review.