Carole Baskin: Tiger at Big Cat Rescue 'nearly tore off' arm of volunteer who didn't follow protocol
TAMPA, Fla. - A volunteer with Big Cat Rescue in  Tampa is recovering in the hospital after being mauled by a tiger. The woman's arm was nearly torn off. 
The incident happened on the very same day the U.S. House was set to vote on the Big Cat Public Safety Act. It's a bill that Big Cat owner Carole Baskin has lobbied for, for years, to prevent these types of incidents and other incidents of animal abuse. Late in the night, it passed. 
The injured volunteer, Candy Couser, has worked at Big Cat Rescue for five years, feeding wild animals for three. We're told she is in good condition.
The incident happened around feeding time.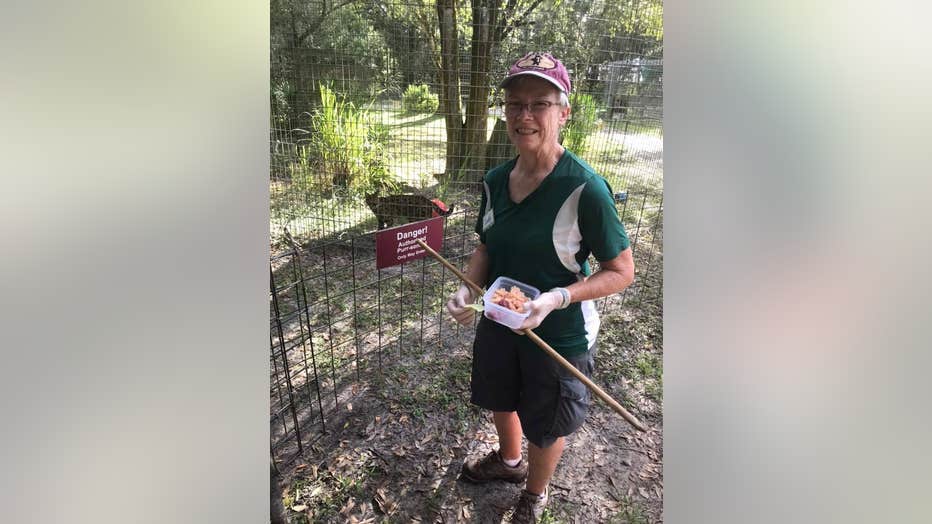 Photo of Candy Couser provided by Big Cat Rescue
In a statement, Baskin explained that the tiger, "Kimba had been locked away from that section for several days as cameras were being installed there. She opened a guillotine tunnel door at one end of the tunnel, and when she went to raise the second door she saw it was clipped shut. This is our universal signal NOT to open a gate without the coordinator coming to assist, but Candy said she just wasn't thinking when she reached in to un clip it. It is against our protocols for anyone to stick any part of their body into a cage with a cat in it. Kimba grabbed her arm and nearly tore it off at the shoulder."
Other staff members put a tourniquet on Couser's injured arm, along with ice packs while waiting for the ambulance to arrive.
Despite what happened, Couser "insisted that she did not want Kimba Tiger to come to any harm for this mistake. He is being placed in quarantine for the next 30 days as a precaution, but was just acting normal due to the presence of food and the opportunity."
Kimba had been at Big Cat Rescue since last year, after being rescued from a circus in Guatemala. The Florida Fish and Wildlife Conservation Commission is investigating the incident.
Meanwhile, Thursday was supposed to be a Big Day for Big Cat. The U.S. House was set to vote on The Big Cat Public Safety Act which Baskin pushed for years. It would federally ban private ownership of big cats.
"It doesn't take anybody's animal away from them but they can't buy or breed to get more big cats in backyards and basements," Baskin said in a Facebook video on Nov. 30.
The bill has 230 co-sponsors. Several spoke in favor of it during Thursday's discussion. "Lions and tigers do not belong in urban apartments or in cages in suburban backyards," said Rep. Mike Quigley, D-Illinois.
The bill would also restrict direct contact between big cats and the public, meaning, no more cub petting, which is a big moneymaker for roadside zoos. "Since 1990, there have been around 300 dangerous incidents involving big cats in the U.S. including one just today," said Rep. Ed Case, D-Hawaii. "In the midst of a roller coaster of a year, here's one thing we can do to reduce this mayhem."
While this Act has support from animal protection organizations like the Association of Zoos & Aquariums, the Humane Society of the U.S., and the National Sheriff's Association, it has been opposed by some in the private zoo and the animal entertainment industry. 
Following news of the mauling, Baskin said in a statement, "The fact that, despite our intense safety protocols and excellent record of safety, an injury like this can occur just confirms the inherent danger in dealing with these animals and why we need the Big Cat Public Safety Act to eliminate having them untracked in backyards around the country and ending up in sanctuaries where wonderful people like Candy Couser have committed themselves to providing care for those discarded by the pay to play industry."
The story of the rivalry between the CEO of Big Cat Rescue, Carole Baskin, and Joseph Maldonado-Passage, also known as "Joe Exotic," took center-stage after the documentary, Tiger King, hit Netflix earlier this year.
After its release, the Hillsborough County Sheriff's Office offered more resources to help find answers surrounding the cold case disappearance of Baskin's former husband, Don Lewis. Tiger King generated a renewed interest in the investigation.
PREVIOUS: Don Lewis' family sues Big Cat Rescue CEO Carole Baskin for defamation: TMZ
This story is developing. Check back for updates.