Apparent murder-suicide leaves 2 dead after Riverview standoff
RIVERVIEW, Fla. - A daylong SWAT standoff ended with two men dead inside a Riverview apartment Monday, the apparent result of a domestic dispute.
Hillsborough County deputies say they were called to an apartment complex along Cypressdale Drive around 7:30 a.m. after receiving reports of a barricaded man inside a unit there. SWAT team members and crisis negotiators soon arrived after Keith Jackson refused to come outside.
Around 1 p.m., someone inside the unit started a fire. Firefighters were able to get the blaze out quickly, but when crews went inside, they found two men dead.
Sheriff Chad Chronister did not name the second person, but said Jackson had told them that he had "killed the love of his life."
"How our suspect succumbed, we don't know at this time," Chronister said.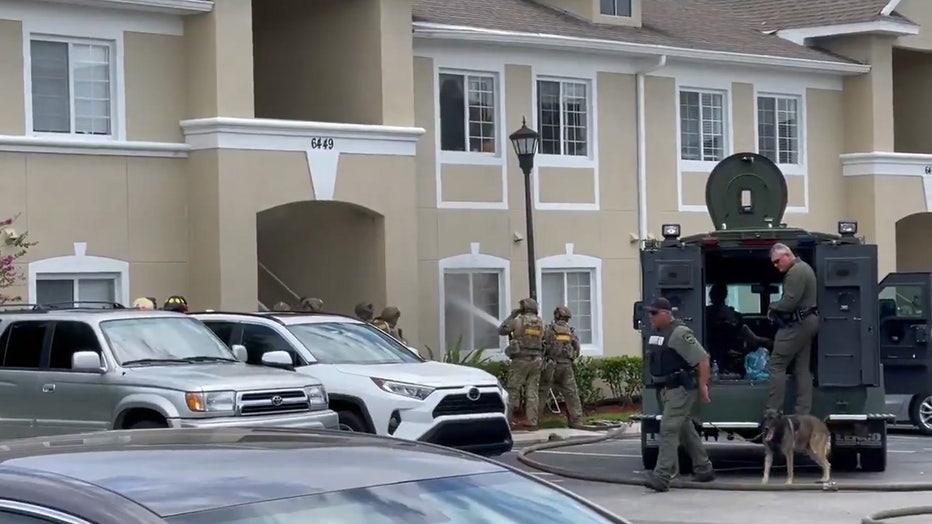 Deputies were waiting on firefighters to finish venting the apartment before they could go in and investigate. 
The standoff came less than a day after deputies came under fire while conducting a welfare check of a child in the Northdale area. The bomb disposal team ultimately responded to that scene because of threats from the suspect in that case.
"I think our community is on edge. Our community is too violent," the sheriff offered. "I don't know what it's going take, who it's going to take to be killed for us to finally say 'enough.'"