How to help Puerto Rico relief efforts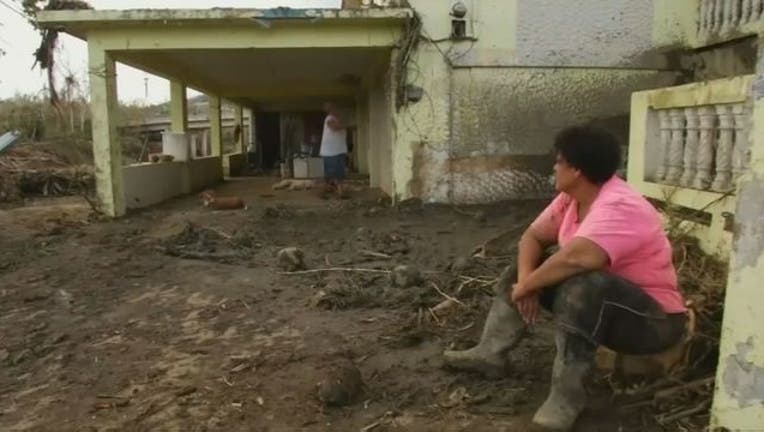 TAMPA (FOX 13) - Puerto Rico's nonvoting representative in the U.S. Congress says Hurricane Maria's destruction has set the island back decades.
If you live in the Bay Area and would like to donate items for relief efforts in Puerto Rico, there are several verified locations accepting those for delivery to the country. 
There are also verified places where anyone can make monetary donations online, which are listed below. 
MONETARY DONATIONS:
One America Appeal - The five living former U.S. presidents are teaming up to create One America Appeal to raise money for storm recovery in Texas and Louisiana from Hurricane Harvey, and have expanded their appeal to include areas affected by Hurricanes Irma and Maria.
Online donations can be made at OneAmericaAppeal.org.
The hurricane recovery effort was announced by former presidents Barack Obama, George W. Bush, Bill Clinton, George H.W. Bush and Jimmy Carter.
Florida State Hispanic Chamber of Commerce - The group launched a charitable initiative called Puerto Rico Hurricane Relief. The goal is to raise $250,000 in disaster relief funds.
For more information on the fundraiser, visit the Florida State Hispanic Chamber of Commerce at www.donasity.com/fundraiser/TVRFMk9BPT0=/Puerto-Rico-Hurricane-Relief.
FOOD, WATER, SUPPLY DROP-OFF LOCATIONS:
Puerto Rico nos Necesita - Five businesses have joined the non-profit Puerto Rico nos Necesita - meaning Puerto Rico needs us - to accept donations through October 31 for the following supplies:
Cleaning supplies, personal hygiene products, water, canned food items, first aid supplies, baby products, flashlights, generators, blankets, batteries, pet food, mosquito repellent, wireless fans.
-The Prestige Barbershop of Tampa Bay - Tuesday-Saturday 11 a.m. to 7 p.m.
105 US-301 #109, Tampa
-Los Gorditos Bar & Grill - Tuesday-Saturday 9 a.m. to 9 p.m.
6110 Causeway Blvd., Tampa
-La Fondita de Leo - Monday-Sunday 11 a.m. to 9 p.m.
528 Cleveland St., Clearwater
-Los Gorditos Food Truck - Tuesday-Saturday 9 a.m. to 9 p.m.
3125 W. Hillsborough Ave., Tampa
-El Rico Frappé Latino - Tuesday-Saturday 9 a.m. to 9 p.m.
122 Pierce Christie Dr., Valrico
For more information and updated times and locations, visit https://www.facebook.com/events/1450279521746845/?ti=cl
Florida State Hispanic Chamber of Commerce will also accept supplies to be sent to Puerto Rico.The below locations will accept the following items:
Baby and adult pain relief medicine, baby formula, baby wipes, blankets, bottled water, canned and dry pet food, canned goods, canned milk, chainsaws, cots, crowbars, diapers, dish soap, dry foods, electric cables, electric generators, extension cords, first-aid kits, garbage bags, ground fault protectors, hammers, hand sanitizer, laundry detergent, mosquito repellant, pillows, pop-up canopies, rope, safety glasses, shovels, stomach pain relief medicine, tarps, towels, utility knives, wheelbarrows, wood panels, and work gloves.
-REALVEST Florida, LLC - September 25 to 29, 9 a.m. to 4 p.m.
3820 Gunn Highway, Tampa, FL 33618, 813-513-2814
-Club Pilates Carrollwood - September 25 to 29, 8 a.m. to 6 p.m.
13254 N Dale Mabry Hwy, Tampa, FL 33618
-BOZZ REALTY GROUP - September 25 to 29, 9:30 a.m. to 1:30 p.m.
23834 State Road 54 Lutz, Fl 33559
*Office building is to the left when you enter 54 U-store parking lot*
-Brandon Porter Paint - September 25 to 29, 7 a.m. to 4 p.m. and September 30, 8 a.m. to 12 p.m.
1041 West Brandon Blvd. Brandon, Fl 33511
-Wesley Chapel Nissan - September 25 to 30, 9 a.m. to 9 p.m. and October 1, 11 a.m. to 6 p.m.
28519 State Road 54 Wesley Chapel, FL 33544