Plans to redevelop Ybor Harbor doesn't include a baseball stadium for the Rays
YBOR CITY, Fla. - A Tampa mega-developer filed plans with the city on Thursday to redevelop the Ybor Harbor area into a "dynamic new 33-acre mixed-use waterfront development" surrounding Ybor Channel and located just south of Adamo Drive.
According to a news release, the site, owned by Darryl Shaw, could include up to 6 million square feet of residential, office, hotel and retail space.
In a statement included in the release, Shaw said, "Ybor Harbor is a transformative new addition to the fabric stitching together our urban neighborhoods from Ybor City to the Channel District, Water Street, Gas Worx, and our downtown core. Our focus is on creating a vibrant neighborhood, enhancing connectivity, and bringing the public to our city's cherished waterfront."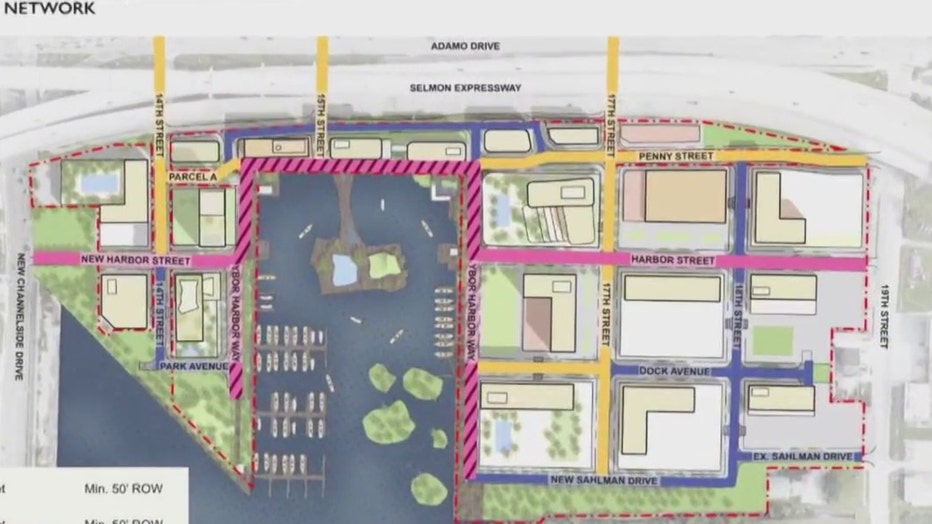 Rendering of possible redevelopment in Ybor Harbor
"It's a massive development for the channel district," added Kimberlee Curtis, Chair of the Channel District's Community Redevelopment Area Action Committee. "Having a really large-scale, first-of-its-kind mixed-use development in the Channel District, I feel it's really a substantial move for this neighborhood."
READ: Meet the man behind the proposed Gas Worx neighborhood
What also stands out to some is what's not in the plans: a new stadium for the Tampa Bay Rays. Last month, the city released its own renderings showing a stadium near this area. Shaw hasn't said if he plans to try to fit on into his adjacent Gas Worx project, which is also expected to be a mix-use development.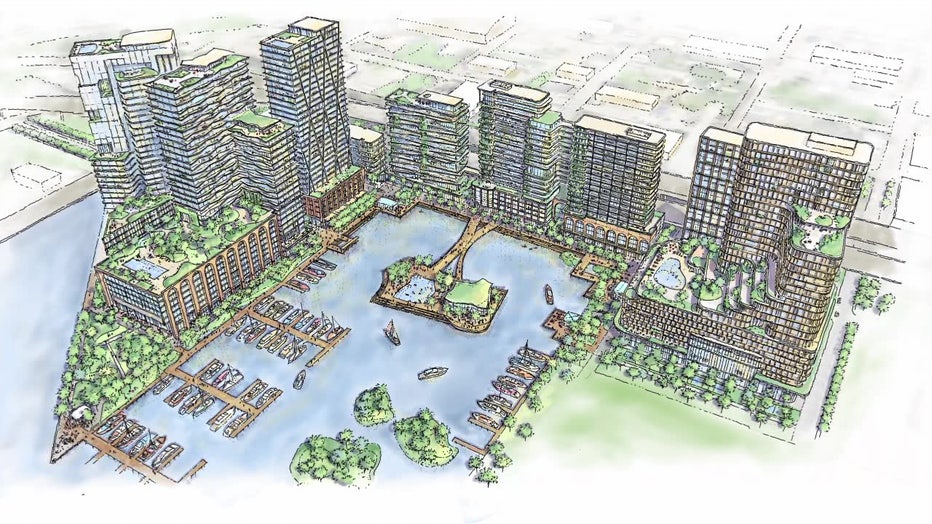 The Ybor Harbor area could be turned into a 6-million square feet of residential, office, hotel and retail space.
Councilman Orlando Gudes hasn't heard either and this part of Tampa is in his district.
"If [a stadium] could happen, fine. But I want to make sure that the taxpayers are footing the bill," Gudes told FOX 13, adding he has questions about affordability. "Development is good, I think. For the renderings, it looks very good, but I always ask the question, can everybody live there?"
READ: Gas Worx development brings hope for other Ybor City businesses
Shaw wasn't available for comment Friday. St. Petersburg Mayor Ken Welch, who is focused on his own plans to try to keep the Rays in St. Pete, declined to comment on Shaw's project.
In a statement included in Shaw's news release announcing his filing, Tampa Mayor Jane Castor said: "We have seen the immense benefits to the community by thoughtfully investing in opening up our city's waterfront over the last decade. I am excited to see a vision for Ybor Harbor that continues that work and further activates our natural environment."