Hurricane Harvey closes key oil, gas operations in Texas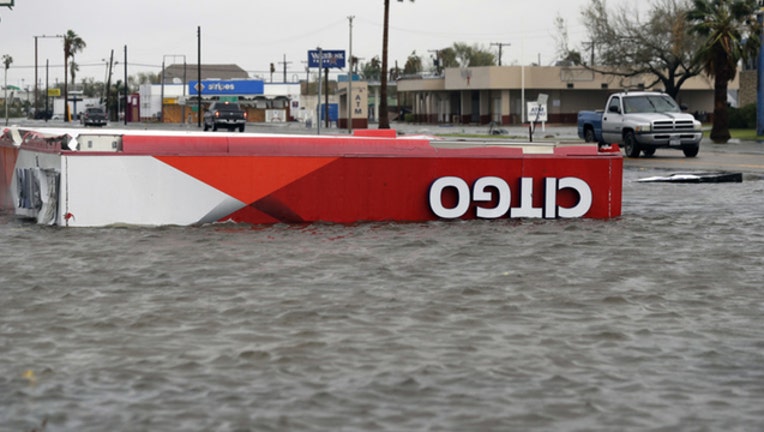 article
DALLAS (AP) - Key oil and gas facilities along the Texas Gulf Coast have temporarily shut down as Harvey pounds the region with torrential rain and high winds, virtually assuring gasoline prices will rise in the storm's aftermath.
Even before the Harvey made landfall late Friday, dozens of oil and gas platforms had been evacuated, at least three refineries had closed and at least two petrochemical plants had suspended operations.
How soon they reopen depends on the severity of flooding and the resumption of power to the areas. Experts say it's still too early to say, with the storm still moving through the region Saturday evening. But they believe gas prices will increase 5 cents to 25 cents per gallon.
Harvey also continued to take a toll on U.S. air travel Saturday, with more than 1,000 flight cancellations as of the early evening, according to FlightAware. Nearly 850 of the canceled flights were scheduled to either depart from or land at Houston's two airports.
The shipping industry also is expected to be disrupted by the worst hurricane to hit the refinery-rich Texas coast in more than 50 years.
Here's how Harvey is likely to affect business and pocketbooks:
- REFINERIES: Nearly one-third of the nation's refining capacity sits in low-lying areas along the coast from Corpus Christi, Texas, to Lake Charles, Louisiana.
Several refineries at greatest risk of suffering a direct strike from high winds have already shut down, but it is the potential for flooding in the Houston and Beaumont areas that could really pinch gasoline supplies.
Flooding and power outages caused by a storm surge are considered the biggest risk.
"The biggest driver of how much this will increase gas prices is how much rain falls in Houston during the next three days," Andy Lipow, president of consultant Lipow Oil Associates, said Saturday. "We are in a wait-and-watch mode."
For now, Lipow is predicting gasoline prices will rise 10 cents per gallon east of the Rockies.
Tom Kloza, an analyst for the Oil Price Information Service, predicts that prices could rise by up to 25 cents a gallon, but that an increase of 5 cents to 15 cents is more likely, assuming that the hurricane doesn't cause lasting damage to refineries.
Flint Hills Resources announced that it would shutter a refinery before Harvey hit and Valero Energy Corp. said it was closing two facilities in Corpus Christi.
The prospect of supply interruptions sent gasoline futures to $1.74 a gallon, their highest level since April, before they retreated to around $1.67 by Friday afternoon.
In addition to the refinery closures, Formosa Plastics shut its petrochemical plant in Point Comfort, Texas, and OxyChem suspended operations at its petrochemical plant in Ingleside, Texas, according to Platts, an S&P Global division that tracks the commodities and energy industry.
- OIL AND GAS: Companies have been evacuating workers from oil platforms in the Gulf of Mexico, and that is crimping the flow of oil and gas.
As of Friday, the U.S. Bureau of Safety and Environmental Enforcement said workers had been removed from 86 of the 737 manned platforms used to pump oil and gas from beneath the Gulf.
The agency estimated that platforms accounting for about 22 percent of oil production and 23 percent of natural gas output in the Gulf had been shut down.
"We could see more production be taken offline in the Gulf of Mexico" if the path of the storm wanders farther east, said Jenna Delaney, an oil analyst for PIRA Energy. But, she noted, oil companies announced fewer platform shutdowns on Friday than they had on Thursday, which is an encouraging sign.
Exxon Mobil closed two of its platforms and was evacuating all personnel in the expected path of the storm, said spokeswoman Suann Guthrie. Shell halted operations on a big floating oil-production platform, and Anadarko evacuated workers and shut down four facilities in the western Gulf while continuing to operate those east of the storm's predicted path.
On shore, ConcoPhillips stopped all operations in the Eagle Ford shale formation, which lies across a swath of South Texas inland from the Gulf. A company spokeswoman cited safety and potential disruptions in getting oil and gas from the wells to market during the storm.
- SHIPPING: Shipping terminals along the Texas coast shut down as the storm approached. Port operations in Corpus Christi and Galveston closed, and the port of Houston said container terminals and general cargo facilities closed around midday Friday.
Rates for carrying freight between the Gulf of Mexico and the U.S. East Coast rose.
- TRAVEL: After more than 1,200 flight cancellations Friday and Saturday, airlines already had canceled an additional 823 flights scheduled for Sunday, according to FlightAware's calculations on Saturday evening.
Airlines were offering customers the chance to reschedule trips that would take them to Houston, San Antonio or Austin from Friday through the weekend.
- UTILITIES: Researchers at Texas A&M University estimated that the storm would knock out power for at least 1.25 million people in Texas. They said the hardest-hit areas will include Corpus Christi, which is on the coast, and San Antonio, which is about 140 miles inland.
- INSURANCE: A firm that does forecasts for insurance companies said wind-damage claims could top $6 billion, although it said losses in the low billions are more likely.
Risk Management Solutions Inc. said losses from storm surges and inland flooding could be a bigger source of losses. If the firm is correct, that would put homeowners and the government-backed National Flood Insurance Program at risk.
The flood program is run by the Federal Emergency Management Agency, which owes the Treasury about $23 billion in funds borrowed to cover the cost of past disasters, according to a recent report by the U.S. Government Accountability Office.
Homeowner policies with insurance companies don't typically cover flood damage, yet a relatively small percentage of homeowners have flood insurance through the federal program.
___
AP Business Writer Michael Liedtke in San Francisco contributed to this story.