Husky saves hiker after 700-foot fall; owner says he's saved someone before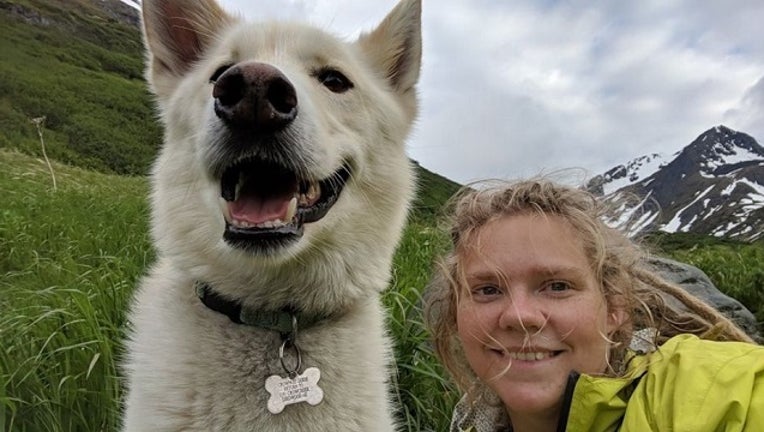 article
(FOX NEWS) – A deaf hiker is crediting a spirited husky with saving her life after falling 700 feet down a mountain during a solo hike in Alaska — and now the husky's owner is saying his dog has saved people before.
On June 20, Amelia Milling was on a three-day trek along Crow Creek Trail in Chugach State Park, roughly 30 miles south of Anchorage. About four miles into the journey, the 21-year-old's hiking poles broke, launching her 300 feet down a snowy mountain. Milling then collided with a large boulder and slid about another 400 feet down the mountain, ABC News reported.
Landing at the bottom of the trail, Milling was bruised and shaken, but found a "guardian angel" in her path: a white Alaskan husky dog named Nanook.
"When I first saw Nanook…  I thought he was a wolf. Then I saw the little collar and realized he was there to help me," the Tennessee native and Rochester Institute of Technology student told the outlet.
Milling reportedly followed the pup back to Crow Pass Trail, staying with her all night and even pulling her out of the water by her backpack straps when she unsuccessfully attempted to cross through the freezing waters of Eagle River Crossing.
When Milling became hypothermic, she activated her emergency SPOT device for aid, ABC 11 reported, and the pair was soon rescued by an Alaska State Troopers helicopter.
"Nookie was nothing short of a modern-day Lassie hero," Alaska State Trooper Lt. Eric Olsen told KTVA. "Nookie has a true love for humans, and for what he does and he's an incredible dog."
Nanook's owner, Scott Swift, says this isn't the first time his dog has made an incredible rescue, explaining that Nanook has relatively free roam from their home near the start of the Crow Pass Trail.
"He likes to go off on adventures on his own," he told Mother Nature Network. "He just disappears and goes and hooks up with a hiker or backpacker or a mountain runner. One time he met up with the Army doing a training exercise. That time he was gone for seven days."
Swift also says that, two years prior, Nanook pulled a little girl from a river by the Crow Pass Trail after she lost her footing and fell in, and then played with the girl until her family arrived.
After learning of Milling's rescue, Swift created a Facebook page soliciting stories of adventures from local hikers who have met and been guided by Nanook.
Meanwhile, Milling has expressed her gratitude for meeting Nanook when she did.
"I believe the dog is a guardian angel," she told the Anchorage Daily News. "I told him several times that I love him and I'll never forget him."