Indiana grandpa rocks sick babies back to health in NICU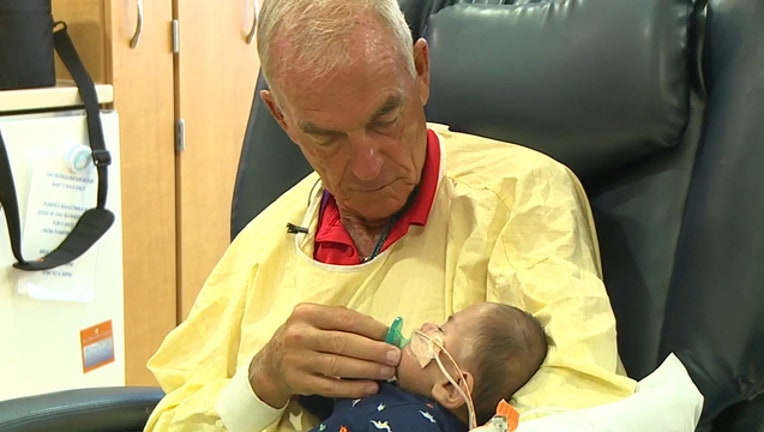 article
INDIANAPOLIS, Ind. (FOX 59) - An Indiana grandfather is spending his retirement with babies the NICU.
Before Tom Stadler retired, he was the band director of Mount Vernon Schools for nearly 36 years. When he decided to retire, Stadler knew he couldn't stay idle, so he decided to take the health of NICU babies into his own hands, and signed up to volunteer at Riley Children's Health. 
He has been a volunteer with the hospital for nearly 15 years, but began rocking NICU babies to sleep every Thursday four years ago. He said he wouldn't trade his time at the hospital for anything.
"I had a blessed life and three healthy boys and 10 healthy grandkids," he explained. "It just makes me feel good to be able to hopefully make another little one feel comfortable if only for a couple of hours."
Hospital staff said Stadler usually rocks babies to sleep. His work not only touches infants' lives but also their parents. Many said they are grateful there are people present for moments when they can't be there themselves.
"When a family has a child that is hospitalized, whether that's an infant or an older child, often their lives are turned upside down for a period of time," explained Meredith Murray is a certified child life specialist at Riley Children's Health. "One of the most impactful things is to hear families' gratitude and thankfulness for the volunteers and the role that they play when they can't be here at the bedside all the time."
Mateo Luna is an NICU patient, who is seven months old and was born in February weight just two pounds and two ounces. In a written statement, his mother, Maria Trejo, said, "It's really hard. I have to divide my time and my heart in two. I am very grateful for the volunteers ever since I found out about the volunteer program. I am calm at home knowing they are taking my place."
Stalder said the volunteer work can be emotional at times, but he feels blessed to do it. 
"I leave at the end of the day and I just thank God every day driving home that I have the opportunity to come and hold the little ones who just need love and affection," he said.