J.J. Watt, Kevin Hart, Chris Young lead fundraisers for Houston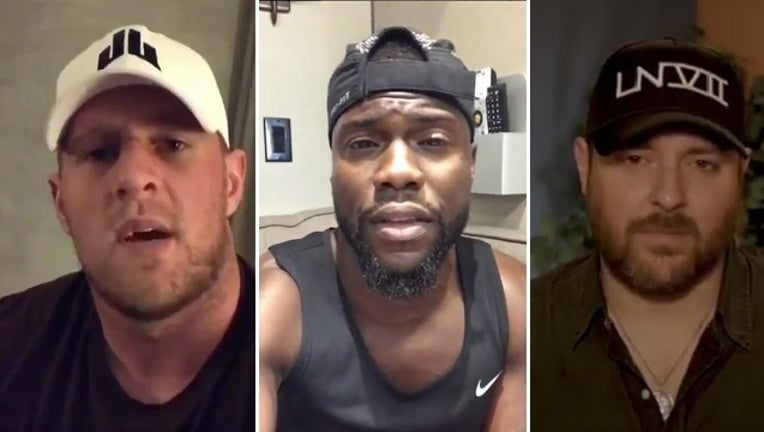 article
HOUSTON (WTXF/AP) - Celebrities across the country are continuing their fundraising efforts for those affected by Harvey, as the storm prepares to make landfall once again.
Houston  Texans star J.J. Watt has raised more than $1 million dollars after surpassing his fundraising goal more than once. Watt's new goal has now been set for $1.5 million.
Philadelphia native Kevin Hart has made a sizable donation to flood relief efforts in Houston, and he wants some of his famous friends to do the same.
The comedian announced a $25,000 donation to the American Red Cross for victims of Hurricane Harvey. In an Instagram video posted Sunday, Hart said he was starting a celebrity challenge to donate money to the cause. Beyonce, Jay Z, Justin Timberlake, Dwayne "The Rock" Johnson and Jerry Seinfeld are among the stars he called on to make their own pledge. The Rock took to Instagram Tuesday to announce he had matched Hart's donation. 
"This is a serious matter," Hart said in the video. "I think the people are in bad shape and they need help. I'm going to lead the charge and step it up in this way."
DJ Khaled has since pledged $25,000 to Hart's cause, as Hart himself pledged to donate to J.J. Watt's fundraiser. Hart's cause is now nearing $200,000
LINKS: J.J. Watt's Houston Flood Relief Fund | Kevin Hart's Hurricane Harvey Donation Page | Chris Young's Hurricane Harvey Relief Fund 
Also Sunday, country star Chris Young announced on Twitter that he has started an online fundraiser for the Red Cross and donated $100,000 to it. The campaign had taken in an additional $50,000 by midday Monday, and is now approaching $200,000
Drake wrote on Instagram early Monday that he and his manager were working with local relief groups to help Texas affected by the hurricane. The Canadian rapper wrote that Houston "has truly been a home to me over the last 8 years."
While only a few stars announced donations to flood relief efforts, many have used their massive social media followings to encourage people to give what they can.
Katy Perry, who boasts Twitter's largest following at more than 103 million, urged viewers to donate while she hosted MTV's Video Music Awards on Sunday night, and she tweeted a link to the Red Cross' donation efforts.