Lifelong artist uses her work as therapy
TAMPA, Fla. - Surrounded by the sweet smell of campfire, Chelsea Glade works on her creations. The wood burner has run Pickle Shop Curiosity for the last eight years. For the lifelong artist, work is therapy.
"You cannot rush through it. You have to take your time," Glade said. "It's very easy to kind of get lost in and to just let yourself go and burn for a couple of hours and slow down. It really forces you to slow down."
A wood burning pen looks like a regular pen but has a heated tip. The size of the tips and the level of heat vary. When she first started, Glade made Christmas gifts for family and friends.
RELATED: Made In Tampa Bay Expo to showcase local manufactures
"It sort of took off from there," Glade said. "People wanted more things for me, and so I just kept making."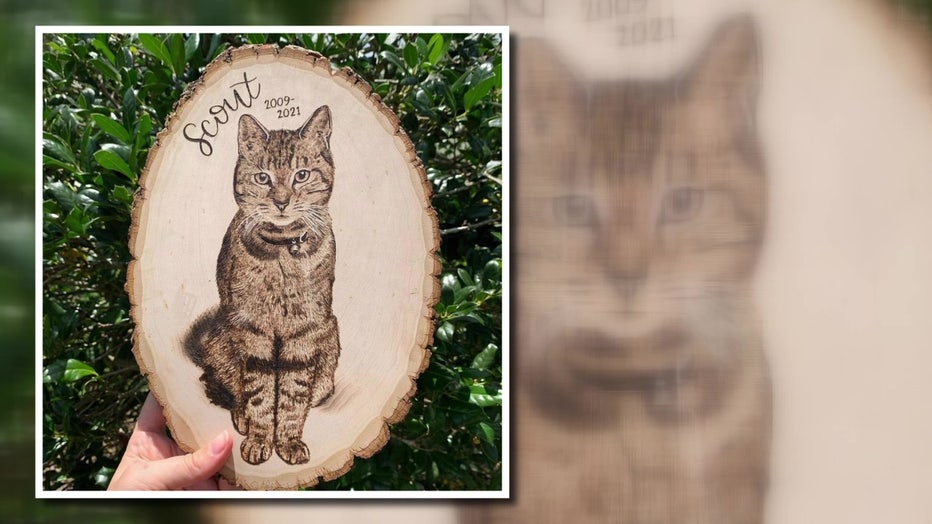 Glade creates a variety of wood burned pieces, from anniversary gifts to business logos. She spends a lot of time making closing gifts for realtors and pet portraits.
 "When people either have a pet that's passed away or they get a new dog or something, I can create the animal on the wood, and it's a nice kind of memorabilia to last a really long time," Glade said.
READ: Look out for the Thunderbirds: Sun 'n Fun Expo returns to Lakeland
Glade loves to make people laugh by writing funny and quirky sayings on wood. She says it takes her 90 minutes to two hours to complete most of her pieces, which she likes to get done in one sitting.
"It's a unique craft. You can do so many different things," Glade said. "The therapeutic part of it is a lot of fun."
Glade also teaches wood burning classes throughout the year.