Lionfish are still a problem, and FWC will give you a reward to remove them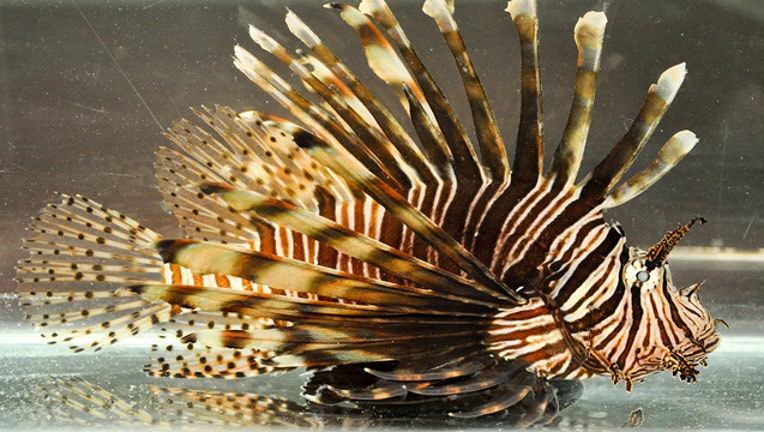 TAMPA, Fla. (FOX 13) - Lurking below off of Florida's coast is the lionfish, a species that is both appetizing and intrusive, and wildlife officials want to remove as many of them as possible.
The lionfish is not native to the Sunshine State and are categorized as an invasion species that negatively impacts Florida's native species. The Florida Fish and Wildlife Conservation Commission is encouraging divers, anglers and commercial harvesters to help remove them from Florida's waters.
Starting Saturday, May 18, FWC will reward those who catch lionfish with harvesting gear or cash prizes. The Lionfish Challenge ends on September 2. Those who submit 25 lionfish or 25 pounds of lionfish can qualify for prizes.
LINK: Registration and details on how to participate can be found on the FWC website.
Last year, FWC reported 28,260 lionfish were removed during the 2018 Lionfish Challenge.
They are rarely captured with a hook and fishing line. Instead, FWC said the "the most effective methods of removal are spearing and using a hand-held net. Care should be taken when spear fishing so that the spears do not impact and damage reefs."
Lionfish can also be tasty. After harvesting, they can be sold as a meal. The dish has appeared in restaurants in the Tampa Bay area and throughout Florida.
The lionfish are native to the Red Sea and the Indo-Pacific, but can be found year-round off the coast of Florida and the Carolinas. It's unknown how they reached the Atlantic Ocean, but it's possible people have been dumping unwanted lionfish from home aquariums for about 25 years, according to the National Oceanic and Atmospheric Administration. 
Since they are not native, they don't have many predators. They are covered in venomous spines. Lionfish eat other fish: small crustaceans, smaller fish, including young snapper and grouper, which are vital to the commercial fishing business.