Little boy mistakenly calls 9-1-1, writes sweet apology to police in Eden Prairie, Minn.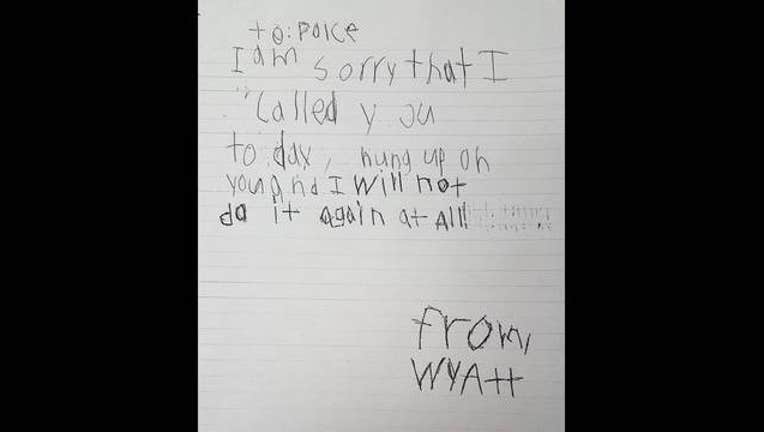 article
EDEN PRAIRIE, Minn. (KMSP) - A little boy from Eden Prairie, Minn. wrote a sweet apology letter to two police officers after mistakenly calling 9-1-1 on his mom's phone, police said Wednesday.
Dispatchers received a 9-1-1 call at 5:30 a.m. from a cell phone and heard "an open line with movement in the background but no one responded to the dispatcher's questions," Eden Prairie police said.
After two officers were dispatched to the home, they found a young boy playing with his mom's cell phone. The policemen then talked to the boy and his parents about why they were there and when it's appropriate to call 9-1-1.
"Soon after their visit, the officers received a sweet apology letter from the boy and were happy to see that their 9-1-1 lesson had sunk in," the police department said.
The handwritten letter read:
To: Police
I am sorry that I called you today, hung up on you, and I will not do it again at all!
From, Wyatt.
Eden Prairie police said parents will sometimes give children their old cell phones that no longer have service. However, as a safety feature, those phones are still capable of making 9-1-1 phone calls. In order to completely disable a phone, the battery must be removed as well.