'Make America Great Again' hat on MLK statue at USF draws controversy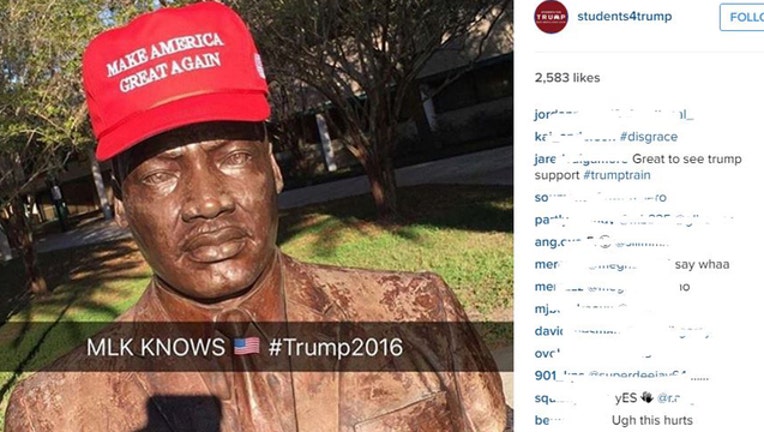 article
TAMPA, Fla. - A photo of a "Make America Great Again" hat placed on a statue of Martin Luther King Jr. on the University of South Florida campus is drawing some controversy on social media.
The photo of the statue with the hat on it was posted on the 'Students4Trump' Instagram account last week with the caption, "Pretty self explanatory." On the photo, it says, "MLK KNOWS #TRUMP2016" with the American flag emoji.
The photo has drawn thousands of likes and more than a thousand comments from both supporters of the message and users who are angry by the photo and want it to be removed.
"The fact that these are college students like us.. I'm terrified for my life," said one user. Another user responded, "Hey people, it's just a hat and a statue. It only means what YOU want it to mean. If you are the type who thinks everything is racist then it'll be racist to you. If you're the type who sees good in things then you'll see positive use of this."
Others responded that the whole thing is just a joke.
Students 4 Trump is a student-led organization that, according to its website, is aimed at trying to help get Donald Trump elected, though it also says it is not in any way affiliated with the Trump campaign. 
It's unclear who took the photo.