Manatee County picks up 7,000 pounds of dead fish after red tide blooms
MANATEE COUNTY, Fla. - Walking along Coquina Beach, Nancy Gilmour can spot a dead fish or two.
"This was the very first time I've been in this area and seen the dead fish like that, and it's really sad," Gilmour said. 
The amount of fish on the beach is much smaller compared to other areas. Manatee County has picked up around 7,000 pounds of dead fish in just the last few days.
As the wind shifts, they are starting to see those numbers subside.
"It's too bad. If I had children with me, it would be hard," said Gilmour.
Manatee County has been working to clear beaches since red tide appeared in late November. They've operated two to three beach rakes a day.
RELATED: What is causing red tide along Florida's Gulf coast?
The last few weeks they've increased cleanups both on land and in the water.
"The increase in the amount of fish that are coming ashore, there's a component. Of course, it's the bloom that creates the mess, but it's the wind direction that is the main component of whether it comes to shore or not," said Carmine DeMilio, Manatee County's deputy director of parks and campgrounds.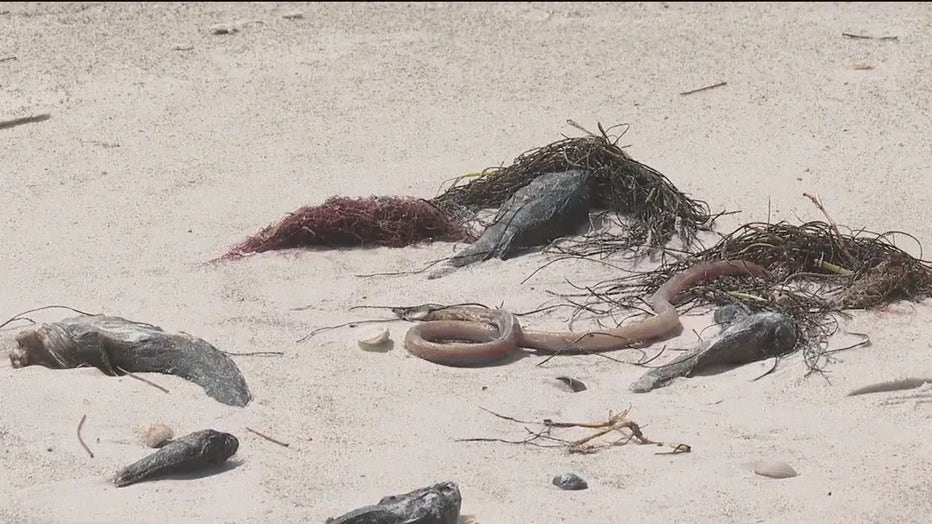 He said crews are scooping fish up before they can get ashore. They're using boats called Weedoos and allowing operators to maneuver canals, the Bay and shallow areas.
They're able to scoop up dead fish before they get caught in the mangroves, and to help guide them, drones are deployed.
READ: Manatee rescued near Holmes Beach had watercraft wound, signs of red tide exposure
"It's really tough to look and project from land what is happening, so we look from the air to see what sort of flow patterns we have, what kind of wind direction and where this red tide is headed," said DeMilio.
Within the last day, the wind shifted, and Manatee County has noticed clear water. Even dolphins were spotted playing in Longboat Pass.
On shore, they are seeing a decrease in the amount of dead fish, but Manatee County remains prepared.
"Our goal is to ensure that anyone that is visiting not just visitors but the residents as well that when you come to our beaches, boat ramps and bayside that it's clean and healthy for everyone," said DeMilio.
To view red tide conditions click here.