Mississippi man arrested in 1987 murder of Pinellas County woman, cold case detectives say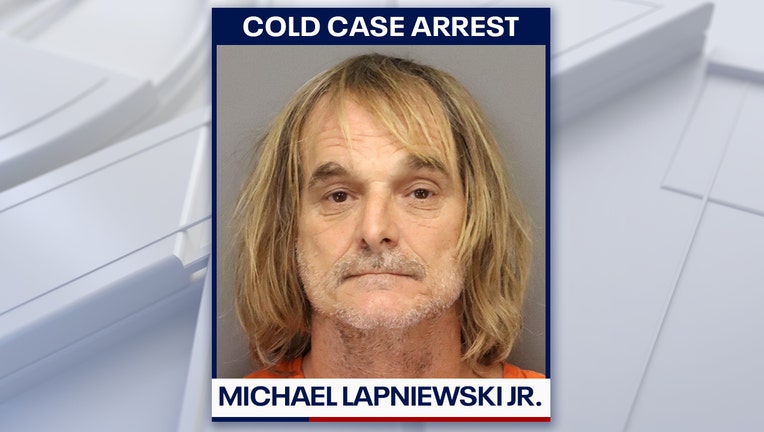 article
ST. PETERSBURG, Fla. - Advancements in DNA testing helped link a Mississippi man to a 1987 cold case murder in Pinellas County, investigators say. 
The Pinellas County Sheriff's Office said its cold case unit arrested 55-year-old Michael Lapniewski Jr. for the murder of 82-year-old Opal Weil. Cold case detectives said they investigated the case over several years. 
Deputies first responded on February 9, 1987, to a home in unincorporated St. Petersburg, according to detectives. Weil was founded dead by her sister-in-law after not answering her telephone, Pinellas County deputies said. 
READ: Pasco sheriff: 12 arrested on human trafficking charges after 16-year-old girl suffers abuse for two weeks
Weil had obvious signs of trauma, and deputies said they discovered that the suspect fled the scene before they arrived. 
Back in 1987, detectives said found that the suspect got into the home after removing a single windowpane and entering the Florida room of the residence. According to detectives, the phone line at the home had also been cut. 
Forensic technicians at the time collected evidence left at the scene, including several hairs, detectives said. Throughout the investigation, a partial DNA profile was developed from the hairs, but no matches were identified until recently, according to PCSO. 
Pinellas cold case detectives were assigned to the case in December 2020, and they said they sent the Florida Department of Law Enforcement (FDLE) a request for additional testing of those hairs. They also said they contacted Parabon Nanolabs to conduct genealogical testing. 
MORE: Florida woman helps identify father as murder victim, 37 years later
Parabon Nanolabs testing was able to construct family trees, and they were able to identify familial relatives and narrow down to three possible male suspects, according to detectives. 
 PCSO's cold case unit was able to exclude two suspects, which left Lapniewski as the primary one. Detectives said he lived a half mile from the home where the murder happened in 1987. 
Pinellas County detectives traveled to Waveland, Mississippi after learning Lapniewski currently lived there. They obtained his DNA, which was submitted to FDLE for analysis, and it matched evidence at the murder scene. 
PCSO said detectives arrested Lapniewski in Mississippi on January 26 and extradited him to Pinellas County where he is facing a first-degree murder charge.