Mother shouts out Santa who talked about autism with her son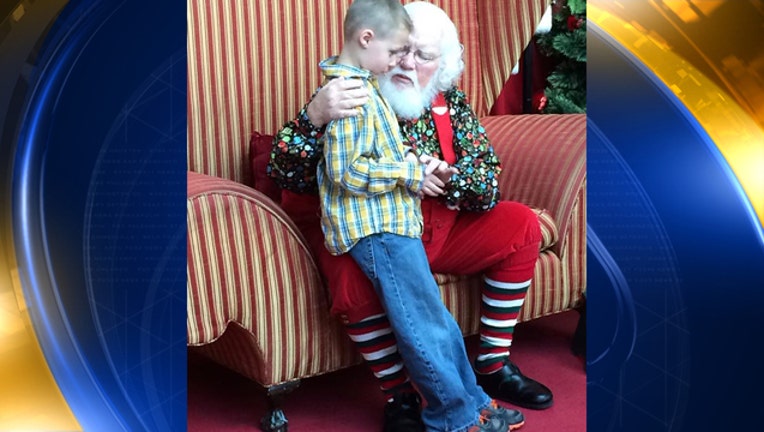 article
GRANDVILLE, Mich. (WJBK) - A mother's shout out to the Santa at  Michigan mall has quickly gone viral on Facebook. Naomi Johnson shared her story of thanks on the RiverTown Crossings' Facebook page.
Naomi writes that her son Landon "said his peace to the old man in red" and then walked away. While his cousins were taking their turn with Santa, though, Landon decided that he still had some things he wanted to say to ole St. Nick.
"He went back to Santa [because] he wanted to tell him that he has Autism. He was flapping his hands, all excited to let Santa know that he has autism," Naomi wrote.
She continued, "Santa sat him next to him and took L's hands in his and started rubbing them, calming them down. Santa asked L if it bothered him, having Autism? L said yes, sometimes. Then Santa told him it shouldn't. It shouldn't bother him to be who he is. L told Santa that sometimes he gets in trouble at school and it's hard for people to understand that he has autism, and that he's not a naughty boy. Santa told L to not worry and that he has been a very good boy being who he is."
Naomi says Santa sat and talked with Landon for at least five minutes, and paid very closed attention to her son and listened to him.
"This just melts this momma's heart!" she wrote. "Shout out to the Santa at the RiverTown Crossings Mall. You.are.AMAZING!"
She posted her story on Sunday, Dec. 6, and it has already been shared more than 12,000 times, with many people commenting saying Naomi's story brought them to tears.
If you cannot see her full Facebook post above, click here to see if on RiverTown Crossings' page.