National Hurricane Center announces changes ahead of upcoming 2023 season
TAMPA, Fla. - Six months after Hurricane Ian made landfall as a powerful Category 4 storm, people across Florida are still working to recover. As those efforts continue, state leaders and meteorologists are already looking ahead to the upcoming hurricane season.
Florida's executive director of the Division of Emergency Management, Kevin Guthrie, said the focus is always on how they can do things better.
"How do we do a better job in the future of communicating storm surge watches and warnings?" Guthrie questioned. "We want people to focus on the cone, but at the same time, we've got to get some more focus on these watches and warnings outside of the cone and what exactly do they mean."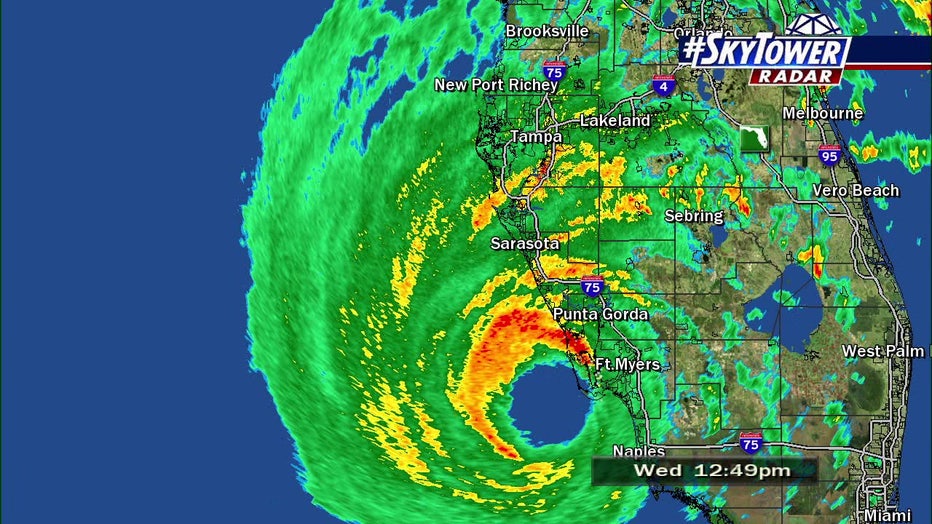 Previous SkyTower Radar image from when Hurricane Ian was making landfall in Florida six months ago. 
Changes in hurricane forecast communication
In an effort to streamline communication during hurricane season, the National Hurricane Center announced changes in the way it forecasts storms and offered new guidance to meteorologists who help prepare the public ahead of a hurricane.
Among the changes, NHC has expanded its Tropical Weather Outlook from five days to seven.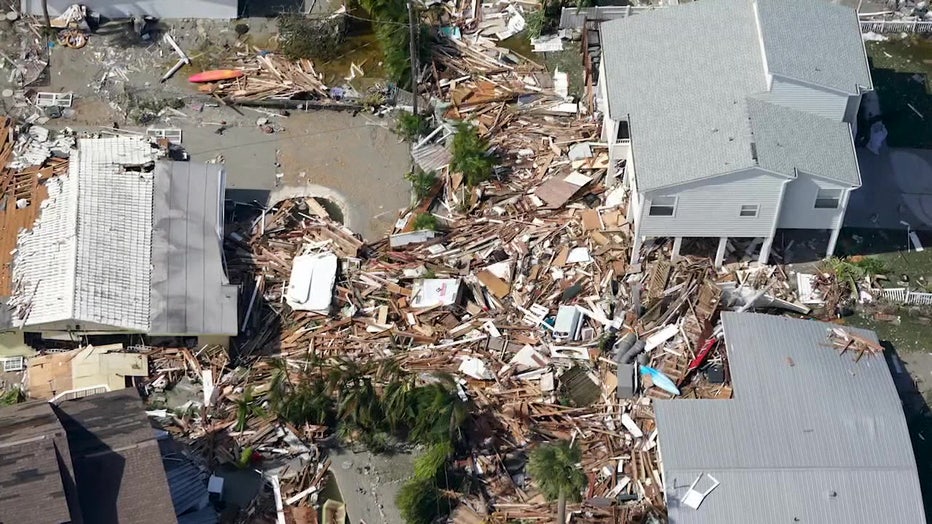 Pictured: Damages in Southwest Florida after Hurricane Ian barreled through the state. 
RELATED: Study finds the public misunderstands 'cone of uncertainty'
"As far as long-range looking at a potential development, that's the big change; a five-day outlook is now a seven-day outlook," FOX 13 Chief Meteorologist Paul Dellegatto said.
Understanding the hurricane cone
Another point of confusion for some is the Tropical Cyclone Track Forecast Cone, sometimes called the "cone of uncertainty" or the "cone of concern." 
Jamie Rhome, the acting director of the National Hurricane Center, hosted a Q&A after Hurricane Ian to address what some felt was an inaccurate forecast, based on the cone. 
Rhome said forecasters have the difficult job of explaining the cone, in context.
READ: Local leaders travel to Sanibel to learn from Hurricane Ian, recovery efforts
"Prior to Hurricane Ian, efforts were underway to study the cone and other aspects of hurricane risk communication, because this issue is much more complex than just the cone. NOAA-funded researchers conducted risk communication surveys for Ian (as they did for Marco and Laura in 2020, and Henri in 2021). We're looking forward to their collective findings on public perception and understanding of risk as these storms evolved," Rhome said, adding that the NHC is open to making changes to how the cone is presented to the public, if research shows it would be beneficial.
New hurricane names for 2023
The list of the Atlantic hurricane storm names is determined years before each season, and rotates every six years. However, the list may change due to the retirement of storms that caused significant damage. 
Four storms from 2017 do not appear on the 2023 list because they were retired: Harvey, Irma, Maria, and Nate. 
Replacing them will be Harold, Idalia, Margo, and Nigel.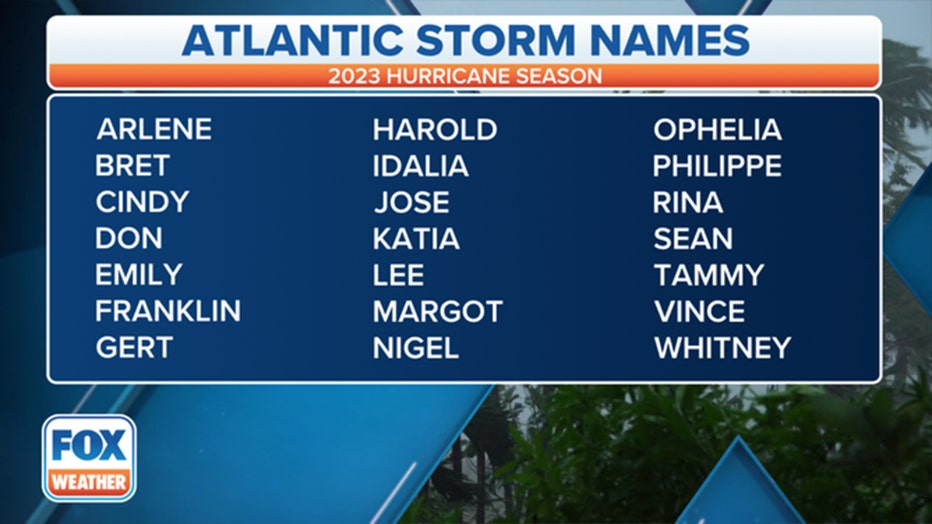 Here is the list of names for the 2023 Atlantic Hurricane Season. ((FOX Weather))
READ: Here are the hurricane names for the 2023 Atlantic season
"This is the 2017 season again, don't forget, hurricane names rotate on a six-year basis, and we all know about Irma, and Irma is going to be replaced with Idalia in the 2023 season," Dellegatto said.
On Wednesday, The World Meteorological Organization announced Ian and Fiona will retire from the list as well due to the damage and lives lost during the 2022 tropical season.
MORE: 'Ian' retired from hurricane naming lists by World Meteorological Organization
They will be replaced by Farrah and Idris in 2028.
Stay hurricane ready
Emergency management leaders say it's an important reminder to remain vigilant and start preparing now ahead of the upcoming season starting in June.
"Don't judge what the last one did on what the next one may do just because it hit further south. We tell people every storm is different; every track is different," Sarasota County Emergency Management Chief Ed McCrane said.
State leaders say residents can still request the removal of debris by visiting IanDebrisCleanup.com by March 29 to report the presence of debris.