Navy says gunshot report at med center came from 1 person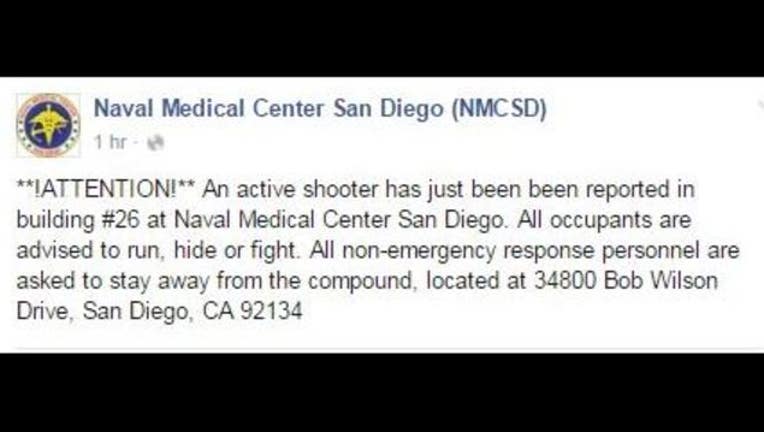 article
SAN DIEGO, Calif. - SAN DIEGO (AP) — The Navy said Tuesday that a report of three gunshots heard in the basement of a building at Naval Medical Center San Diego came from a single witness.
The Navy hospital previously said on its Facebook page that an active shooter was reported and people were told to run, hide or fight. However, center spokesman Mike Alvarez wouldn't confirm there was an active shooter.
First responders and dog units were clearing the building. The medical center remains on lockdown and a shelter-in-place order has been given.
Navy Region Southwest spokesman Scott Sutherland says the shots were reportedly heard in the basement of the center's Building 26.
All non-emergency personnel were asked to stay away from the area.
A dozen unmarked SUVs — some with flashing lights — entered the center through the emergency room driveway gate around 9 a.m. A San Diego County Sheriff's Department armored truck followed minutes later.
San Diego police Officer Travis Easter said police received a notification call from military police at 8:03 a.m. of shots fired but assistance was not requested.
Alvy Furlong, whose husband had surgery at the hospital last night, told KGTV-San Diego a nurse came in and said to be prepared for possible evacuation.
"The doors are closed and locked," she said. "All of the windows have been covered."
Traffic backed up around the facility during the morning rush hour.
Nearby San Diego High School, Roosevelt Middle School and Garfield Senior High School were locked down as a precaution, according to Linda Zintz, spokeswoman for San Diego Unified School District.
The 272-bed, multispecialty hospital and ambulatory complex is located on about 78 acres in the southeast corner of Balboa Park, about 2.5 miles from downtown, according to its website. Center staff is comprised of more than 6,500 military, civilian, contractor and volunteer personnel.
NMCSD personnel deploy to Iraq, Afghanistan, Kuwait, Djibouti and aboard the USNS Mercy, the website said. The facility is affiliated with 19 civilian nursing schools, training more than 400 students per year in clinical rotations.
___
AP writers Christopher Weber and John Antczak in Los Angeles contributed to this report.