'Nothing behind his eyes. His face was contorted': Victim of Steven Lorenzo woke up 'panicked'
TAMPA, Fla. - Notorious murder defendant Steven Lorenzo came face to face in a Tampa courtroom when one of his victims who survived his attack.
During the first day of Lorenzo's sentencing hearing, Albert Perkins took the stand. He told the court that nearly 20 years ago during a family vacation to Tampa he was drugged, bound and tortured by Lorenzo.
"When I woke at that time, I didn't know where I was, but I had duct tape over my eyes and mouth. I was face-down," he explained. 
Steven Lorenzo sentencing: Men who escaped confessed killer recall feeling drugged, being zip-tied
Perkins said the two met at a bar and Lorenzo promised to take Perkins to meet some friends who were at a house party. Once at Lorenzo's home, Perkins was handed a glass of wine. He said it tasted odd.
"It tasted a tad funny. I convinced myself that maybe possibly have been corked or turned," recalled Perkins.
He said that after a few sips, things took a turn.
20-YEAR TIMELINE: Confessed killer Steven Lorenzo to learn his fate 2 decades after Seminole Heights double murder
"My vision became blurred. I felt nauseous. I believe, when I stood up, I wasn't able to [stand]," he said.  
Perkins said he was in and out of consciousness. When he finally came-to, Lorenzo was in complete control.
"My arms and my legs were bound and some twine, rope around my neck," said Perkins.
He remembered how Lorenzo looked.
"I was panicked, hysterical. I remember him sitting, he turned me over, he was sitting on the side of the bed, his face didn't look the same. Nothing behind his eyes, they were dark. His face was contorted, which further panicked me," recalled Perkins.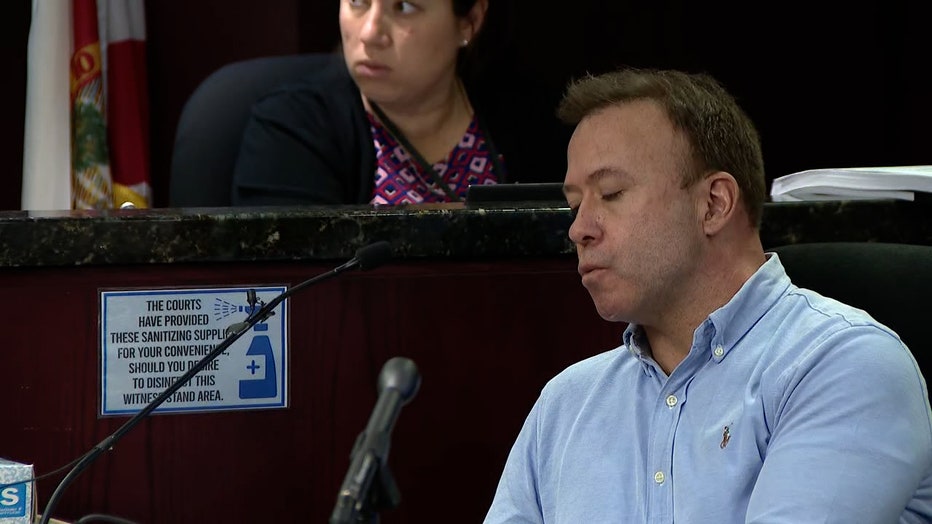 Albert Perkins testifies he was drugged by Steven Lorenzo then tortured before he escaped
For five hours, Perkins said he was beaten, choked and threatened.
"He let me know that he made other people disappear, and that would be my fate," Perkins said. 
But Lorenzo, who has been representing himself, had a chance to cross-examine Perkins. 
Lorenzo accused Perkins of playing the victim, but Lorenzo said Perkins suggested he wanted to have sex that night.
Perkins stood firm.
Later, Scott Schweickert, Lorenzo's co-defendant who pleaded guilty in 2016 to the murders of Jason Galehouse and Michael Waccholtz in 2003, took the stand.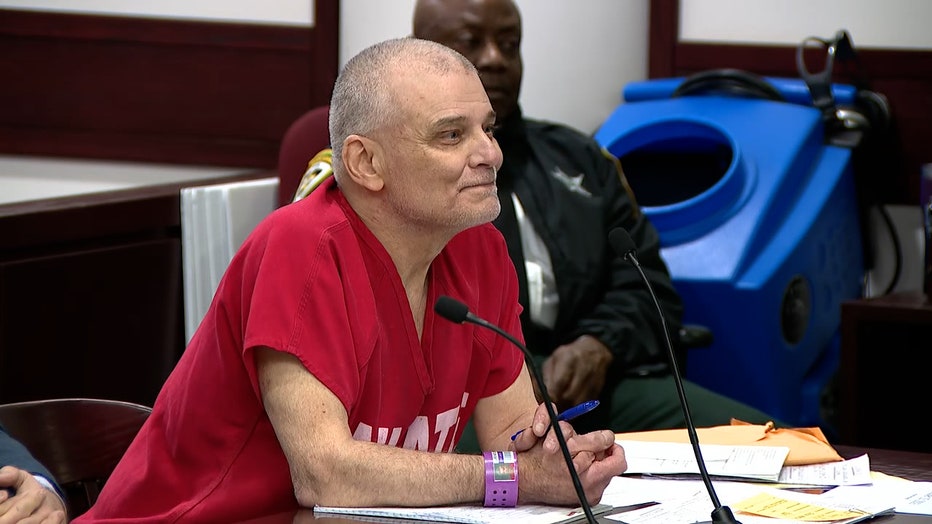 Steven Lorenzo cross-examines witnesses during his sentencing hearings
He testified that he and Lorenzo were partners who planned to kidnap men and use them as sex slaves.
"And use them as we saw it," he said.
The two began looking for what he called "submissives," men who he claimed they could drug and use at their will.
Schweickert said Lorenzo wanted to find isolated land in Florida, "where the screams would not be heard," he recalled.
He said, on the day Jason Galehouse was murdered, he remembered drugging and bounding him to the bed. Schweickert said he wasn't attracted to Galehouse and left the bedroom. When he returned, he found Lorenzo using a choke hold on Galehouse.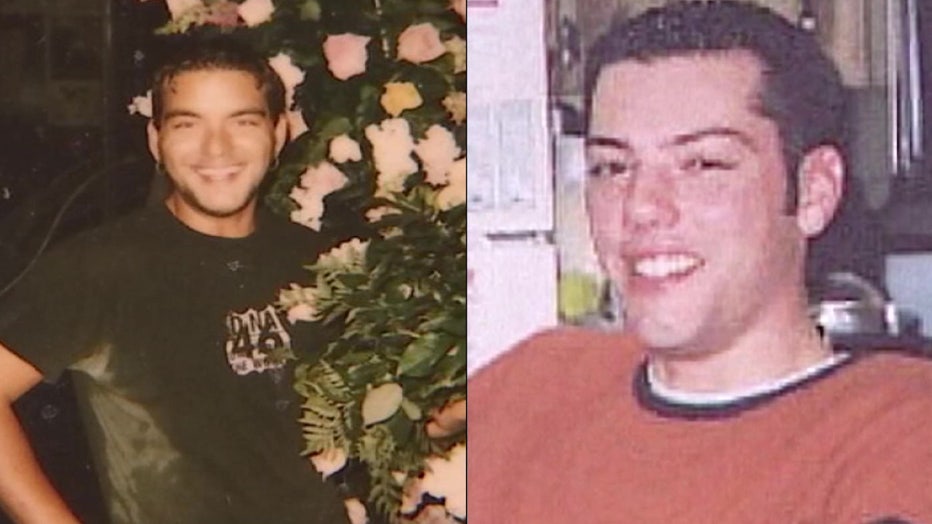 Steven Lorenzo confessed to killing Jason Galehouse and Michael Waccholtz.
"He was kicking a little bit... so I put my arms over his legs to hold him down and after a minute. He stopped moving entirely," recalled Schweickert.
Schweickert then explained how Lorenzo went into clean-up mode. Schweickert said Lorenzo grabbed garbage bags and started to get rid of Galehouse's belonging.
"It just seemed automatic, like, no big deal. Like he had done this before," Schweickert said.
He said he and Lorenzo went to breakfast and Home Depot to buy items to help dispose of the body. Schweickert said they spent two hours dismembering the body and getting rid of the remains in different dumpsters around town.
Schweickert said they returned to the gay club the next day and spotted Michael Waccholtz. He said once they were in Lorenzo's home they tried to drug Waccholtz, but the victim fought back.
Lorenzo, he said, would end up knocking out Waccholtz and suffocating him to death.
Schweickert said they wrapped Waccholtz in a blanket, put his body in the trunk of his own car, and left parked in an apartment complex.