Numerous media outlets, including Fox News, support CNN's press access lawsuit vs Trump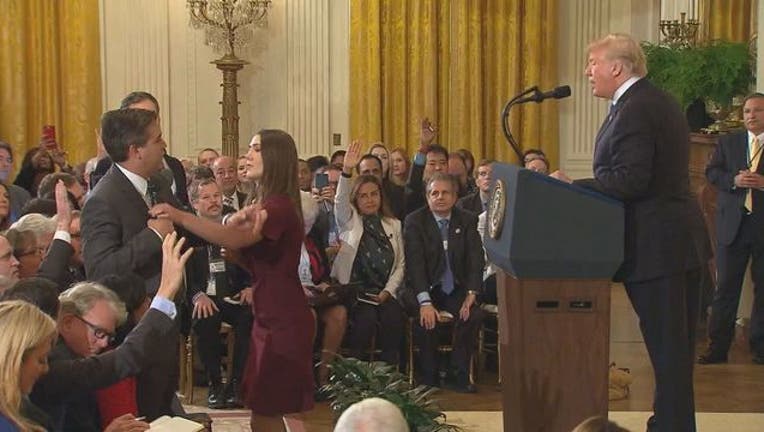 article
Numerous media outlets on Wednesday, including Fox News, joined the fight over the Trump administration's revocation of CNN White House correspondent Jim Acosta's press credentials.
Fox News, NBC News, CBS News and others said they intend to file friend-of-the-court briefs as part of CNN's lawsuit against Trump's White House.
"Fox News supports CNN in its legal effort to regain its White House reporter's press credential," said Fox News president Jay Wallace in a statement. "We intend to file an amicus brief with the US District Court. Secret Service passes for working White House journalists should never be weaponized. While we don't condone the growing antagonistic tone by both the president and the press at recent media avails, we do support a free press, access and open exchanges for the American people."
Others supporting CNN's suit include: the Associated Press, Bloomberg, First Look Media Works, Gannett, the National Press Club Journalism Institute, The New York Times, Politico, Press Freedom Defense Fund, EW Scripps Company, USA Today and The Washington Post.
CNN's lawsuit was filed Tuesday in Washington, D.C., District Court. CNN claims the revocation of Acosta's press pass violates the constitutional rights to freedom on the press and due process. CNN is asking for an immediate restraining order to return Acosta to the White House.
In a legal filing ahead of a Wednesday hearing, the government argues it "was lawful" to punish Acosta for his behavior during a contentious Trump press conference last week. Trump's administration contends it has "broad discretion" to regulate press access to the White House.
The administration stripped Acosta of his pass following Trump's post-midterm news conference, during which Acosta refused to give up a microphone when the president said he didn't want to hear anything more from him.
Press secretary Sarah Huckabee Sanders initially explained the decision by accusing Acosta of making improper physical contact with the intern seeking to grab the microphone. But that rationale disappeared after witnesses backed Acosta's account that he was just trying to keep the mic, and Sanders distributed a doctored video that made it appear Acosta was more aggressive than he actually was.
The Associated Press contributed to this story.