Firefighters: 20 residents displaced in Odessa apartment fire
ODESSA, Fla. - A lightning strike likely caused a fire that displaced families in an Odessa condominium complex, Pasco County firefighters said Tuesday.
A 911 caller around 4:15 p.m. said lightning hit the Tuscano at Suncoast Crossings complex, sending smoke and fire through the roof of one building.
"I was in my back office doing some work, my wife was next to me and the next thing I knew everything just lit up in blue. It was loud and large," said John Cremeans, a displaced resident from the affected building. "The floor kind of energized. You could feel the energy coming from the lightning just everywhere around it."
Residents in a nearby building were also evacuated.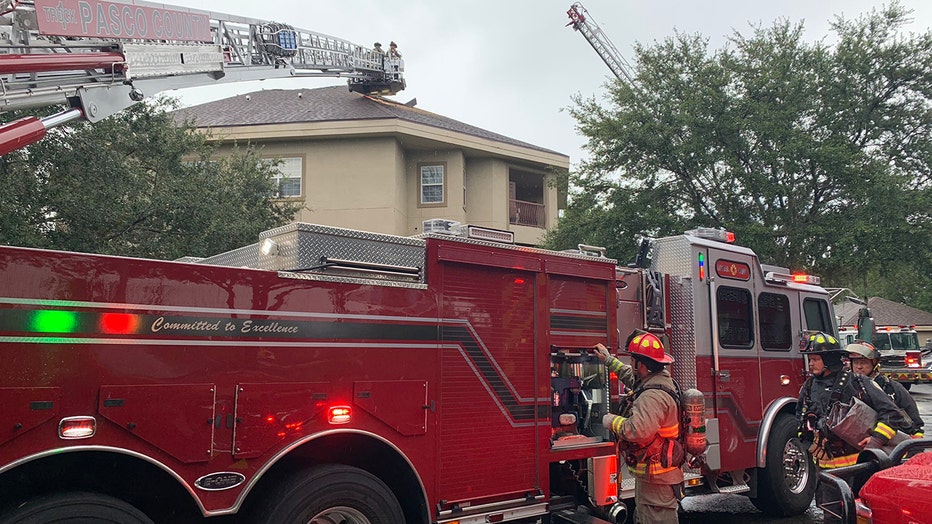 "I immediately grabbed my kids and walked out because no not today. We're all the way on the third floor which makes it even more scary because that can happen to our building," said Jomaira Perez, who lives in the building next door to the one that caught fire. 
Pasco Fire Rescue said they put out the flames in 30 to 45 minutes, and the cause was clear once they arrived.
"The location of the roof, when you come up, it's right at the ridge line. So it's at the highest point of the roof. We had some really heavy storms in the area at the time. There was a lot of lightning going on," said Corey Dierdorff, a spokesperson for Pasco Fire Rescue. "This is actually our second day in a row that we've had a lightning strike fire in this area, both being second-alarm apartment complexes."
The damage at complex impacts six units, displacing about 20 adults and children.
"Living in Florida it's always an adventure, whether it's a hurricane or a big storm like this, so you just kind of go with it," said Cremeans.
Residents said they grabbed what they could before firefighters closed off their units for the investigation. Pasco Fire Rescue said Red Cross helped anyone who needed a hotel room.