One-on-one with James Shaw: Florida Commissioner of Agriculture candidate on food, water, and guns
TAMPA, Fla. - Florida's Commissioner of Agriculture and Consumer Services holds one of the most powerful positions in Florida. The department manages farm and food programs, concealed carry licenses, and consumer protection efforts. 
It's an open seat this year, with three Democrats and two Republicans running to succeed Commissioner Nikki Fried. 
In the Republican Primary, Florida Senate President Wilton Simpson and James Shaw are competing for the nomination. Shaw is a real estate investor and composting farmer. 
Sen. Simpson has not yet accepted FOX 13's request for an interview. 
In his interview with FOX 13 Political Editor Craig Patrick, James Shaw said he is running to protect the food supply and gun rights in Florida.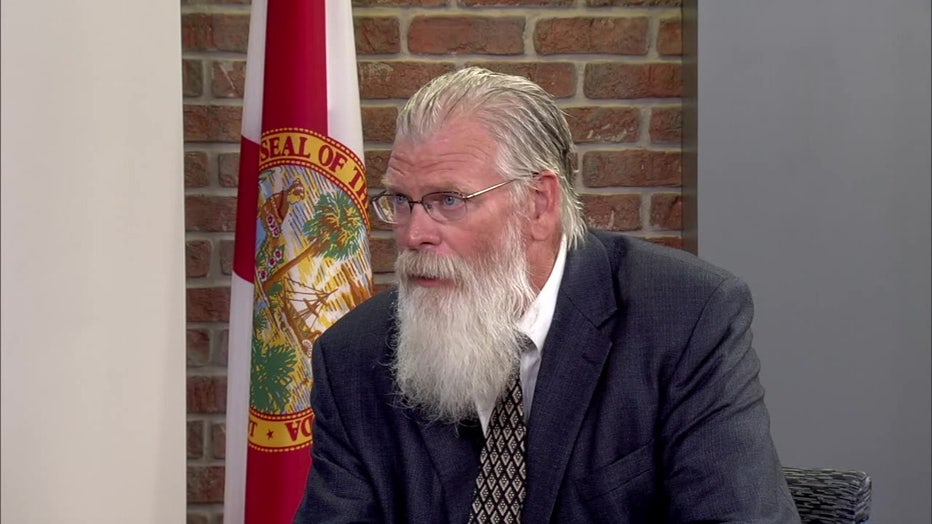 James Shaw, Republican candidate for commissioner of Florida's Department of Agriculture and Consumer Services, with FOX 13's Craig Patrick
One-on-one with Ryan Morales: His take on recreational marijuana, gun policies
Florida's Red Flag Law
Shaw noted his opposition to Florida's Red Flag law which allows government to temporarily take an individual's guns through due process if he/she is determined to pose a threat to self or others.
Here is an excerpt from the interview:
James Shaw: "I don't like it (Red Flag law) at all." 
Craig Patrick: "Would you scrap it given the chance?" 
James Shaw: "Yes. It's a snitch program. "
Craig Patrick: "To those who say it could save lives by taking away guns from someone like the Parkland killer You would say what?" 
James Shaw: "A gun could save lives. If the right person in that situation did have a gun, he could have saved a life. So you could look at it from both points of view. But to side with what you're saying, who likes a massacre? Nobody likes a massacre. But there's two sides to it." 
Endorsements
Shaw's endorsements include Republican political operative Roger Stone. Former President Donald Trump and Governor Ron DeSantis are supporting Wilton Simpson in the race. Shaw said he lost those endorsements because Trump and DeSantis don't know him. 
James Shaw: "They haven't met me, but I have my platform. If you go to my videos, you can see where I stand. I don't drink. I don't smoke. I don't do any drugs. I'm not on any antidepressants. I've been married 40 years. I have eight children. I have 22 grandchildren. I have a lot at stake."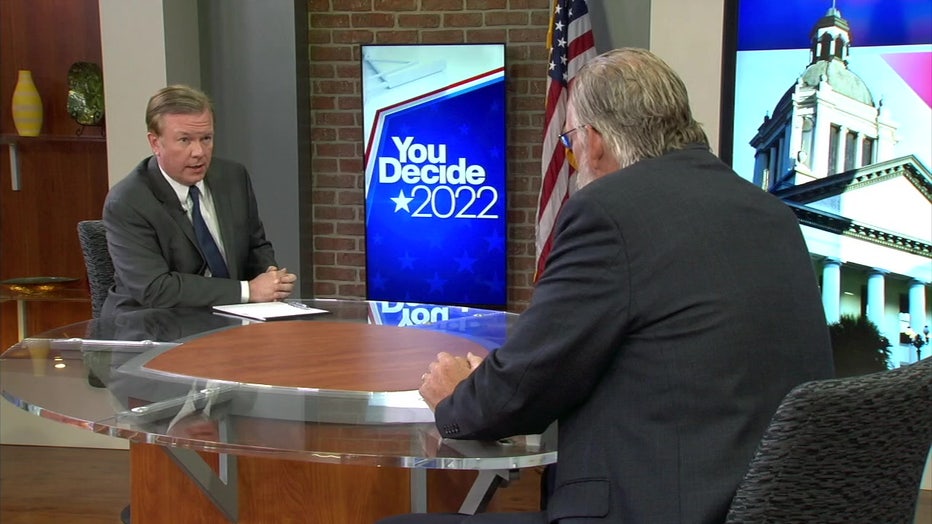 James Shaw, Republican candidate for commissioner of Florida's Department of Agriculture and Consumer Services, with FOX 13's Craig Patrick
Florida's Food Supply
When asked to name the greatest threat Florida is facing that he could address as Commissioner of Agriculture, Shaw said it's our state's food supply. 
James Shaw: "And the in the climate that we're in right now? My slogan is good food. Good water and good guns. As far as I'm concerned, they're all on the same plane. Without a society, can't exist without taking care of its food. We're all nine meals away from anarchy." 
Craig Patrick: "What more specifically would you do as commissioner of Agriculture to protect Florida's food supply? 
James Shaw: "We have to first make sure that farmers are taking care of that supply chain. It has to work. If they have a farmer out in the field and one bearing comes off of his tire, he's out of business. 
Craig Patrick: "What do you do as commissioner of agriculture if elected, therefore, to address that specific problem? 
James Shaw: "I hit it head on. I sit on the on that big old table. I gather people. I gather a committee. I gather intelligent people from universities. We sit around, and we hit the problem before it ever happens." 
Craig Patrick: "We have a crisis in Florida in terms of citrus greening, in terms of giant invasive snails. What specifically would you do to address both of those crises? 
James Shaw: "Well, the snail thing's fairly new, but what you have to do is you have to be a good manager. And that's what I am by trade. You have to call in what you have. And we have a lot of assets here in Florida with our colleges. We have a lot of intelligent people. What would I do there again? Get around the big oak table. Hands out. Yellow pads. Sharp pencils. Discuss the matters. Set expectations."