Person of interest identified in case of missing Brooksville woman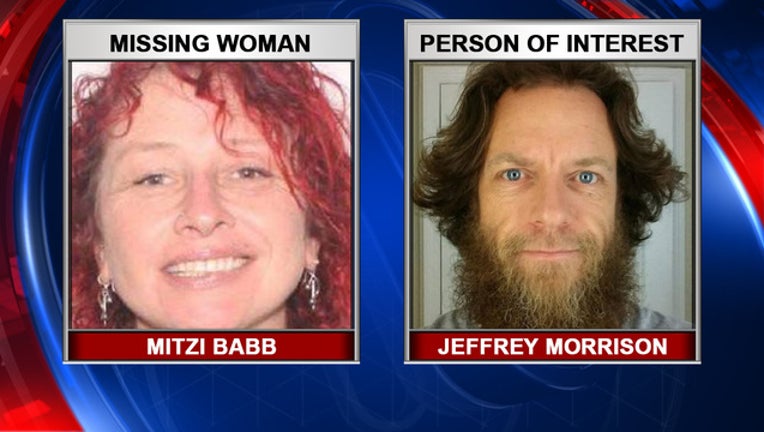 BROOKSVILLE (FOX 13) - Hernando County deputies are searching for the boyfriend of a woman who has been missing since Tuesday.
Detectives said 42-year-old Jeffrey Michael Morrison is a person of interest, and they would like to speak with him. They said he is the boyfriend of Mitzi Mari Babb, who was last seen on Tuesday at 5 p.m. at her "place of employment" in Brooksville. Deputies did not indicate where she worked. Her whereabouts are unknown and deputies are concerned for her safety. They consider her as a missing endangered adult.
Morrison is described as having blue eyes, brown hair 5'10 tall, about 170 pounds. The photo released by the Hernando County Sheriff's Office shows he has a beard, but it's possible he doesn't have it anymore. He is known to drive a 2011 Kia Soul, possibly black or dark brown in color, with the Florida tag, 12CBT.
Detectives said Babb changes the color of her hair often. The photo released by the agency shows her with red hair, but it could be blue or purple, or some variation of those colors. She is described as 5'2 tall, 100 pounds, with green eyes. 
Anyone with information on her whereabouts or Morrison's whereabouts is asked to call the Hernando County Sheriff's Office as (352) 754-6830 or send an anonymous tip through Crime Stoppers at 1-866-990-8477.