Sheriff: Suspect who 'ambushed' deputies skipped court hearing; killed by sergeant after wounding K9 handler
ST. PETERSBURG, Fla. - A Pinellas County deputy – who the sheriff described as an experienced law enforcement officer with grit – had surgery Monday morning after he was shot in the neck, hand, and leg while responding to a vehicle burglary report. Officials said the suspect was "waiting" for deputies before firing at them.
Officials said the suspect was "waiting" for deputies before firing at them.
The suspect was identified as 23-year-old Zion Bostick, who was released from state prison exactly one year before Sunday's shooting: March 12, 2022. If it wasn't for a second deputy who was at the call that night, it's possible K9 Corporal Matthew Aitken would've been shot dead by the Bostick, Pinellas County Sheriff Bob Gualtieri said.
Sgt. Jacob Viano joined Cpl. Aitken and his K9 Taco as they tried to track down Bostick, officials said. 
"If Viano hadn't run with him, he wouldn't be here today," Sheriff Gualtieri said. "Viano was able to kill this guy before he fired additional rounds into Matt while he was laying on the ground."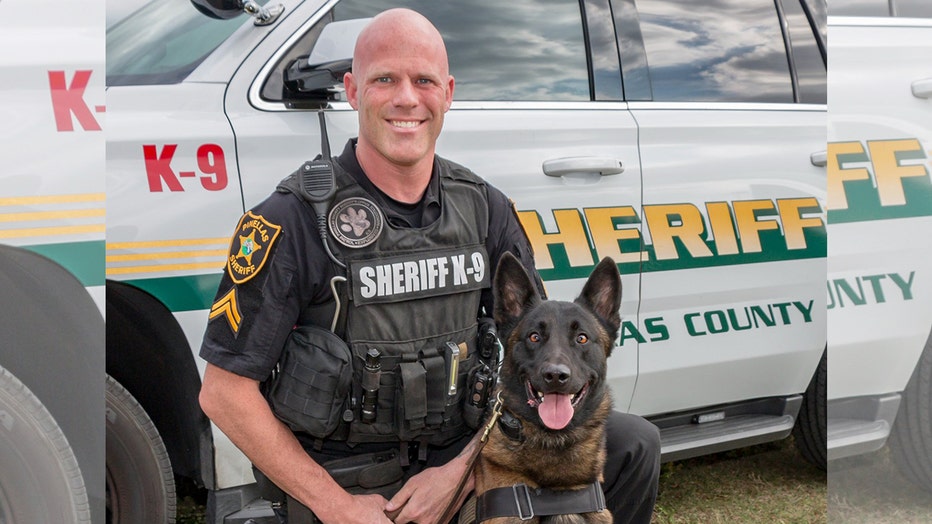 Cpl. Aitken and K9 Taco (Pinellas County Sheriff's Office)
Before 7 p.m., deputies learned of a vehicle burglary in the 6300 block of 60th Avenue North, an unincorporated area of the county. Chief Anthony Holloway of the St. Petersburg Police Department said they received one report from a witness, who confronted the suspect and began capturing video of him.
Chief Holloway's agency is investigating the deputy-involved shooting as part of the Pinellas County Use of Deadly Force Investigative Taskforce, which was created in 2020. It was started to ensure investigations into law enforcement use of deadly force are objective. 
The witness called 911 and explained the suspect was wearing gloves and attempted to break into cars. The individual followed the suspect and provided updates to the agency.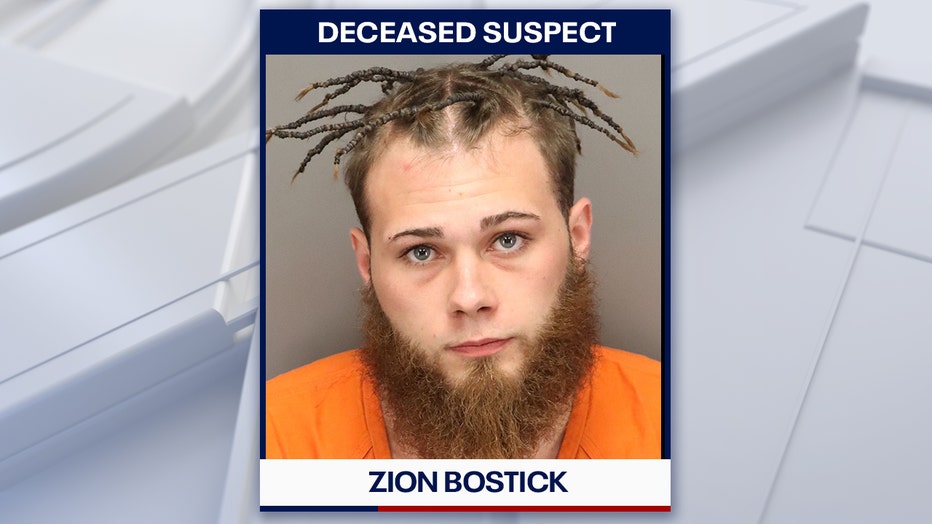 According to the sheriff's office, when deputies arrived, they spotted the suspect at Grace Brethren Church. It's located at 6300 62nd Avenue North.
Investigators said Bostick fled behind the church, through a wooded area, and into a neighborhood. That's when Cpl. Aitken and his K9 Taco began tracking Bostick.
They followed him to the backyard of a home on 60th Avenue North. Cpl. Aitken spotted Bostick trying to hide around the corner of the house, officials said, and "verbally challenged him."
READ: Pinellas Park police chief to retire after 33 years of service
The couple who lives in that home said they heard bullets flying everywhere and hunkered down in their bedroom. 
In a news release, deputies said the suspect "immediately fired several rounds at Corporal Aitken." The deputy was struck three times.
"The suspect was waiting for them and as the K9 and the handler cleared the building, that's when the suspect shot at the deputy," explained Chief Holloway.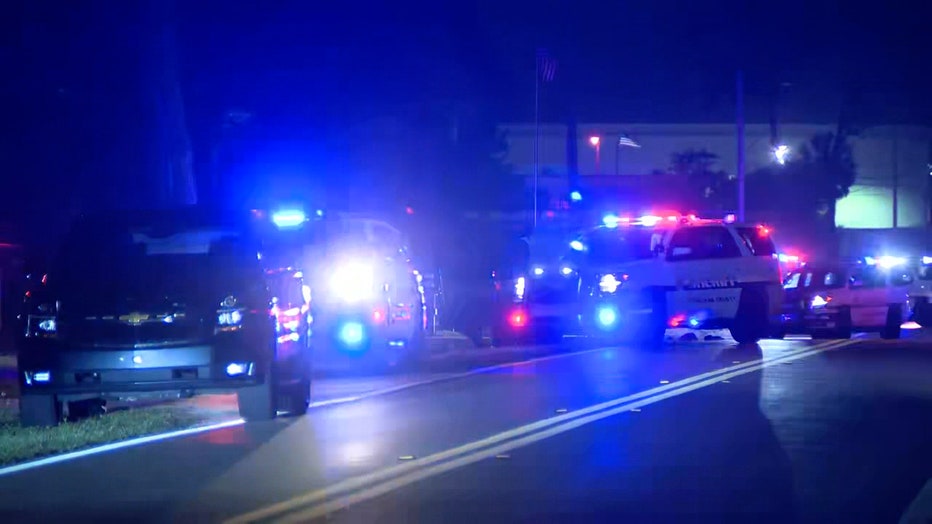 Chief Holloway said Bostick fired three shots at Cpl. Aitken and three shots at Sgt. Viano. Viano and the K9 weren't hurt. 
Sgt. Jacob Viano, who is a former K9 handler himself, managed to "duck out of the way," according to the sheriff's office. The sergeant fired back and Bostick died at the scene.
"He's very thankful for being able to do what he did," Sheriff Gualtieri said. "He did a stellar job being able to assess that threat. He fell down. He got back up. He not only saved his own life, but he saved Matt's life."
Cpl. Aitken was taken to Bayfront Health where he continues to recover. He is expected to be OK, but has several medical issues he now faces. The sheriff didn't elaborate further. 
"Matt is, thankfully, one of our more experienced deputies. Because of his experience and grit, Matt survived this," the sheriff explained during Monday's press conference. "Right now, it appears he'll be OK. I think he is going to pull through. He's got a lot of medical issues."
READ: Police: Tarpon Springs man arrested for placing camera inside men's restroom at 'We Spy Coffee & More'
The wounded deputy was hired by the sheriff's office in March 2006. 
Cpl. Aitken is 40 years old and has a wife and young daughter, the sheriff said. Sgt. Viano was hired in November 2000 and is 49 years old. He will be placed on administrative leave during the investigation, which is normal protocol.
Chief Holloway said it's always a scary time when law enforcement learns one of their own was injured. 
"You don't want that phone call," he offered. "Getting here is the longest drive of your life. It's hard on everybody in the law enforcement community."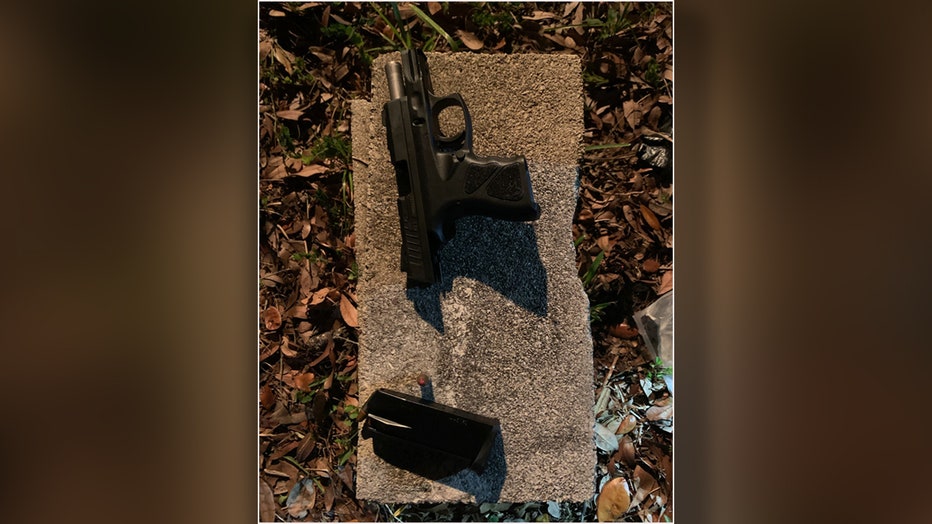 The suspect's gun, according to the St. Petersburg Police Department. 
Deputies said Bostick had a second handgun in his right pocket that was reported stolen out of Manatee County. 
Officials said Bostick didn't appear for a court hearing on March 7 for attempted burglary and driving with a suspended license charges. The sheriff said an arrangement was made for him to plead guilty.
"He told his mom he would not go back to prison," Chief Holloway said.
"He simply didn't want to go back to prison," Sheriff Gualtieri said. "He decided he was going to kill two deputy sheriffs. That's the type of people out there that we deal with."
In regard to the witness who confronted Bostick, the police chief said it is not a move he would recommend.
"I wouldn't take it to the next level," Chief Holloway said. "He went and confronted the guy. We want you to call us and if you can keep an eye on the person, please do that. But don't try to confront the person. Thank God nothing happened to that gentleman but at the same time he did the right thing because he saw someone commit the crime in his community and he didn't want that in his community."
According to the sheriff's office, Bostick "had an extensive criminal history" that dates back to when he was 17 years old. Gualtieri said Bostick was arrested 18 times, including 34 different felonies and 22 different misdemeanor charges. Those charges, Gualtieri said, include grand theft, drug crimes and crimes with guns, and Bostick has gone to state prison twice. 
The Pinellas County Use of Deadly Force Investigative Taskforce is comprised of officials from four local law enforcement agencies: Clearwater Police Department, Pinellas County Sheriff's Office, St. Petersburg Police Department, and the Pinellas Park Police Department.
Sheriff Gualtieri said the body camera footage will be released to the public after the investigation is complete.
"People need to see what bad guys like this do to good cops."