Pinellas County school bus drivers are now among highest paid in Bay Area
ST. PETERSBURG, Fla. - Monday, the Pinellas County School Board unanimously approved a pay raise for school bus drivers that increases salaries between 10 and 20 percent. 
The district negotiated the contract with the Florida Public Services Union. It raises the starting pay for Pinellas County school bus drivers from $16.25 per hour to $19.79 per hour. 
Bus Driver Relief, more experienced drivers', starting salary will increase from $17.98 per hour to $21.75 per hour, and they'll get an additional $1 for every hour worked. Lead Drivers' starting salary will increase from $19.79 per hour to $21.75 per hour. 
READ: Krewe of Scarlett Fortuna on a mission to spread the joy of reading across Tampa Bay
The raises make Pinellas County school bus drivers some of the highest paid in the Bay Area, second only to drivers in Sarasota County, who make $25 an hour. 
The pay raise will also put Pinellas County drivers well above neighboring Hillsborough County, which currently pays its drivers just over $16 an hour. 
"It certainly moves Pinellas County much more much closer to some of the larger school districts," Javan Frinks, an organizer for Florida Public Services Union, said. "That competitiveness that they spoke about earlier, not only among school districts in this area, but also among the other opportunities for folks with a commercial driver's license, is really critical for keeping folks in the school district driving."
READ: Ed Sheeran surprises students at Middleton High School with free concert tickets, guitars
"It's tremendous news for the drivers first and foremost," Frinks said.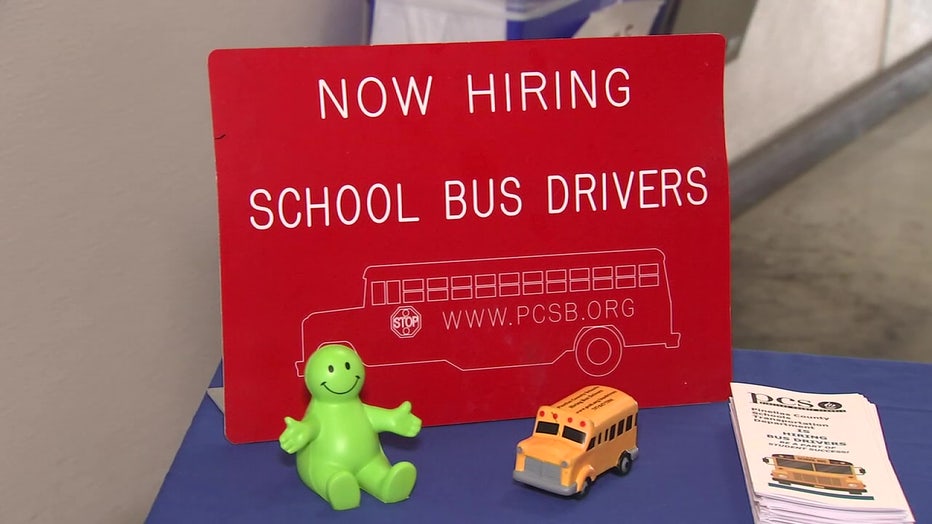 Now hiring school bus drivers sign. 
"There are lots of places that do deliveries now, even Uber Eats … all kinds of different things. So, we are competing with everyone in that. And you have to have a commercial driver's license to drive a school bus. So, there are more requirements that are required than just driving the car. So, we thought that this was going to really help us in being able to recruit and be competitive," T. Mark Hagewood, Director of Transportation for Pinellas County Schools, said.
The school bus driver shortage isn't unique to the Bay Area. Nationwide, school districts are grappling with a shortage of workers who want the job. 
For years, Tampa-area schools have struggled to address the issue, which leads to chronic problems of kids arriving late at school and returning home late at the end of the day. 
"We've always had a shortage of drivers, but it does seem to be worse this year than it was last year," Hagewood said. "We did some consolidations this year, so we made our routes a little bit tighter. So, in the past years we've had a little bit of flexibility, but this year we didn't have any flexibility because we made the routes a little bit tighter, and we went down in some routes. So, when we have call offs or being short, it really affects it even more."
Hagewood said right now, they have 256 drivers and 322 school bus routes. He said they're hoping the pay raise will be a great recruiting tool to fill all of the vacancies and have a surplus of drivers.
"It will mean our students are getting to school on time and they will be returning home in a timely manner as well," Paula Texel, Associate Superintendent of Human Resources for Pinellas County Schools, said.
Pinellas says it's been unable to fill about 70 bus drivers' positions for the 2022-23 school year, despite offering hiring bonuses to try to bring in more drivers.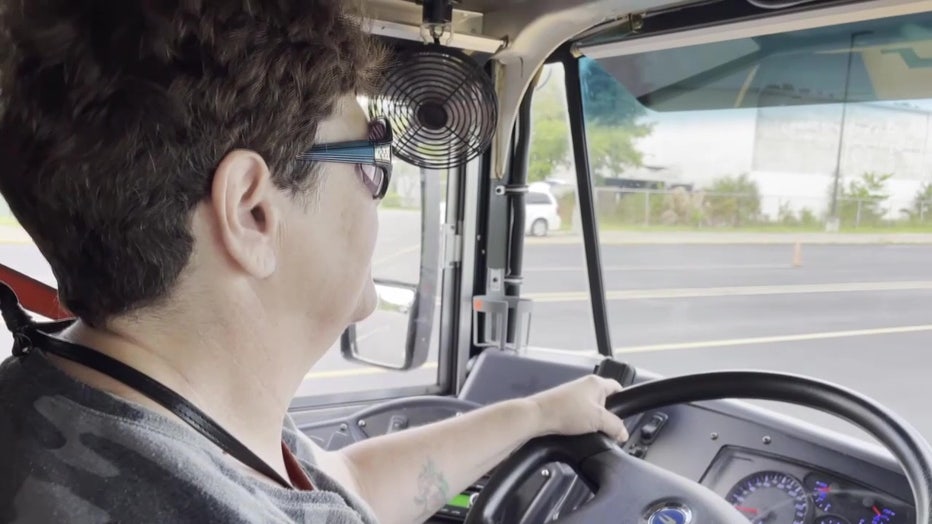 School bus driver at the wheel. 
"Even with our really increased efforts this past year, and I will tell you they have been much increased getting out there, getting the word out there recruitment efforts that have gone on … we still are resulting in a shortage of bus drivers and one area that we feel has been a hinderance is the bus driver pay," Texel said.
For the second year in a row, the district eliminated bus stops, routes, and changed start times at certain schools to try to work around the shortage. Some of the new start times are before 7:30 a.m.
Starting in 2026, though, according to a new law, middle schools across Florida can't start earlier than eight a.m. and high schools can't start before 8:30 a.m.
"Knowing some of the things that are coming ahead of us as it relates to time changes and just all of the pieces that come with life for our bus drivers, I think it's important that we make this raise," one school board member said during Monday's meeting.
Hagewood said it's too early to tell how much the new law will impact things, but he said a surplus of drivers would help them make any necessary changes.
"We will have to evaluate over the next year or so because it will be here before you know it, but it is going to affect the way we do things," he said. "We need to retain the drivers that we have. We need to recruit more drivers and we need to be a little bit more efficient with our routes," Hagewood said.
The new pay increases take effect in Pinellas County immediately. The next class to get a CDL starts May 30 and lasts about three weeks.