Krewe of Scarlett Fortuna on a mission to spread the joy of reading across Tampa Bay
TAMPA, Fla. - It was a fun-filled weekend of family-friendly piracy as the Krewe of the Scarlett Fortuna invaded Fort De Soto once again to bring Castortowne to life.

Anthony Noble, better known as Captain James Hawk founded the volunteer-based Krewe.

"I came across this map from 1752 that showed a little island called Castor Key," he explained. "I had heard years before that there was a local legend that a pirate was hung in Egmont, so I did a little digging and research and linked this map to this legend, so this event is all about fact or fiction." 
READ: Jefferson High magnet program helps fill need in maritime workforce, brings more women to field
Almost 15 years ago, Noble and his Krewe set sail on a mission; to bring the joy of stories and history to life for children, one 'R' at a time.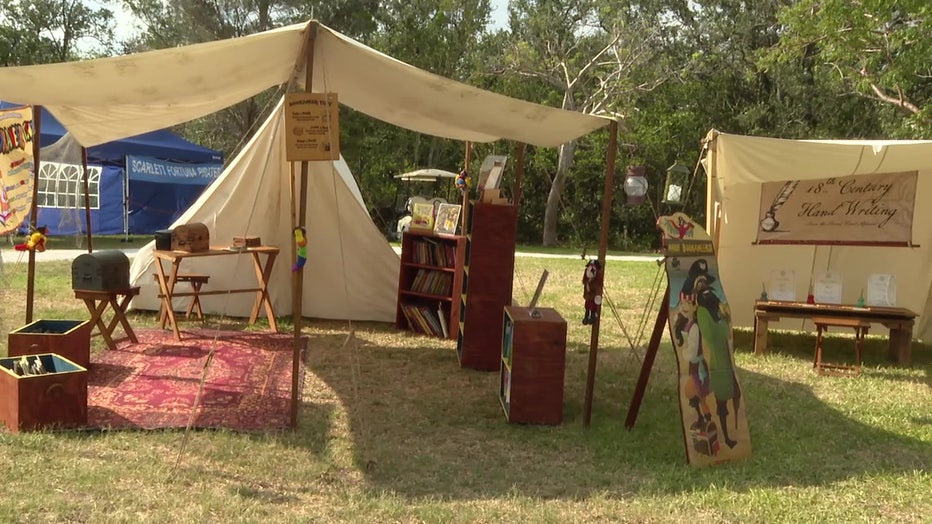 Krewe of Scarlett Fortuna pre[aring to spread the joy of reading


"This group was designed around the idea of promoting literature for children," Noble added. "My mother was in the school system for many years and growing up around that. I fell in love with it." 

After seeing how children responded to pirate-themed learning at their first event at an Elementary School, the Krewe was hooked. 

"Do you remember when you were growing up as a kid, and it's Christmas Eve, and the toys and gifts are all ready to go and for the taking?" Noble joked. "The kids come to a pirate festival, and it's that same excitement." 
READ: Palm Harbor academy helps non-speaking students find their voice
Castortowne is just one stop on the map. Throughout the year, they put on events at Children's hospitals, schools, libraries, and museums around the state, but their home port is Pinellas County. 

To learn more about their voyage to promote learning or to become a member, you can visit their website by clicking here.