Pinellas County wakes up to flooded areas, damaged boats as Eta moves away from the region
ST. PETERSBURG, Fla. - It was a stressful, busy night for many in Pinellas County, specifically for those living in the flood-prone areas. From Madeira Beach to St. Pete, many watched as water spilled into streets of neighborhoods and into their homes and businesses as Tropical Storm Eta pummeled Pinellas County. 
Eastbound lanes of the Courtney Campbell Causeway were closed overnight due to high winds and water blowing into the roadway. On Thursday, Clearwater city officials mistakenly said all lanes were back open, but later retracted that statement. The eastbound lanes remain closed.
The Sunshine Skyway Bridge reopened by 8:30 after being closed for nearly 24 hours.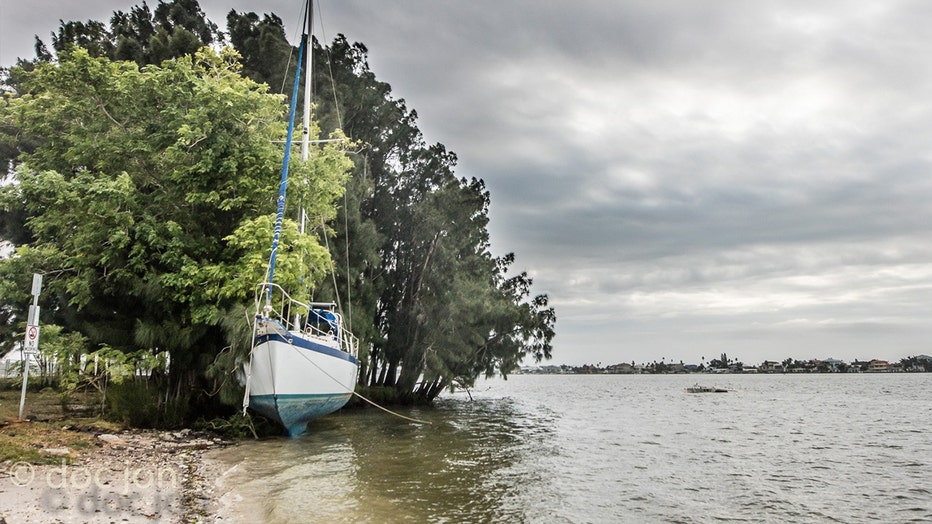 A grounded sailboat was spotted Thursday near Hubbard's Marina in Madeira Beach. (Photo credit: Doc Jon)
The sheriff's office said they rescued 33 people from homes and roadways. Most occurred in the area from Pass-A-Grille to Madeira Beach. Deputies were working overnight, using chainsaws and other equipment to remove fallen trees and branches from the roads. 
Over at Twin City Mobile Home Park, along Gandy Boulevard, it was a sleepless night for residents as some were evacuated Wednesday night. Others remained stuck inside the homes as of Thursday morning or stuck on the other side of a flooded road in the mobile home park.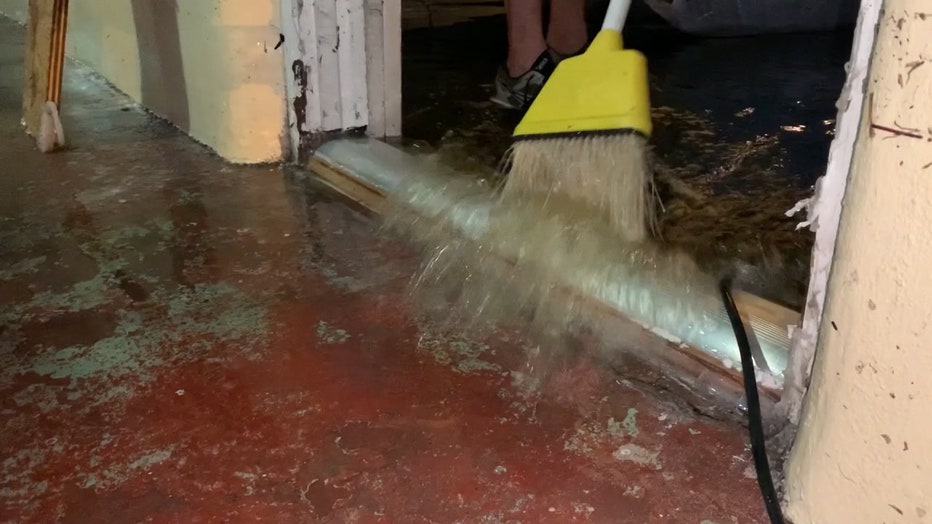 Many moved their vehicles to higher ground as the water rose in the streets of their mobile home neighborhood, and others returned home Wednesday night only to find they couldn't actually make it there. Neighbors said they are used to flooding streets after a heavy rain, but they have never seen it this bad.
LINK: Track Eta on MyFoxHurricane.com
"My place is kind of on a hill," said Daniel Mills, who lives in the Twin City neighborhood. "So, I fit gets up on my porch, it's definitely something dangerous and my roommate actually called me and said the water is getting up to the last step of our porch."
Residents said they were shocked by just how quickly the water rose Wednesday night, making the roads too dangerous to navigate.
Nearby, Trak Motel Apartments, units there were flooded as well. One unit had water surrounding a bed and inside the bathroom. Residents spent the night trying to bail the water out of their units as best as they can. One male resident showed FOX 13 his home with several inches of water inside. 
St. Pete's Shore Acres neighborhood, no stranger to flooding during severe weather, once again found itself a flood zone. Streets south of 62nd Avenue saw significant flooding, with front yards turning into ponds and roadways turning into rivers.
LINK: Hurricane Eta information: Pinellas County
One Twitter user living in the Shore Acres neighborhood reported significant flooding inside his home, leading to fears of a safety hazard for his family. 
Corey Appelbaum said there was water in every part of his house.
"It's not safe seeing we never lost power," he said. "Literally, our family of four is trapped on (a) bed and can't get out until [the] water recedes out of fear of electrocution." 
Meanwhile, numerous abandoned cars could be seen parked on St. Pete roadways. FOX 13 spoke with tow truck operator Brian Rose, who said he'd received more calls for service overnight than he could answer. 
Rose said he's telling callers to expect two- to three-hour delays as he recovers vehicles abandoned in floodwaters overnight. He typically gets roughly 8-10 calls a night, but on Thursday morning he reported getting nearly three dozen, with other tow truck operators equally strained. He'd been working since 8 p.m., says he'll go until noon Thursday.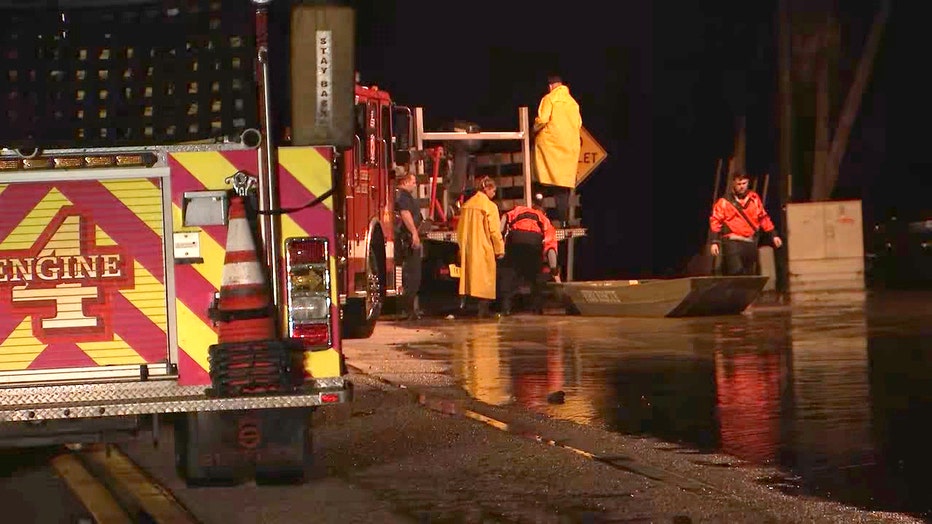 St. Pete Fire Rescue engines were seen responding across the area, with crews sending out boats to respond in areas where the flooding was too high for trucks to safely enter. 
Over in Gulfport, at least five sailboats broke free from their anchor and either crashed against a sea wall or became beached on the sand. For some, those boats were their homes.
Leo Potts was not in his sailboat but had to watch as it crashed into the sea wall.
"I guess the anchor came up and she got loose," he told FOX 13. "There's about four to half a dozen of them out here. I came out here with binoculars. She moved. I couldn't do anything but wait. It was just a gut-wrenching feeling." 
Aside from flooding, power outages were the main concern. Duke Energy's outage map showed over 20,000 without power Thursday morning.
All Pinellas County public schools were dismissed early Wednesday and will be closed Thursday, Nov. 12.