Weakened Eta speeds off, leaving behind a soaked Tampa Bay area
TAMPA, Fla. - Tropical Storm Eta made its second landfall in Florida near Cedar Key early this morning as it accelerated away from the Tampa Bay area, leaving floodwaters behind. It is expected to be out of the state and into the Atlantic by the end of the day.
The storm's maximum sustained winds remain at about 45 mph, according to the National Hurricane Center. As of noon, it was over the Jacksonville area, quickly making its way across Florida, with most of its convection over the Atlantic Ocean.
"In general, it looks like the worst of it has passed," said FOX 13's meteorologist Dave Osterberg. "I'm really glad it's November because if it had been August or September, this might have been a whole different scenario set up for us."
As Eta -- briefly a hurricane -- rode up the state's west coast Wednesday, the Tampa Bay area was on the 'dirty' side of the storm, where wind and rain was concentrated. But as Eta got closer to the coast, it encountered cooler waters and drier air that prevented any strengthening.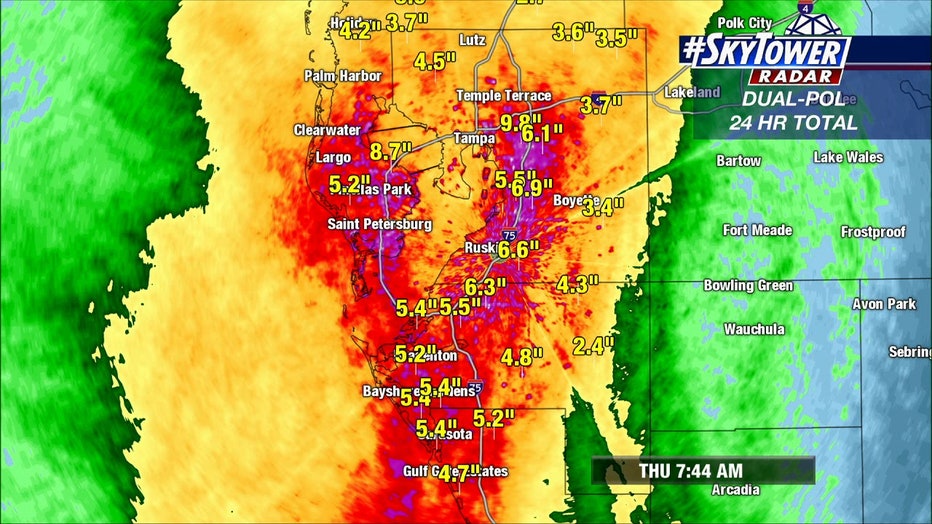 Flooding remained an issue for many Thursday morning due to storm surge, Osterberg said. Between St. Petersburg and Sarasota, some areas saw between 5 and 6 inches of rain. The average rainfall for November in Tampa is 1.77 inches. It's usually the area's driest month. 
"You have all of this rain coming down and it wants to flow out. It wants to drain out," he described. "Whether it be into the Bay or into the Gulf, and what's happens is you have a storm surge coming in and you have nowhere for all of this water to go. It all kind of sits until the water starts to drain until we can shift that wind, which we'll do, and then it will all go back out."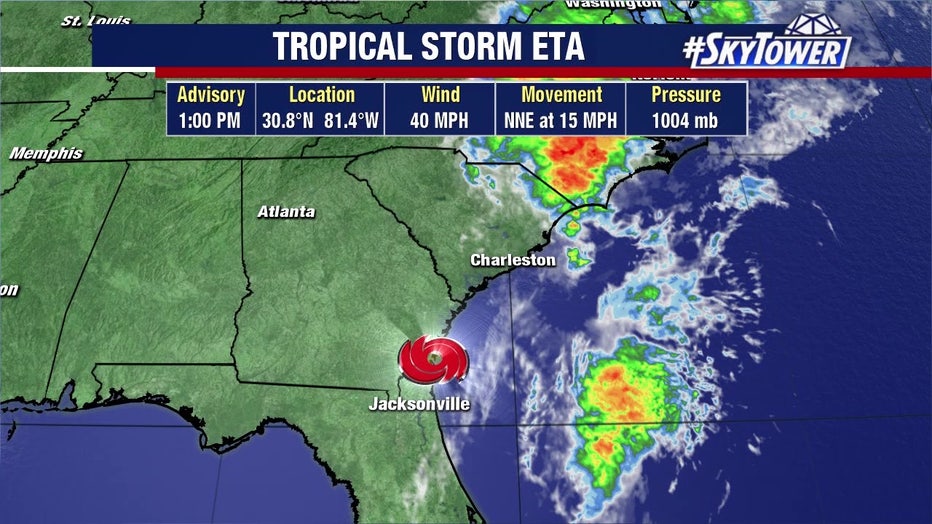 In the early morning hours, wind gusts began dropping to below tropical storm strength in some areas. It will remain breezy for the majority of the day. Fast-moving showers will mostly occur throughout the morning.
By the end of the day, Eta is projected to be out of the state and moving into the Atlantic Ocean.
"We're done with the wind. We're done with the rain," Osterberg said. "Now we just have to dry it out now and we will over the next couple of days."
LINK: Track Eta on MyFoxHurricane.com
All watches and warnings for Tampa Bay have been discontinued.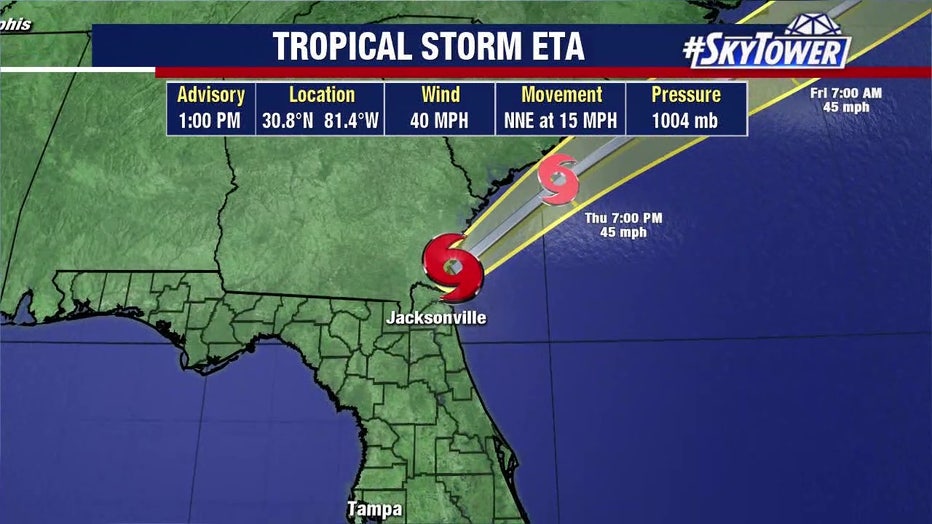 Eta closures and emergency information by county:
The Sunshine Skyway Bridge reopened just after 8 a.m. this morning after being closed for nearly 24 hours due to high winds. The eastbound lanes of the Courtney Campbell Causeway were also closed but had reopened earlier in the morning.
Duke Energy's outage map showed over 23,000 Bay Area customers without power around 8 a.m. Thursday, down from 30,000 overnight.
One person was killed in Bradenton Beach after being electrocuted in a home filled with water.
Meanwhile, in Pinellas County, several low-lying areas are still dealing with flooded areas. 
On Wednesday, Gov. Ron DeSantis extended his state of emergency executive order to include 21 Florida counties, including those in the Tampa Bay area. He also sent a letter to President Donald Trump requesting an emergency declaration for Eta. 
The record-breaking 2020 hurricane season is still not over. Forecasters say a tropical wave in the central Caribbean Sea has an 80 percent chance of developing into a depression over the next few days.