Playboy Mansion for sale but Hugh Hefner wants to stay put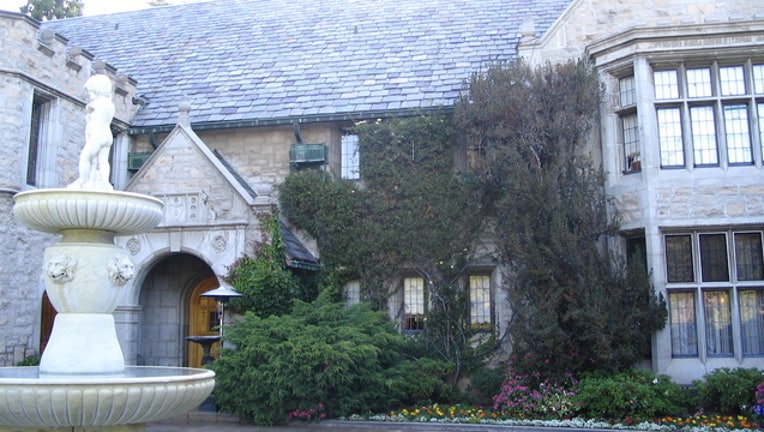 article
LOS ANGELES (AP) — For $200 million, the Playboy Mansion, where risque parties have raged for decades, could be yours.
But you might want to think twice if you're aiming to close escrow on the famous property that went on the market Monday and move in quickly, since Playboy Magazine founder and party master Hugh Hefner has often said he will never live anywhere else.
"A condition on the sale would be that Mr. Hefner be able to continue to work and live in the residence," Playboy spokesman John Vlautin said.
Negotiations between the seller and buyer would determine whether the 89-year-old playboy stays for free or rents the place back.
The 5-acre property in Los Angeles' exclusive Holmby Hills has seen thousands of celebrities and beautiful women pass through its doors.
It features 29 rooms, game house, home theater, wine cellar, gym, tennis court, swimming pool and four-bedroom guest house. It also comes with the notorious cave-like grotto where Playboy bunnies have long frolicked with guests.
Still, potential buyers have to ask if the two-story Gothic-Tudor home built in 1927 is worth $200 million, particularly when a 7-acre estate nearby sold last year for $59 million?
"Maybe $90 million. But $200 million? That's absurd," said Realtor Rory Barish, who has sold numerous properties in the area.
"But he can ask whatever he wants and there could be one freak out there, a trillionaire, who comes and says, 'I have to have it,'" Barish quickly added.
High-profile Hollywood publicist Michael Levine, who has been to the mansion dozens of times, dismissed its price tag as preposterous.
"But there's no downside to Playboy in creating a press release that says $200 million," he added with a chuckle, noting that its party reputation could boost its value by a few million.
Playboy Enterprises appears to be counting on that.
"This is the right time to seek a buyer for this incredible property who understands the role the mansion has played for our brand and enables us to continue to reinvest in the transformation of our business," Playboy Enterprises CEO Scott Flanders said.
Generations of celebrities have been guests at wild parties at the mansion.
"What is it like to go from unfancied teen thesp to object of lust for America's hottest models at one of Hugh Hefner's parties? Well, awesome, obviously," Rob Lowe, describing his first visit to the mansion, wrote in Esquire magazine two years ago.
In a moment not of lust but anger, frequent mansion guest Bill Cosby sucker punched comedian Tommy Smothers at a 1976 party, according to Ronald L. Smith's book, "Cosby: The Life of a Comedy Legend.'"
At least four women have accused Cosby of sexually assaulting them at the mansion. Two are suing him.
Hefner married his second wife, Playmate of the Year Kimberly Conrad, in a televised ceremony by the mansion's fountain in 1989. For a time, when the couple's two sons were young, visitors could see their toys in upstairs windows.
More recently word has surfaced that the mansion, just a year younger than its owner, is showing its age.
Former Hefner girlfriend Izabella St. James complained in 2006 that the frequent visitors and Hefner's penchant for letting his pet dogs relieve themselves wherever they wanted had soiled the carpets.
"It's not a house that has been kept up maybe as well as it could or should have been," said Levine, who added he hasn't been there in about five years.
___
Associated Press Writer Daisy Nguyen contributed to this story.