Police chief: Clearwater Beach shooting suspect wanted to 'pick a fight'; second suspect arrested
CLEARWATER BEACH, Fla. - It doesn't appear that the victim and suspect from Tuesday's deadly shooting inside a Clearwater Beach shop knew each other, investigators said.
During a Thursday press conference, Clearwater Police Chief Daniel Slaughter showed surveillance video of the shooting. The victim, 22-year-old Rodney Sweeney of Largo, approached a man on the second floor of Surf Style and struck him, Slaughter said. Then, Slaughter said, 20-year-old Johnathan Stanley of Clearwater, pulled out a gun and fired three rounds. Two struck Sweeney, officials said.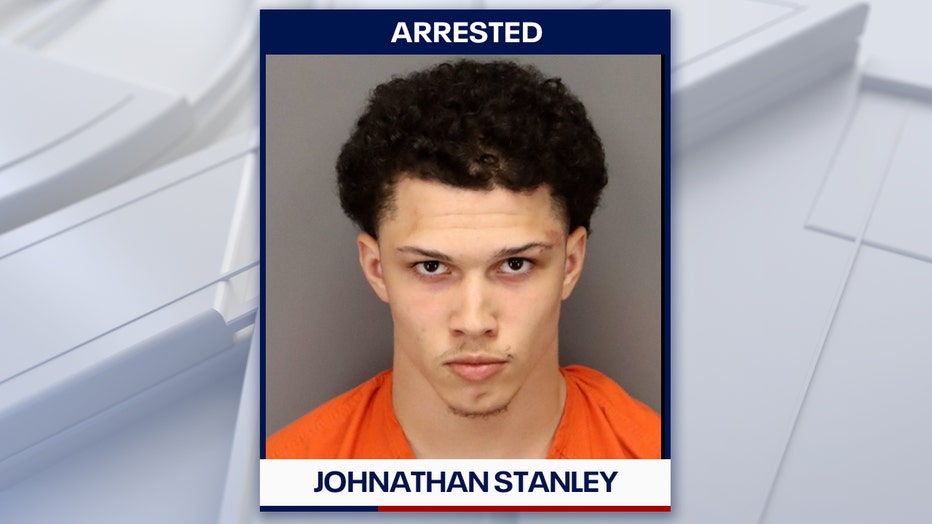 Booking image for Johnathan Stanley
"This battery is no excuse for pulling out a firearm," Chief Slaughter said. "It appears very likely he intended to use this firearm from the get-go. This whole incident occurred in a crowded establishment with other citizens close by."
Stanley discarded the weapon in the store then hid under clothes, Slaughter said. Sweeney's brother found the gun, checked on his brother and ran after Stanley, but couldn't find him and went home, Slaughter said. First responders got there in a matter of seconds and started treating Sweeney, officials said.
PREVIOUS: Suspect arrested on second-degree murder charge in fatal shooting at Clearwater Beach surf shop, police say
The victim's brother still had the gun when officers arrived at his house. The police chief said detectives feel "confident" it is the murder weapon, but are awaiting further forensic test results. Both Sweeney's brother and the man officials said the victim hit are cooperating. 
It appears the two had "some kind of verbal contact" at some point that day and investigators are still trying to determine what occurred, Slaughter said.
"A lot of times these groups all go there, these young adults, these juvenile groups, they all go there. Some of them, I believe, with the intent to fight, and I think that's what Johnathan and his little clan were involved in," Slaughter said. "I think they went there looking for somebody to pick a fight with just because it's cool to get it on video or cool or kind of cool to do it. You know, he's known for wearing these Rosary beads around him for so many years. I don't think it means much to him as what it means to a lot of other people."
READ: Clearwater Dunkin' employee accused of shooting customer following argument
Chief Slaughter also announced the arrest of 19-year-old Zayah Massucci. Slaughter said Stanley spent the night at Massucci's the night of the shooting. In the morning, Stanley gave Massucci his keys to pick up his car which was parked near Surf Style, Slaughter said. He's charged with accessory after the fact. Slaughter said Massucci helped Stanley despite knowing that police were looking for him.
Investigators said Massucci has a job on Clearwater Beach and is "associated" with the suspect.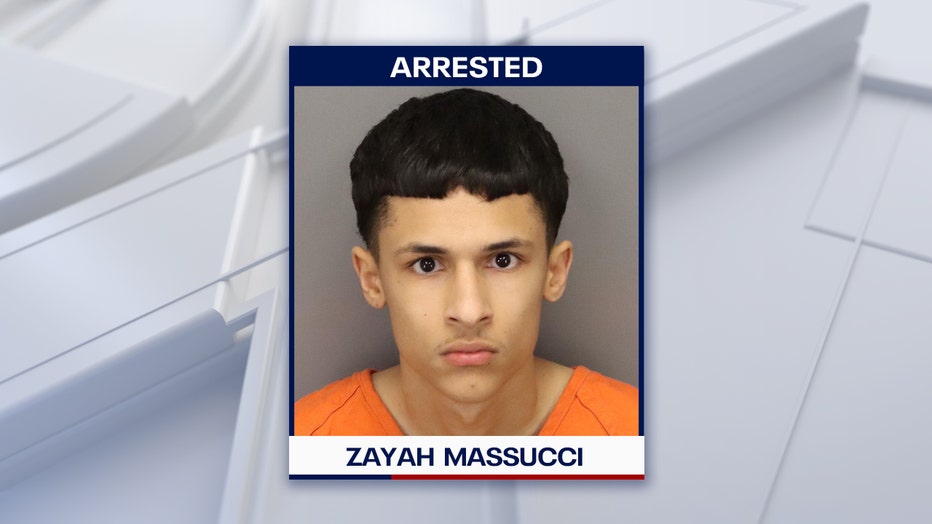 Zayah Massucci was arrested for accessory after the fact and possession of marijuana in connection to the shooting at Surf Style in Clearwater Beach
"He basically gets safe harbor there," Chief Slaughter said. "Based on his statement … he was well aware that this homicide had happened. He had seen the media footage … and knew and intentionally assisted in this endeavor."
Chief Slaughter said a network of cameras in the department's Real-Time Operations Center and other technology helped detectives, who worked around the clock, quickly identify and locate Stanley.
"The license plate reader, the cameras, all of that has been just a game changer for the detectives to very rapidly identify suspects and to bring those suspects to a successful resolution," Slaughter said.
Businesses can opt to share access to their cameras with the Clearwater Police Department. You can also register any camera you have with the police. This won't allow them to access your cameras at any time. Instead, if a crime occurs nearby, they'll know a camera is in the area, and request your video. 
When police arrived at the store after the shooting, Sweeney was found on the second floor with a gunshot wound. He was taken to Morton Plant Hospital with life-threatening injuries where he died.
Slaughter said this is an isolated incident, and that crime is down in Clearwater Beach compared to last year. Police have increased patrols in Clearwater Beach to ensure everyone feels safe as spring break continues. The chief added that he wanted to reassure locals and visitors that if any crime is committed, officers will track suspects down.
"Look at the overwhelmingly rapid response, the very visible presence that we have out there, how quickly we are able to, you know, resolve these situations. And that will serve as a deterrent effect to any of these clowns that want to come out and do this ridiculous behavior that they know they're going to come out, they're going to get caught," he said.
Chief Slaughter also talked about an unrelated incident Sunday on Gulfview Boulevard near the McDonalds. He said two groups that knew each other got into a fight. One person stomped on another's head and a gun went off, but didn't hit anyone. That victim has minor injuries, and Slaughter said officers made one arrest and are close to arresting others. The chief once again stressed that these incidents are isolated and unusual in Clearwater Beach.