Poll shows Clinton taking lead in Florida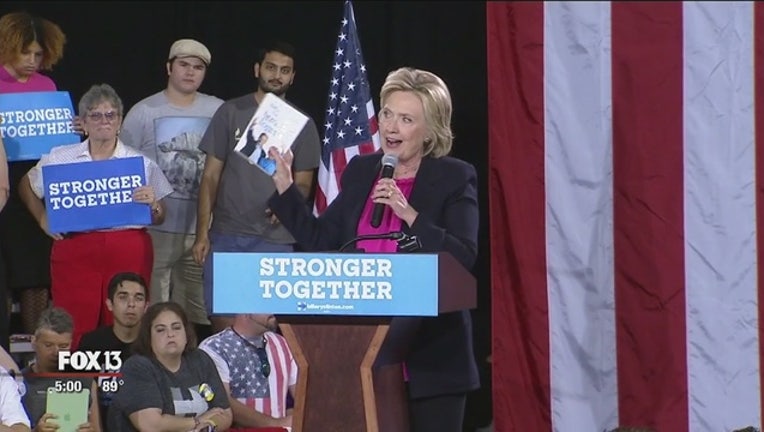 article
TALLAHASSEE (NSF) - Democratic presidential candidate Hillary Clinton has taken the lead in Florida after many voters thought she won last week's first head-to-head debate with Republican nominee Donald Trump, a new poll shows.
Clinton, a former secretary of state and U.S. senator, leads Trump, a New York real-estate developer, by a margin of 46 percent to 41 percent in Florida, according to the Quinnipiac University poll released Monday. Libertarian Party nominee Gary Johnson drew the support of 5 percent of those surveyed, while Green Party nominee Jill Stein had 2 percent.
When Johnson and Stein were dropped from the poll, Clinton retained a five-point edge, leading Trump 49-44.
The poll of 545 likely Florida voters, conducted from last Tuesday through Sunday, was taken entirely after the Sept. 26 debate between Clinton and Trump. It has a margin of error of 4.2 percentage points.
The last Quinnipiac poll in Florida, released Sept. 8, showed Clinton and Trump tied at 43 percent with Johnson and Stein in the race.
One factor in the change might have been Clinton's performance in the debate. By a margin of 56 percent to 21 percent, likely Florida voters said Clinton won the face-to-face showdown, the first of three debates scheduled to take place before the Nov. 8 election. The vast majority of Democrats, 84 percent, and 54 percent of independents told Quinnipiac that Clinton won the debate; among Republicans, Trump had a 42-27 edge.
The poll found a persistent gender gap between the two candidates, with Trump holding an 11-point advantage among men and Clinton winning women by 20 points. Clinton was slightly stronger among Democrats than Trump was among Republicans, but the businessman held a 3-point lead among independents, 42-39.
Peter Brown, assistant director of the Quinnipiac University Poll, said the Florida result was "good news for Secretary Clinton," though he pointed out that each of four states surveyed showed a tight race.
"Likely voters in Florida, North Carolina, Ohio and Pennsylvania, the four largest and most important swing states seem little closer to an Election Day decision," Brown added.
Brown also underscored the difference in Florida between Clinton's debate reviews and her edge in the presidential race.
"One thing is for sure: Many voters don't have to think a presidential candidate is a good debater to support their candidate in 2016," Brown said.
Florida was the friendliest of the four swing states for Clinton in the four-candidate race. Clinton led Trump, 45-41, in Pennsylvania, though her lead grew to 5 points in a head-to-head matchup. In North Carolina, she led Trump by three points; Trump had the support of 47 percent of those surveyed in Ohio compared to 42 percent for Clinton when all four candidates were included, though his edge narrowed to 3 points in a head-to-head race.
The Connecticut-based Quinnipiac frequently conducts polls in Florida and other swing states. Its new results in Florida are largely consistent with a Mason-Dixon Polling & Research poll released Friday. That poll of 820 voters, also conducted after the debate, showed Clinton with the backing of 46 percent of likely voters and Trump with the support of 42 percent. Johnson had 7 percent and Stein was the choice of 1 percent of those surveyed.
The Mason-Dixon poll had a margin of error of 3.5 percentage points.