Pope Francis' US tour schedule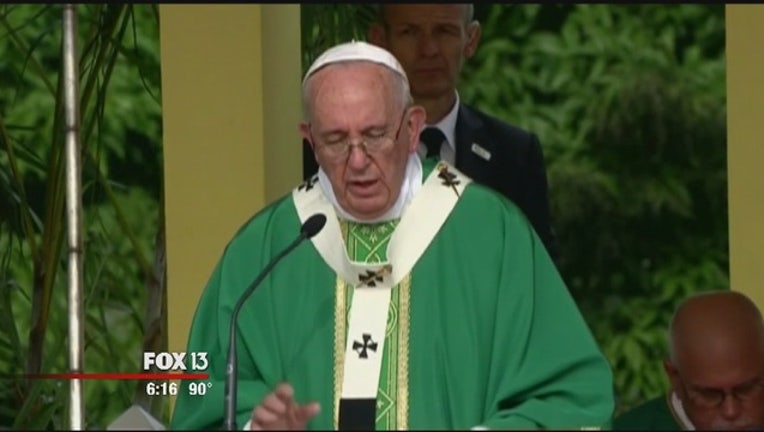 article
September 22 (El Cobre, Santiago de Cuba, Washington DC)
8am Mass in the Minor Basilica of the Shrine of Our Lady of Charity of El Cobre. Homily by pope.
11am Meeting with families in the Cathedral of Our Lady of Assumption in Santiago de Cuba. Speech by pope. Blessing of the city from the outside of the cathedral.
12.15pm Farewell ceremony at Santiago de Cuba's International Airport.
12.30pm Departure for Washington, United States
4pm Arrival at Andrews Air Force Base. Official welcome.
September 23 (Washington DC)
9.15am Meeting with President Obama at the White House
11.30am Midday Prayer with the bishops of the United States, St. Matthew's Cathedral
4.15pm Mass of Canonisation of Junipero Serra, Basilicia of the National Shrine of the Immaculate Conception
September 24 (Washington DC, New York City)
9.20am Address to Joint Session of the United States Congress
11.15am Visit to St. Patrick in the City and Catholic Charities of the Archdiocese of Washington
4pm Depart from Joint Base Andrews
5pm Arrival at John F. Kennedy International Airport
6.45pm Evening Prayer (Vespers) at St. Patrick's Cathedral
September 25 (New York City)
8.30am Visit to the United Nations and Address to the United Nations General Assembly
11.30am Multi-religious service at 9/11 Memorial and Museum, World Trade Centre
4pm Visit to Our Lady Queen of Angels School, East Harlem
6pm Mass at Madison Square Garden
September 26 (New York City, Philadelphia)
8.40am Departure from John F. Kennedy International Airport
9.30am Arrival at Atlantic Aviation, Philadelphia
10.30am Mass at Cathedral Basilica of Sts. Peter and Paul, Philadelphia
4.45pm Visit to Independence Mall
7.30pm Visit to the Festival of Families Benjamin Franklin Parkway
September 27 (Philadelphia)
9.15am Meeting with bishops at at St Martin's Chapel, St Charles Borromeo Seminary
11am Visit to Curran-Fromhold Correctional Facility
4pm Mass for the conclusion of the World Meeting of Families, Benjamin Franklin Parkway
7pm Visit with organisers, volunteers and benefactors of the World Meeting of Families, Atlantic Aviation
8pm Departure for Rome